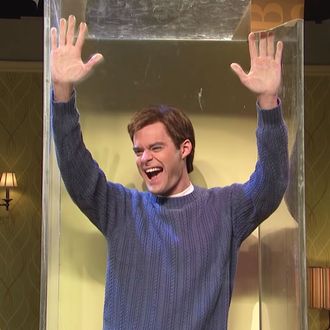 Bill Hader, the dancing king.
Photo: Saturday Night Live/YouTube
It's not easy to make a single-serving Twitter account that becomes an instant classic, but a new one has managed to pull it off. Joining super-specific Twitter legends like the dearly missed @RipTornOutlives and the wonderful Brimley/Cocoon Line account, the newly created "bill hader dancing to" account has been making the rounds on everyone's feeds over the past month, and the hits just keep coming. Since posting its first tweet on September 17, @billhaderdancin has stayed true to its own beautiful simplicity: Use the same edited clip of Bill Hader dancing, and let whatever music your heart desires do the rest. The result has garnered the account plenty of coverage online — and it deserves it.
Here's just a sampling of the account's collection of catchy, heartwarming goodness:
One of the account's fans also happens to be a musician featured in one of the tweets — just the other day, @billhaderdancin received the certified Lizzo Stamp of Approval:
In case you're unfamiliar, the Hader clip is from a cut sketch SNL released in the summer of 2015 (he hosted the previous year) titled "Alan," in which Hader plays the titular robot branded as "the future of casual entertainment," while a couple, played by Vanessa Bayer and Taran Killam, explore his capabilities. Much like the meme, the original sketch is very funny.