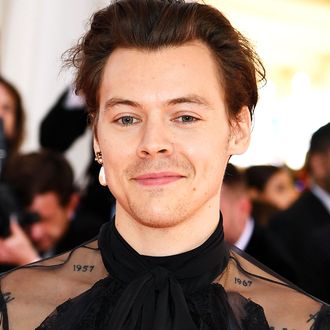 Harry Styles.
Photo: Dimitrios Kambouris/Getty Images for The Met Museum/Vogue
Saturday Night Live has lined up another host for season 45, and it's another first-timer. On Twitter today, Harry Styles announced that he's signed on to pull double duty as host and musical guest next month on November 16. It will mark the second time this season that a former musical guest has returned to the show to host, with Chance the Rapper hosting this weekend (he made his hosting debut back in 2017). Prior to Styles's episode, Kristen Stewart is scheduled to return to the show to host for a second time on November 2, and Eddie Murphy has been long-slotted to host the Christmas episode on December 21.
Styles recently released the music video for a new single, "Lights Out," but it's still a mystery when we can expect his new album to be released. Perhaps part of the purpose of his SNL hosting gig is to solve that mystery? (Hmmmm!) Hopefully, another reason for his SNL hosting gig is to break out his Mick Jagger impersonation again.