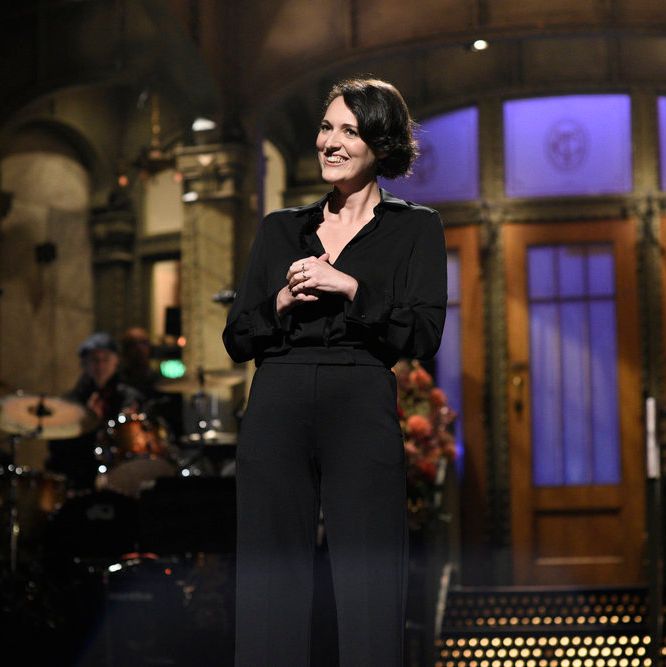 Last week, SNL appealed to the teens by inviting Billie Eilish to be the musical guest. This week, with Phoebe Waller-Bridge as host, SNL appealed to the horny, hopeful, self-loathing, selfish lot of us. The acclaim given to Waller-Bridge's Fleabag, including the three Emmys she recently won, is entirely deserved. (And not for nothing, Waller-Bridge is also the mind behind the Emmy-winning psycho-hunter dramedy Killing Eve.) Because of her impeccable timing and her supple relationship to both camera and live audiences, it was less a question of whether she'd do well as SNL host, but rather how well. And Waller-Bridge did not disappoint.
As usual, this week's sketches are presented here in order from best to worst.
Weekend Update
This impressively long Update starts with talk of Trump's impeachment. The first striking moment comes as Michel Che considers headlines about Trump wanting to dig a moat at the border and stock it with alligators and snakes. Che simply wonders, "Are we sure it's okay to make fun of this guy?" He compares Trump to Lenny in Of Mice and Men, and refers to both Lenny and Trump using the euphemism "strong." It's a nice thread powered by one of Che's unusual perspectives, one that's followed up with a joke about Bernie Sanders's heart attack. Kate McKinnon comes on as Elizabeth Warren, giving "thank you" calls to her individual donors and explaining why big checks from Wall Street didn't help the last female presidential candidate. ("Let me just skip Wisconsin and change my name to Emails Benghazi while I'm at it.") McKinnon continues to shape her take on Warren here, really digging into her image as that folksy fighter who's just really, really into everyday folks and really, really ready to fight.
There are more jokes about individual news items, including a middling one about R. Kelly and middle-schoolers that makes the audience groan a bit. Pete Davidson is MIA again this week — last week he was at a Joker screening with Suicide Squad cast members — and gets a jab for it from the Update anchors. Mikey Day returns as supercentenarian Mort Fellner, who seems as though he might be providing positive stories about old people achieving things late in life, only to reveal that they in fact, have died. The most exciting bit of this segment is the revelation of Bowen Yang as Chinese trade rep Chen Biao. Rather than sulk or panic about the trade war, as the "top tariff taskmaster," he's reveling in it. There are rants about metal straws and taunts about China's already-finished wall and why a tit-for-tat trade war won't intimidate China and its "tig ol' bitties." Anyone who knows Yang's comedy will certainly recognize the precision, smarts, and playful exuberance on display here, but for the rest of America: Welcome.
Midday News
When the latest crime story involves someone white, the two black anchors at WANU News (Kenan Thompson and Ego Nwodim) quietly celebrate. As more news gets read, the white anchors (Alex Moffat, Waller-Bridge) join in a competition about which race boasts fewer criminals. When a Fort Lauderdale man is caught outside of a Cracker Barrel cutting electric-scooter cables, everyone knows it's a white dude; but how strange is it that Laquan Jenkins was mauled by a bison when rock-climbing in Utah? It's a smart and funny idea that's incredibly well-played — especially in the perfect little asides by Thompson and Nwodim. It may not be as incendiary as the classic Chevy Chase–Richard Pryor "Job Interview" sketch, but it deserves a spot with the best of SNL's takes on race and our cultural expectations about it.
Phoebe Waller-Bridge Monologue
Waller-Bridge has to let the public know: Yes, she's from the U.K.; yes, she's something like her characters; and yes, she created both Fleabag and Killing Eve. "I'm not a sex addict because I wrote Fleabag, but I did write Killing Eve because I'm a psychopath. And my most exciting boyfriend wrote nothing but was both." Yes, she also talks about the Fleabag character Hot Priest, and the "horn-storm" he created. Between her straightforward but charming intro, her incisive thoughts about the material with which fans are already familiar, and her casual delivery of truly funny stand-up bits, Waller-Bridge gives one of the best monologues SNL has had in some time. Waller-Bridge's impression of bored genitals, waiting and waiting in our pants for their time to shine, is alone worth it.
Mike Pence Impeachment Strategy Cold Open
Vice-President Pence (Beck Bennett) gathers the president's minions, William Barr (Aidy Bryant) and Rudy Giuliani (Kate McKinnon), to talk impeachment developments; Mike Pompeo (Matthew Broderick), Ben Carson (Thompson), and Stephen Miller (a hissing snake puppet) also stop by and disappear as things look increasingly grim for the administration. It's a recap of the week's developments with some tried-and-true touchstones: Rudy can't stop indicting the White House on TV, and Pence is a weird li'l prude with something to hide. Broderick isn't so much playing Pompeo as playing himself, and his presence doesn't further the satire, but hey, who doesn't like Matthew Broderick? Or a few Ferris Bueller jokes? As usual, McKinnon's Rudy — a clumsy Nosferatu, all eyebrows and sneer — is enough to keep the laugh count up.
The War in Words
This recurring sketch features another young military man (Mikey Day) writing his beloved (Waller-Bridge) from a war zone. While William carries on in purple prose, his wife is frustratingly terse. Then, in less than forthcoming missives, Lydia delivers some secrets about the family dog and sends him a "lock" of her hair — which is pretty much all the hair on her head. As it's 1944, Lydia also manages to party with Hitler. The formula of this one hold strong; it's a smart idea that hangs on its writing, as well as the restraint of the performer playing the borderline madwoman back home. And we know, Brits come out of the womb begging their mother's pardon, so of course Waller-Bridge has no problem here.
Another What's Wrong With this Picture
In this game show, host Elliott Pants (Thompson) asks very stupid contestants (Bryant, Mooney, Waller-Bridge) to identify some simple thing that's off about a cartoon image. While they may not notice that, in a classroom scene, the doorknob is on the same side of the door as its hinges, they can imagine manipulative teachers feeding kids Viagra or a student feeling shame as the teacher "explains the difference between Harvey Weinstein and Aziz Ansari." This is the second edition of this sketch, and as before, it's not all that noteworthy, but the sheer creativity behind the contestants' vapidity keeps things interesting. Thompson, as usual, does the yeoman's work as long-suffering straight man.
Kaylee, Crystal and Janetta
Four girlfriends (Bryant, Strong, McKinnon, and Waller-Bridge) gather at Buddy's State Line Bar to drown their sorrows about Gerald from Guitar Center (Bennett), the hot hick each of them has dated in the past. Then, when Gerald shows up, each lady takes a turn kicking the crap out of him while quietly, privately confessing that they still love him and want him back. The asides to Gerald are all fun and well performed, and Bennett seems pleasantly dazed by the constant pummeling, but the best part may be the terrible Southern accents. Waller-Bridge's dialogue is almost impenetrable, and pushes both McKinnon and Bryant to the breaking point.
Love Island
To prove that Brits also have "100 percent pure-grade trash," just as we do here in the States, there's reality show import Love Island. In this parody of the popular U.K. sex and dating show, the dopes and ditzes are easy on the eyes and ready to snog — who cares if they can't remember their own names or understand one another's accents. It's nice to see featured player Chloe Fineman confidently jump in as a befuddled Irish tart, and Aidy Bryant draw out a nice physical bit about escaping a beanbag chair. The angle of the sketch is nothing new, but it hits all the right notes. One defeated contestant (Waller-Bridge) discovers she has 1.2 million Instagram followers and realizes she doesn't have to be "a stupid pediatric nurse anymore." That says it all.
Royal Romance
In light of the marriage of Prince Harry and Meghan Markle, this special BBC program looks at the history of mixed-race royal couples. In the early '70s, the little-known Duchess of Clerkenwell (Waller-Bridge) was in love with blaxploitation actor and comedian Jimmy Jay Robinson (Thompson). After this set-up, it's a flurry of gags about coke, ottoman-humping, and delivering dirty limericks at royal christenings. As likable and adept at physical comedy as Thompson is, the jokes are pretty broad. (See: Robinson knighting the first black American, Sir Mix-a-Lot.) It's meant to poke at manners, but ends up leaning heavily on raucous movie and stand-up tropes of the era.
As a host, Waller-Bride excels on all counts: She plays well with others, and is endearing and funny while onstage alone. She writes great material on her own and makes the writers' stuff shine. She plays the buttoned-up Brit as necessary, but goes broad with perfect enthusiasm (if not with perfect elocution). Surely, she'll be back. Whether or not it's due to a relatively small cast size, SNL deserves kudos for allowing new players Yang and Fineman the amount of screen time they've had so far, and both of them are making the most of it. Next week, Stranger Things fans will get a chance to see what David Harbour can do when not coping with supernatural evil.