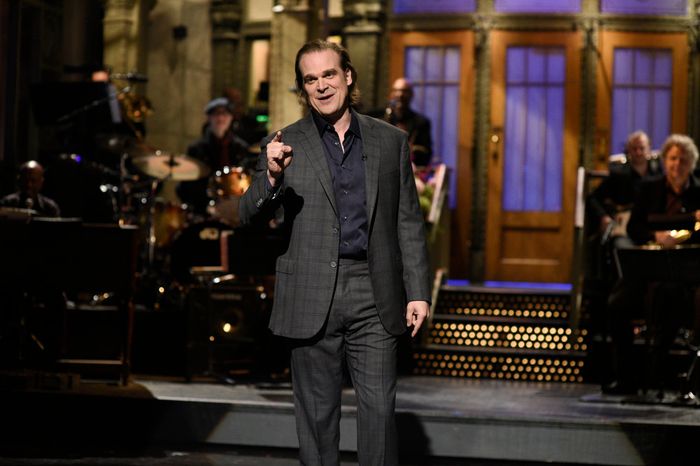 David Harbour on
SNL.
Photo: Will Heath/NBC
David Harbour has been a working actor for some time, though of course the reason we recognize his name is thanks to his role as Stranger Things' Jim Hopper — the tough, laconic sheriff with a heart of gold. While the role isn't a funny one, per se, Harbour endows Hopper with a wry and gently comic sensibility. And though Hellboy may not have been worth revisiting after Guillermo del Toro's two installments, in the title role, Harbour cracks wise just fine.
SNL gave the actor a chance to show off a bit more of his comic range, giving him the chance to take on Joaquin Phoenix and stuffing him into a dress in order to be dry-humped by Kate McKinnon — and he took to it all pretty well.
As usual, this week's sketches are presented here in order from best to worst.
Grouch
For anyone who loved Todd Phillips's Joker, there's Grouch — the dark, gritty origin story of Sesame Street's Oscar the Grouch (Harbour). Yes, he's a garbage man who loves the smell of trash, but he's also someone trapped in a world in which Snuffy (Kenan Thompson) is a pimp, the Count (Beck Bennett) is busy counting up his pills, and Elmo (Melissa Villaseñor) is arrested because he's Mexican. This parody is pitch perfect: The mash-up of the conceit is great, it's incredibly well shot, the arrangement of the Sesame Street theme is nicely eerie, and Harbour is excellent as the dark heart of the thing. Each of the individual vignettes, from their costuming hints to their vivid little performances, are all very well rendered, but the sad fate of Bert and Ernie (Alex Moffat and Mikey Day) alone is worth it.
CNN Equality Town Hall Cold Open
During CNN's Equality Town Hall, many of the presidential candidates introduce themselves and take questions from the audience on the subject of LGBTQ rights. Anderson Cooper (Moffat) and Billy Porter, as played by Billy Porter, introduce a wide-eyed Cory Booker (Chris Redd), an awkward Pete Buttigieg (Colin Jost), "Latin Obama" Julián Castro (Lin-Manuel Miranda), Elizabeth Warren (McKinnon), and Joe Biden (once again, Woody Harrelson). There is a nice lift and sense of joy in the sketch that isn't always present in the cold opens. Writers find the strongest material with Warren-as-insult-comic and Biden-as-worrisome-yarn-spinner. Even if Harrelson's impression doesn't have much of a hook, it's a bit more realized this week, and Miranda brings a nice flare to Castro. While Bernie skipped the town hall for health reasons, and the sketch is already pretty busy, Kamala Harris is notably absent here. Maybe they couldn't get Maya Rudolph this week?
Peter, Paula and Murray
Somewhere in a cloud between the 1950s and the '60s, a Peter, Paul and Mary soundalike band (Harbour, McKinnon, and Aidy Bryant) appear on a TV variety show to sing one of their hit songs. Life is finite, so the band sings about how much of their lives have been spent doing not-so-unusual things. Rather than adding up days and months spent brushing their teeth, however, the trio sings about spending years thinking they look good in hats or impressing their therapists or holding in farts in public. Also, Peter is still holding out hope for a threesome. The music in the sketch works, but more importantly, it is packed with hard jokes and really excellent specifics. Just about every line is a laugh line, and the trio of performers pass the baton back and forth with skill and ease.
SoulCycle Auditions
During one harried class, several potential instructors audition for a regular teaching position at SoulCycle. Each has been endowed with their own particular perspective, yet they overlap in that they've got some overblown notion about patter that will maintain the class' attention. There's a failed actor/successful addict (Harbour), a bizarro motivational speaker (Bowen Yang), an ostensibly bullied model (Heidi Gardner), and a sensual girl named Kyle (McKinnon) all vying for eyeballs and earholes. Each of the players does a nice job exploiting their character's oddities, and taken as a whole, they're a nice jab at the distinctive personalities drawn to SoulCycle culture without falling back on easy jokes.
Weekend Update
As Rudy Giuliani's associates, Lev Parnas and Igor Fruman, get arrested trying to flee the States, "Update" anchors Michael Che and Colin Jost look at the state of the impeachment inquiry. Che's unusual takes on a couple of issues are again highlights here; he wonders whether we might just take a year off from having a president once Trump is out of office (using "cotton money" to "coast until we get our groove back") and rifles through American history to prove Pete Buttigieg would not be America's first gay president. Heidi Gardner then comes on as teen movie critic Bailey Gismert. The ever-deflecting Gismert finds the Judy Garland biopic thirsty ("I'm in jazz choir, too, but I didn't make a whole jazz-choir movie about it.") and refuses to confess she has a crush on the Joker. While the template for this character is set, Gardner continues to find new little moments to highlight Gismert's coy narcissism.
The individual jokes in the second half aren't noteworthy, but they're followed up by a visit from Pete Davidson. As new reports indicate that STDs including syphilis and gonorrhea are resurging thanks in part to dating apps, Davidson wonders, "How is it even news?" They're all easily treatable, thanks to science, and the commingling of races on these apps should not be halted because of "busted pipes dripping." This Davidson rant lacks the energy and focus as many of his others, but as he's been missing from SNL since the premiere, fans will surely be happy just to have him back.
Sauce
When the grandkids (Cecily Strong, Villaseñor, and Kyle Mooney) come to visit their nanna and poppa (McKinnon and Harbour), the Italian grand-folks get a little wrapped up in tending to their tomato sauce and rubbing up on each other. The majority of this sketch is McKinnon, in mustache and short gray wig, leaping on and mounting Harbour, in a dress and long frizzy wig. Even if the characters' primary descriptors are horny and barely Italian, the gender swap is a playful touch. The baseline silliness of the exercise catches up with everyone once Harbour commits to sucking tomato sauce from McKinnon's fingers. Plus, the visual of McKinnon clinging to Harbour like a koala on the trunk of a massive eucalyptus is pretty delightful.
Little Miss Teacher's Friend
This pageant welcomes contestants (McKinnon, Villaseñor, Chloe Fineman) as they battle it out for the title of "Little Miss Teacher's Friend." As the returning champion (Bryant) knows, you've got to tattle on naughty kids and dream about the teacher's home life in order to really do a good job. As the girls imagine buying Mrs. Polera (Ego Nwodim) diamond necklaces for her birthday, the principal (Harbour) tries to keep things on track. While the tiny little character portraits are all nicely drawn, and there's a lot to admire about the premise and framework, the sketch doesn't quite carry the funny as well as it might. The cleanest laugh hits in a very small moment between the principal and a nameless kid in the crowd (Yang). This one feels like an unlikely extension of the "Nephew Pageant," written by Anna Drezen, and falls into quite a similar groove.
Court Show
At the dog run near 110th and Amsterdam in Manhattan, Connie Schaumberg presides over Dog Court, for every canine dispute involving stolen tennis balls or pee landing where it doesn't belong. In the case of Skittles vs. Bandit, a lady (McKinnon) was humiliated when Bandit's owner (Harbour) allowed his dog to jump on her and pull down her v-neck, exposing her breasts. The dogs play jury foremen and sketch artists while this goes on. Strong does a great job anchoring the thing, maintaining order with cutting lines such as, "You put your lipstick back in its holster!" The danger of working with live animals becomes apparent when Strong has to wrangle her "crippled" pug, a lively dog that scrambles all over her head in a panic as Strong tries to deliver her lines. Still, the unexpected chaos creates a nice little moment.
Father-Son Podcasting Microphone
For any father who's having trouble connecting with his son, there's the Father-Son Podcasting Microphone. The "comforting cadence and structure of a podcast" can help dad (Harbour) and kid (Mooney) indulge in some deep conversations they wouldn't be able to have otherwise. Conversations become "divided into easily digestible segments," and if things get too heavy, there's always room for a commercial break from Squarespace. The best gag here is the notion of the product itself, but the scene is nicely played.
David Harbour Monologue
In order to show people he's more than just his role on Stranger Things, David Harbour wants to walk through the audience and crack jokes. But Kate McKinnon points him to a spooky, smoky hole in the wall, which leads him to the Upside Down and plenty of SNL players. In this topsy-turvy world, Kenan Thompson gloats as the big boss, Lorne Michaels flounders as an NBC Page, and Pete Davidson debates whether or not he really wants to show up for the show this week. The sketch is a fun idea, but it's more an endearing diversion than a funny bit. The production crew deserves credit for creating a pretty opulent world in such a short time, and the prop master wins for the roaming llama.
With a good number of thoughtful, fun premises, this week's show avoids any outright clunkers and remains remarkably steady. And even though he may have no idea how to play a woman or do an Italian accent, Harbour is a reassuring presence throughout. The writers really gave their host room to shine, but otherwise emphasized ensemble dynamics over star turns. And while stunt-casting has its pitfalls, Billy Porter and Lin-Manuel Miranda brought a nice bit of energy to the cold open. During one of the commercial breaks, it was announced that Chance the Rapper will be host and musical guest on October 26, so there'll be an extra show between now and November 2.