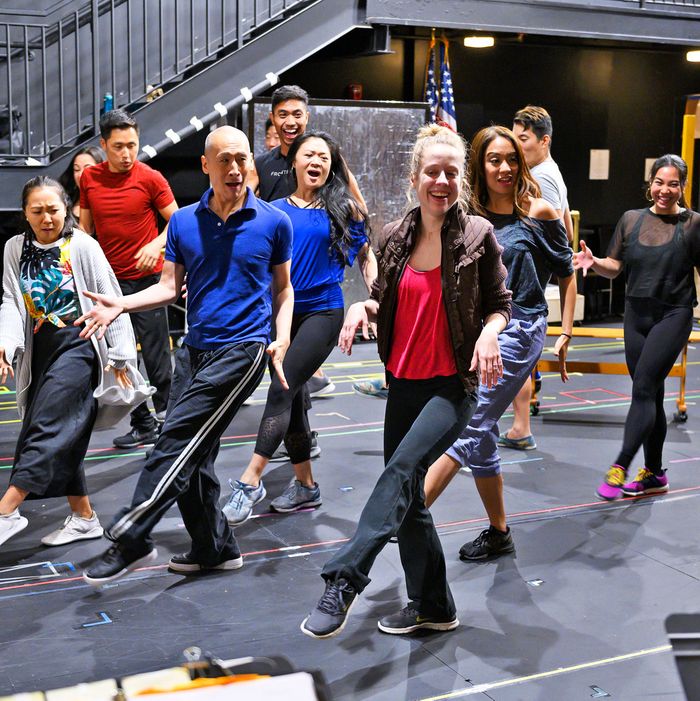 The cast of
Soft Power
in rehearsal.
Photo: Jenny Anderson
An interloper arrives in a nation with some backward ideas, meets a political figure with a lot of power, and convinces them to modernize a bit and change their ways — that's the formula for many classic tales about European expansion, from Rudyard Kipling up through Seven Years in Tibet, often with a bit of cheery music thrown in, à la The King and I. But it's also the formula that playwright David Henry Hwang and composer Jeanine Tesori are working with in their "play with a musical" Soft Power, though with the typical power dynamics reversed. In the show, a stand-in for Hwang named DHH is hired by a Chinese producer to try to stage a theatrical production in Shanghai. Then, after a stabbing that mirrors Hwang's own, he falls into a coma and imagines a full-blown future production of a Chinese musical about an intrepid Chinese producer who meets Hillary Clinton and teaches lessons from the communist perspective about screwed-up American democracy. There's also, of course, a "Getting to Know You"–style lesson scene, but about learning to distinguish tones in Mandarin.
After runs in San Francisco and Los Angeles, Soft Power comes to the Public Theater in New York this fall. The production started performances September 24 and will open October 15. Hwang, who won a Tony for M. Butterfly and previously toyed with Rodgers and Hammerstein with a rewrite of Flower Drum Song, and Tesori, a Tony-winner for Fun Home, sat down with Vulture to discuss what inspired them to flip a common script with Soft Power, how the play has grown into an increasingly ambitious musical, and what they're focusing on in its New York run.
Let's start at the beginning, the initial conception of basically doing a reverse King and I. What made you think it was possible to do that, and why was it appealing as an idea?
David Henry Hwang: Was it possible? That's a good question. I'm pretty used to this idea of the "white savior in Asia" trope. I felt that anytime you have a sort of white character who goes into most foreign countries, including Asia, there's always a sense that, "Oh, they become advisor to the ruler." The reality with both Anna Leonowens and with Heinrich Harrer is that, yeah, they kind of knew the ruler — they're one of the few white people in the country. But "advisor" was a bit much.
[Director] Leigh Silverman and I were trying to talk Jeanine into doing this. The day that she decided she was going to commit to it I felt like Winston Churchill when the Americans agreed to enter World War II, because we needed someone with Jeanine's understanding of musical theater, besides being a great composer, to have hope of pulling this off.
Jeanine Tesori: Churchill? Well, that is really funny. I just thought it was an unexpected and completely inevitable idea. At that point it was way before the election, it was before the stabbing. It seemed like a great idea, basically a play with a couple of songs in it, then it turned into something else, and I remember thinking, "I can't do this. This is bigger. This is more." Then. I thought, "Okay. Say yes to it. Say yes. You'll figure the rest out."
You mentioned both David's stabbing and the election, these real-life things that have been folded into the musical as it's developed. How did they change what you originally set out to do?
D.H.H.: The original notion would be [that the musical would be about] a Chinese character who comes to America and, in a more clear mirror of the King and I, becomes an advisor to President Hillary Clinton. He was going to help her solve the problem of gun violence. Then we had a reading of an early iteration of that the day before the 2016 election. And the day after the election, I was thinking, "Oh, I think this is bad for the country. But it could be good for the musical." Then, as I was starting to write it, I was going from the play part to the musical part, and I just started writing about my stabbing.
I thought, This is not going to stay in the musical. It ended up, through the encouragement of my collaborators, being a really central pivot — even more so in this version than the version that we did in California.
J.T.: This is David's story, and Leigh and I are white women. It's also an interesting thing to say, "We are here to illuminate and take the cue from an Asian-American playwright, and keep asking the questions to draw something out." Even sometimes David is the reluctant passenger.
D.H.H. My affect is fairly controlled in real life, where, in order to make the show work, I have to go deeper and be more vulnerable and expose myself emotionally.
J.T.: I mean, there's no reason to name a character Jeanine Tesori.
D.H.H.: We could do for the next piece.
J.T.: Never! Never.
Jeanine, I'm interested in the writing of the music. The conceit of the musical is that it's written in China in imitation of a Broadway show. How do you even approach figuring out what that would sound like?
J.T.: In my early 20s I did thousands of hours of world music, producing it all over the world. I went to China in '88. Our guide was killed at Tiananmen Square. We worked with students there. It's been interesting to carry my love of those folk instruments into this idea of where China is now, and going through this lens of what the American form has to offer in terms of the way that it delivers rhythm, and inevitability, a story. I was really interested in taking cues from David about how we were going to use American musicals in terms of a character going deep into the subconscious. Having just seen the King and I, and all of the refraction of that — that to me has been a delightful challenge.
D.H.H.: There are several conceits, but one of the conceits is that some future China has appropriated the American musical form. If you listen to K-pop or Mandopop today, it doesn't sound traditionally Asian. It's basically an appropriated form. We're playing with that idea as well as the conceit that all of this is a David fever dream. It's a future China through the lens of a current-day Asian-American.
Putting Hillary Clinton at the center of the play raises a lot of associations for people in the audience, maybe especially after she lost the election. What made you interested in keeping with that character?
D.H.H.: To the extent that the musical could interrogate the notion of democracy itself, from a Chinese point of view, it seemed useful to have a Hillary, the character who lost, who everybody expected to win. We happen to be at a historical moment when a lot of democracies are under siege — it's not just ours. Authoritarianism is rising all over the world, which leads to the question, "Is this democracy that we grew up with, and the values with which we were raised, is this a blip in history?" Something that we thought was inviolate—actually, it has been violated.
J.T.: [to D.H.H.] Like you. You were violated. That's the thing that we've always talked about, this idea where plot, story, metaphor, and the way that we were horrified that [the stabbing] happened. Then after the horror, examining the uncertainty, the mess of it. Trying to assign meaning to something that might've been meaningless, meaningful, a hate crime, an attack.
What have you been talking about changing as you've gotten the feedback from Soft Power's run in L.A.?
D.H.H.: One is to make the D.H.H. character more central, and to make the lens of the musical more clearly through that character's point of view. Then the other thing in the musical itself is to make it less caricature-y. It was more cartoony in L.A., and I think we've been trying to take all those characters more seriously within the musical.
The musical-within-the-play offers up a lot of a Communist Chinese perspective on America, in a way that I think is supposed to feel uncomfortable for an American audience member in the way watching the well-made ideology of something like Seven Years in Tibet or The King and I might. But you include a few scenes elsewhere that criticize the Communist Party. 
D.H.H.: We're trying to critique the Communist system and the Chinese system more than we did in L.A. Given that the musical is [told] from a Chinese point of view, your first impulse is that, "Oh, well, it's going to support the Chinese point of view," and it needs to do that. On the other hand, it is now more firmly embedded in the David fever dream. We're ultimately trying to affirm a democratic hope, despite the seductiveness of some other system in the wake of the 2016 election.
We talked about The King and I — were there other classic East-West stories or musicals that you wanted to play off of?
D.H.H.: It's not an East-West musical, but one other thing that was a useful form was Mr. Burns, a Post-Electric Play. Mr. Burns starts as a play, and by the time you get to the third act, it's an opera. The thing that we know, which is The Simpsons, has been so extracted that it doesn't really resemble the source material.
J.T.: I love Fred Hersch, and he wrote a piece called Coma Dreams. I saw it at least six or seven years ago, and I thought it was incredible. He was in a coma, and this subterranean world of the subconscious opened up as a narrative. It's always stayed with me, that sort of Dante-esque exploration, beautifully crafted. I think that's where David has been leading us, in the canoe.
The whole cast is made up of Asian-American actors, except for Alyse Alan Louis, who plays Hillary. That's very rare for an American musical.
J.T.: I have been very moved working with an Asian-American cast, and their stories about being in musicals.
D.H.H.: I remember one actress talking about being in a situation where the creators are saying, or the director is saying, "Oh, this is a fantasy version of X Asian country" [and disregarding her input]. Feeling that what she could bring to it in terms of authenticity and experience was being disregarded.
At least based on the California response, I feel like Soft Power speaks quite powerfully to an Asian-American audience. It's an example of representation and seeing themselves that they haven't gotten before. The only two Broadway musicals in American theater history about Asian-Americans, as opposed to Asians from Asia, were Flower Drum Song and then Allegiance a few years ago. It just hasn't existed. I remember the National Asian-American Theater Company, NAATCO, did Falsettoland. The actors were sort of saying, "Well, this is actually closer to my experience than playing Tuptim."