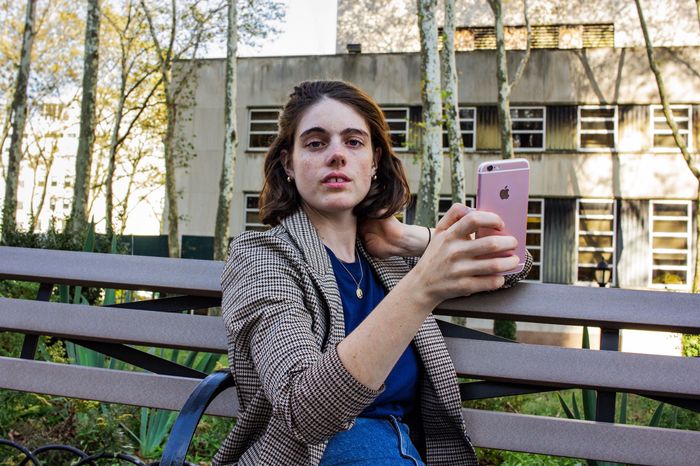 Sophie Helf.
Photo: Tavish Timothy
Sophie Helf (@jil_slander) is a computer programmer and writer originally from the Bay Area who currently lives in New York. She is very good at getting lost in Brooklyn.
This week, Sophie and I talked milkmaid blouses, Co-Star, and putting Glossier products up your nose.
This tweet came to me in a dream I had while I was taking a mild depression nap and it is the truth. Some of us just want to ooze our way through the experience of being alive without being seen as anything at all. The official Co-Star account actually replied with a W. Benjamin quote insinuating that thinking this is destructive, which, so? I am also very destructive.
Has Twitter been a good platform for your jokes? Has it changed your sense of humor in any way?
I'll be honest and admit that I've been thinking of how to answer this for a solid two hours, and so will say that (a) yes, being a complete psycho in 280 characters (plus a maximum of four photos) is truly a joy, and (b) I have always been a gnarled little creep, but Twitter has definitely magnified that side of me. It's one thing to think that shoving a Glossier product up your nose is funny, it's another to post it and have other people tell you that yes, it actually is.
How do you balance your computer programming and your writing and your hilarious internet presence?
I actually manage to keep all three things separate pretty easily. Coding is my day job, so I spend the majority of my weekdays working on that, and then writing happens as it happens — I'm still pretty new at it, so I only pitch a few times a month, and work on pieces as they come along. As for Twitter, I'm weirdly strict about my usage, and use it mostly just to tweet at this point versus constantly scrolling. I have no attention span whatsoever, so if I look at the feed when I should be working, I'll lose a solid amount of time to it and probably get upset by something I've seen as well. It's a balance I've had to force, but it turns out that not getting pissed off by shit you see online makes you feel weirdly productive and at peace???
I get a lot of Instagram followers who see that I'm an amputee and expect me to post stuff that's me running in my fake legs or doing sports. I hate all sports and feeling obligated to be "inspirational" when I don't feel like it — mostly I am just chugging coffee and staring out into space. I got what I've been referring to as my "slutty little milkmaid blouse" recently and have been taking endless selfies in it (I am obsessed with myself), one of which does have the exact aforementioned caption.
You're a double-leg amputee. Is there anything you're absolutely tired of people assuming or asking about that aspect of you? 
Beyond the usual fetishist DM-ers and strangers going "omg what happened to you?" I get a little tired of people projecting this weird sort of narrative arc onto my life — the innocent girl who tragically lost her legs and had to work hard to get where she is now. In reality I have never been innocent. Losing my legs sucked but was not tragic because I did not die, and my various prosthetists and surgeons did way more work than I did to get me walking again. As for where I am now? Living in New York, kind of depressed, going through nicotine withdrawal. Very sexy, very inspiring.
Has using prosthetics changed the way you present yourself on social media at all?
It definitely varies from site to site. On Instagram my bio is "NYC's amputee darling," which is true; on Facebook I've only mentioned the leg thing a couple times, because mostly it's gossipy high-school people on there. On Twitter I'm definitely "the leg girl," which I 100 percent lean into — it's a little niche I've managed to carve out for myself just by being honest and kind of funny about the whole situation. I definitely don't post constantly about my legs, not because I don't think people care, but because I don't care half the time. There's more to my life than just the prosthetics. But I do very much relish a good leg tweet.
I'm a little obsessed with the weirdly rigid aesthetic of influencer culture and admittedly got sucked into it myself a while ago in an attempt to look like my life was sexy and interesting (it isn't) — I even bought myself a pair of Maryam Nassir Zadeh shoes. Shame. I snapped out of it eventually when I realized that no, I was not getting a Fashion Week invite, and besides, in the end we are all jettisoned into the same great gaping void upon our deaths.
Regarding influencer aesthetic: Be honest, do you wear Glossier products?
Okay … I confess … I have some of the "Priming Rich" moisturizer … My friends got it for me though, I swear … I'd never spend $38 on a moisturizer … Though I've heard Drunken Elephant is good … But yes … I do wear Glossier products … And you know what? It works beautifully and I'm fucking mad about it.