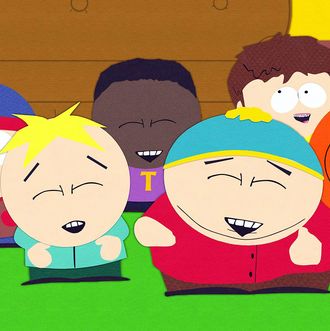 South Park.
Photo: Comedy Central
In the words of South Park philosopher Matthew McConaughey, "Sometimes you gotta go forward by going backward."
To that end, WarnerMedia on Tuesday announced that its new streaming platform, HBO Max, which launches next May, has landed exclusive streaming rights to all 23 seasons of Trey Parker and Matt Stone's animated satire, South Park. The deal, valued at $500 to $550 million, according to Variety, includes debuting three new seasons the day after each episode airs on Comedy Central. A joint venture between Parker, Stone, and Viacom currently available on Hulu, South Park's 300-plus episodes will move to HBO Max next June.
South Park will serve as the anchor to HBO Max's extensive young-adult animation slate, which will include Adult Swim shows, Crunchyroll's anime offerings, and a landmark exclusive deal to stream the entire film library of Japanese animation house Studio Ghibli. HBO Max also acquired all three seasons of Adult Swim's Rick & Morty, which will launch on the platform in May. Future seasons of the series will continue to premiere on Adult Swim before moving to HBO Max. (Hulu, which already streams Rick & Morty seasons, extended its deal to include future episodes as well.)
During his remarks to investors and the press on the Warner Bros. Studios lot in Burbank on Tuesday, HBO Max chief content officer Kevin Reilly said the platform will launch 69 original series in its first year. Among those projects are three female-centric comedies and two new DC projects produced by Greg Berlanti: Strange Adventures, an anthology series that will feature characters from across the DC canon, and one inspired by the Green Lantern.
"Both of these original DC properties we'll be creating for HBO Max will be unlike anything seen on television," Berlanti said in a video shown at the event. "An anthology series of cautionary tales set in a world where superpowers exist, and, in what promises to be our biggest DC show ever made, we will be going to space with a Green Lantern television series."
The three new comedies that were announced are:
• A half-hour comedy created by HBO darling Issa Rae (Insecure, A Black Lady Sketch Show) that follows a female rap group outside of Miami trying to break into the music industry. Tentatively titled Rap Sh*t, Rae will write the pilot and produce it with Montrel McKay, Jonathan Berry, and Dave Becky.
• As part of Mindy Kaling's overall deal with Warner Bros. Television Group, she is creating a single-camera comedy about three 18-year-old college freshman roommates at Evermore College in Vermont. Kaling International will produce the series, tentatively titled College Girls, with Warner Bros. Television and 3 Arts Entertainment. Kaling will serve as showrunner.
• Executive produced by Elizabeth Banks, DC Super Hero High is a half-hour comedy that follows a group of teen students at a boarding school for gifted kids. What the students don't realize is they are being groomed to become legendary DC superheroes. DC Super Hero High is produced by Banks's company, Brownstone Productions, in association with Warner Horizon Scripted Television, and based on the characters from DC Comics.
Due to an editing error, a previous version of this story said that Rick & Morty would stream exclusively on HBO Max. It also streams on Hulu.