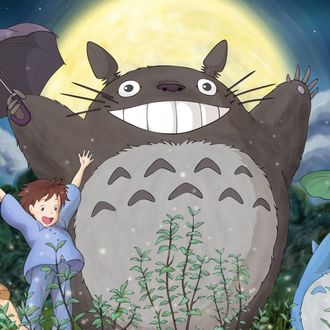 In a way, Studio Ghibli movies have always streamed, haven't they? Like a babbling book, like a flow state, like a stream of consciousness, like (spoiler alert!) how Haku is a river.
But they've never actually, like, streamed streamed. Not until next spring, anyway. On Wednesday, HBO Max announced that the upcoming streaming service acquired the U.S. streaming rights to the entire film library of Japanese animation house Studio Ghibli. Subscribers will be able to begin streaming Ghibli films like Hayao Miyazaki classics My Neighbor Totoro and Howl's Moving Castle at launch, in the spring of 2020. This is significant because up until now, Studio Ghibli has never licensed its films to any streaming service, making them just a touch more difficult to acquire in this on-demand age. If a fan wanted to watch Castle in the Sky or Kiki's Delivery Service, they'd either have to seek out a theatrical rerelease event or get their hands on a DVD or Blu-Ray from the North American Studio Ghibli distributor, GKIDS. Watching these masterpieces had to be a deliberate and careful act, befitting this true last remaining bastion of hand-drawn animated features. This announcement comes a day after Ghibli announced the films would not be streaming on Disney+, the upcoming service from the company's previous distribution and English-dubbing partner, so it's certainly a win for HBO Max in the streaming wars.
This is great news, sure, for people who wish to revisit timeless masterpieces like the Oscar-winning Spirited Away. But the true, earth-shattering significance of this HBO Max streaming deal lies in the deep-bench Ghibli flicks that audiences will finally have easier access to, like Isao Takahata's 1994 film, Pom Poko, a heartwarming family feature about raccoon creatures called tanuki that use their balls for antifa good.
So soon we'll all finally be able to stream Ghibli in the comfort of our massive Totoro beds while booking tickets to the upcoming Ghibli theme park.