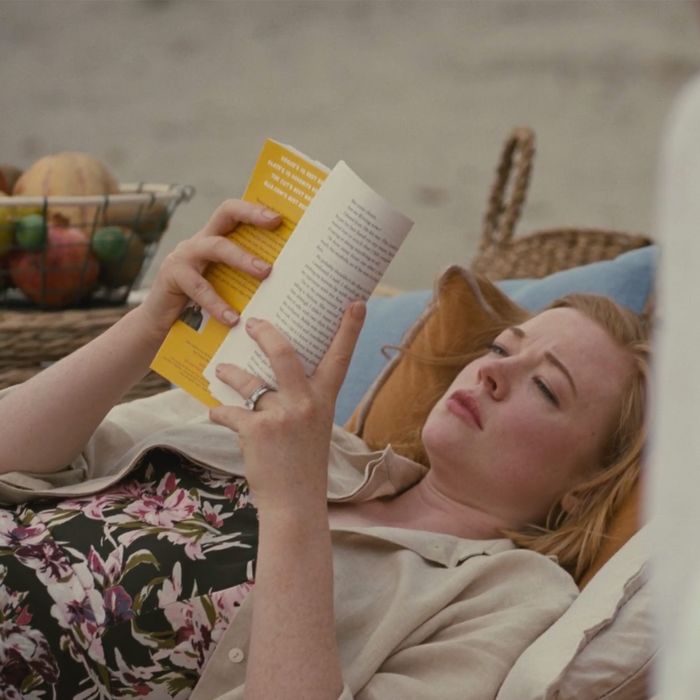 Succession's season-two finale did not disappoint. Watching the Roy family snipe at each other aboard a luxury yacht so grand it made the ships on Below Deck look like rickety, old boats would have been dramatic enough, but "This Is Not for Tears" ramped up the stakes to become one of the best hours of an already stellar season.
In an episode chock-full of memorable moments, there's one detail that piqued my interest. Not Kendall's shocking public betrayal of his father, nor Connor casually asking his dad for a $100 million because his girlfriend's Broadway play bombed, but rather Siobhan Roy lying on the beach reading Sally Rooney's brilliant 2017 novel Conversations With Friends.
Symbolically, it makes sense that Succession's writers would give Shiv this particular book during a scene in which she and her husband, Tom, are discussing the openness of their marriage. Tom is directly questioning whether they should even stick together, and Conversations With Friends is, in large part, about a young woman having an affair with an older man who's stuck in a complicated marriage. As readers, we're often drawn to books that can explain or guide our own experiences. Lord knows Shiv and Tom's relationship needs a life raft after the threesome debacle, but if I'm being honest about a book I love deeply, Shiv would hate it.
Conversations With Friends is told through Frances, a 21-year-old English student and poet in Dublin with a propensity for long bouts of ennui who becomes intimately entwined in a wealthy couple's life. It's both critically and publicly acclaimed, so why would Shiv feel otherwise? First, there's the money factor. Frances self-identifies as a Marxist, having little desire for money beyond the basic necessities. She's morbidly fascinated by the lives of her new wealthy cohort, but openly judges their bourgeois lifestyle. I can't imagine Shiv would appreciate a class-motivated guilt trip while on a luxurious trip that cost millions of dollars.
Perhaps more important than Frances's feelings on money is that she lacks ambition. That puts her in stark contrast to any member of the Roy family, but especially Shiv, who's spent the entire season trying to needle her way into a position of power. To so many readers, Frances is a deeply compelling character full of self-doubt and self-hatred tied to the world around us, but that's not Siobhan Roy. She'd have no patience for a young woman lacking the drive to stake out her place in the world.
Then there's the marriage itself. Frances and Nick's affair is shrouded in secrecy, a far cry from the open arrangement Shiv craves. When Melissa, Nick's wife, finds out about their affair she's possessive over Nick, agreeing to allow their arrangement to continue in an email that makes it clear he'll always belong to her. On the flip side, Melissa's previous affairs are presented not as part of a healthy arrangement, but as indiscretions that contributed to Nick's declining mental health. Shiv is the one pushing Tom into an open marriage, in stark contrast to Frances, who let's Nick decide when they're sleeping together, and Melissa, who stays with her adulterous husband because he's less depressed when in the midst of an affair.
Conversations With Friends certainly makes sense for the moment, but Shiv would have quit 50 pages in. I can just picture her rolling her eyes as Frances types passive-aggressive emails to Nick late into the night, refusing to take a stand and say what she really wants. I'm guessing that Shiv would be drawn to narratives of strong-willed women defining relationships on their own terms — women like Madeline in Laura Lippman's Lady in the Lake, Edna in The Awakening, Amy in Gone Girl, Elizabeth Bennet in Pride and Prejudice, and the women in Naomi Alderman's The Power. Just a few suggestions once she puts down Conversations With Friends.
Succession gets brownie points for featuring such a delicious literary Easter egg in Sunday's finale, but let's be real: Shiv stopped reading it ages ago.