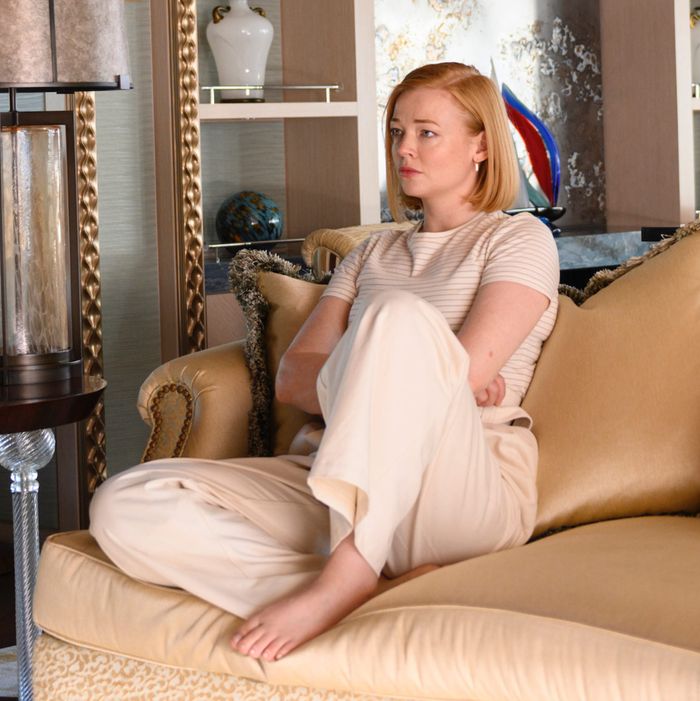 The Succession finale was everything I could have possibly dreamed and more. It teased and toyed with the question of who would be Logan's sacrificial lamb, it took a detour through the achingly sad, dark places in Tom and Shiv's marriage, it wound its way back around to the most obvious and most correct choice for a sacrifice. And then, it twisted the knife in the most surprising and satisfying way.
Let's start with a quick recap: The previous episode ended Logan's promise that a "blood sacrifice" would have to be made to appease his shareholders.
That's roughly where the finale began, too: Logan hears from a major shareholder that, actually, the best blood sacrifice might be him.
Then the whole Roy family gets on a giant yacht on the Mediterranean and it's off to the races.
Roman's eyebrows, seen here responding to the knowledge that the axe is about to fall, should be nominated for their own special eyebrow Emmy.
At breakfast, everyone sits around the table to discuss the best optics for the sacrifice, prompting pretty much everyone to ask: What about Tom?
Logan is … dubious.
No conclusions are drawn, and then Kendall and Logan go for a father-son boat ride that is not ominous at all.
In a brief scene that will change the way I eat chicken forever, Tom decides that if he's going to be sacrificed, he's going down swinging.
This is the only "putting sunglasses on" meme you can use now. Sorry, I don't make the rules.
If you put on sunglasses, you're walking away with a big "screw you." But if you put on headphones too, you're the one who's getting screwed.
Logan finally tells Kendall that the sacrifice is going to be him. Kendall looks completely shattered.
This kiss is surely a Godfather reference that should've warned us all what was going to happen, but I still didn't see it coming!
Shiv, watching the press conference where everyone expects Kendall to fall on his sword, knows things are very bad.
BUT KENDALL ROY IS NOT GOING DOWN LIKE THIS! HE WILL NOT BE THE BOAR ON THE FLOOR TODAY.
Shiv is stunned.
Roman is also stunned (also feat. eyebrows).
KEN-W-A DROPS THE MIC!!
Is Logan proud here? Stunned? Horrified? Could this really be the final blow for L to the OG? RIP to a real one.