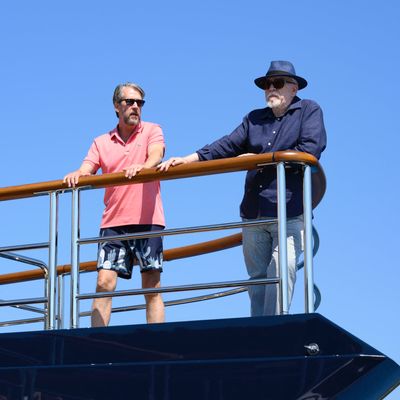 For the past week, Succession fans have been speculating about who will be the "blood sacrifice," that bloody lamb with the silken curls that must be laid at the feet of skittish shareholders. (You can see my own failed attempt at prognostication myself in the notes. I originally had it screen-shotted with a timestamp in case I was right, but there's really no reason for me to brag about such a humiliating line of thought now.) Creator Jesse Armstrong, who wrote "This Is Not For Tears," has crafted an ending that makes you believe, in retrospect, that it could go no other way, because that's what great writers do. It had to be Kendall and Kendall had to react as he did, because the entire arc of the show makes any other choice seem as inadequate as offering Tom with "Greg sprinkles."
The finale pays off a long game between Kendall and his father that goes all the way back to the early episodes of the first season. Since the incident at Shiv's wedding, Kendall has been so tragically intent on showing fealty to his father that we forget how much time he's spent trying to plunge the dagger. He seems to have known for the longest time that Logan would never choose him to run the company—he's a fuck-up, yes, but tonight he's also said to be "not a killer"—so he's tried on multiple occasions to take it from him outright. He tried to arrange a show of no confidence and that blew up in his face. Then he tried to lead the proxy bid with Stewy and Sandy and that also blew up after he staged his own version of Chappaquiddick. And yet that killer instinct never left him, much as it was suppressed by shame and depression, not to mention all the cocaine and liquor (and meth) he could find to numb his conscience and salve his pain.
Armstrong conceives a beautiful symmetry between the opening and closing sequences of the second season: In the first episode, Kendall is dragged out of a peaceful Icelandic hideaway to sacrifice himself for his company, making it clear to whoever's listening that he's looked at both deals and backs his father's position in the proxy fight. In the last, he's asked to take one hard on the chin a second time and admit that he was solely responsible for overseeing the horrors of the cruises division and covering it up through payoffs and document destruction. Witnessing Kendall's presser in "This Is Not for Tears" is like watching him emerge from the chrysalis, ready to claim some of the dignity and power that seemed lost to him forever. Yet it's also the rousing payoff to a lifetime of mistreatment at the hands of his father, who's the source of everything wrong in his life, and that all the money in the world can't fix. "The truth is that my father is a malignant presence," he says—and in an environment where everyone lies routinely, that's a plain fact.
There are many superbly wrought scenes in this episode that lay the path for that ending, but the one that sticks out to me now is the lighter one between Kendall, Shiv, and Roman on the yacht before the anticipated kiss from daddy. Kendall is back to floating on peaceful waters, recalling that Icelandic spa from which he was pulled like a child from the womb. The three siblings — and sorry, Connor, you're not really in the mix here — are talking about Roman's trip and various bits of company intrigue, but what's striking about the scene is how relaxed they are together. It's possible to imagine what they would be like without their father poisoning the well. Being filthy rich on a yacht should be fun — like Greg going down the big slide fun — and the three of them are capable of silly sibling banter when they're not having to scheme at their father's behest. When Logan's chopper arrives ("Emotional gunship incoming!"), the sound permanently breaks the peace.
What's particularly appalling and pathetic about Logan's performance on the yacht is that he's playing the same who-gets-sent-off-the-island game as everybody who's been watching the show. We've all wanted to know from the start who the successor is because the show is called Succession, and Logan is our malevolent Jeff Probst, putting his contestants through the paces. But the reality is, he's the most craven of all the Roys, despite the "empire of shit" that he's been able to build up around himself. His answer to the problem is to manipulate his family into making the decision for him, which is how we end up with the miserable spectacle of a tableful of Roys and Waystar muckety-mucks talking openly about whose head to put on a spike. When Logan says "the obvious choice is me," he's serving his ego. He knows everyone at the table will use this opportunity to kiss his ass like the opening of a Trump cabinet meeting.
Kendall floats Gerri. Roman floats Frank. Frank floats Karl. Karl volleys back to Gerri. Roman stands up for Gerri ("Haven't we killed enough woman already?") and throws it back to Tom. Shiv thinks Tom looks logical. Others think maybe Tom with Greg sprinkles. And Connor, hilariously, volunteers himself as Tribute. In just a few short minutes, relationships are poisoned (or further poisoned, anyway) for Logan's benefit, but he has to leave disappointed that none of these suggestions are adequate and someone much higher up the chain will have to go. He's waiting for the right person to make the suggestion — that person turns out to be Shiv — and it's only then he can kindly asks his number one son to take the fall. He has decided nothing. He has overseen disaster.
It takes some doing for Kendall to get where he needs to be, however, but it's also possible that he's planned for this contingency. At some point, for example, he would have had to have a conversation with Greg about the incriminating documents in his possession. That conversation probably happened some time after Logan booted Greg out of the room for panicking over Tom's Congressional testimony, but it seems likely that it was after Kendall was chosen as the fall guy. (Armstrong and company prepared so well for this team, incidentally, by having Kendall and Greg bond in significant ways this season over an apartment and park cocaine.)
The decisive scenes, to my mind, have to do with Naomi Pierce, who's been hanging around Kendall's life since their weekend at Tern Haven. Kendall didn't have daddy's permission to bring Naomi on board at such a sensitive time; Logan tells him, "I'm not sure we have enough provisions," and makes his objections even clearer when referencing their substance abuse problems. Kendall does what his father says, just as he did after sending the actress away for saying "awesome" twice when meeting Logan. But Naomi has an insight that shakes him: "He loves the broken you. That's what he loves."
You'd think that all the king's horses and all the king's men couldn't put Kendall back together again. But for one astonishing moment, he summons the courage to do so himself.
Sad Sack Wasp Traps
• [Note: This first bullet point was written about an hour before the show started] "Who will be the blood sacrifice?" It's shortly before the last episode of the season is about to air, so I've decided to speculate in the dark and post it in "Sad Sack Wasp Traps" to see how close I got. I'm absolutely terrible at figuring such things out, but I'm going to try now. Two scenarios: What won't happen (but seems like it will), and what will happen (but seems like a stretch).
What won't happen: The obvious choice is Tom by way of Greg. Greg is expendable, a blood relative who's become the unofficial Roy family mascot without actually being part of the inner circle—or even a satellite to the inner circle. (He's the "Assistant to the Regional Manager" of the show.) Greg's name has already come up in Congressional hearings for possibly destroying incriminating documents on Thanksgiving, but we know that Greg has taken steps to insulate himself by keeping copies of incriminating documents. That would naturally shift the blame to Tom, who's spent the season playing the patsy for Shiv, Logan, and everyone else who needs a scapegoat. But again, this won't happen because it's too straightforward.
What will happen: Shiv is the blood sacrifice. It's not clear exactly how a woman so disconnected from Waystar's day-to-day operations could take the fall, but that's something for Jesse Armstrong to work out. But any show that recalls King Lear and other Shakespeare works so frequently has a respect for classical dramatic structure. And with Shiv beginning the season as The Chosen One, only to have her father (and her own missteps) undermine her at every turn, it follows that she would hit bottom at season's end. This will not be just, given the terrible task she performed so capably last week, but Logan doesn't care to make his children happy. He's looking out for No. 1.
• What did happen: D'oh! I'm terrible at this.
• I really hope there's a deleted scene with more of Greg's testimony, because his attempts at formal language ("If it is to be said… so it is," "Yes, I merely wish to answer in the affirmative action") are a delight.
• In an episode where his father acts like a coward, Roman is able to come back to Logan and be honest about the prospect of his cokehead counterpart in Turkey saving the company. He would have stopped the blood sacrifice—which potentially could have been his neck—but he chose to give his honest assessment. And this in the face of his typical board-room sycophancy.
•There's so much going on in this episode that it's a shame to reserve what happened between Tom and Shiv for a bullet point, but here we are. In the same episode where a beaten-down Kendall showed some pride, Tom finally spoke up for himself with a firmness that's eluded him in his marriage to Shiv and his business dealings with the Roy family. Shiv's wish for an open relationship never sat right with him ("I don't feel that naughty tonight") and her willingness to throw him off the plank in the name of pragmatism is the final straw. Matthew Macfadyen brings heartbreaking new inflections to his performance as Tom, especially in the scene with the two of them in a cove. "I wonder," he says, "if the sad I'd be without you would be less than the sad I'd be being with you."
• Connor gets excited about his fist-pumping becoming a meme. ("I'm a JIF now!") But I'm going to guess that Willa tossing his tablet off the yacht will be the truly long-lasting meme from this episode. We need something to replace the tired baboon laptop gif.
• Speaking of memes, Tom eating Logan's chicken has a nice "I drink your milkshake" quality to it."
• Is that a sly smile that crosses Logan's face in the final scene? Does game, at long last, recognize game? We'll find out next season.