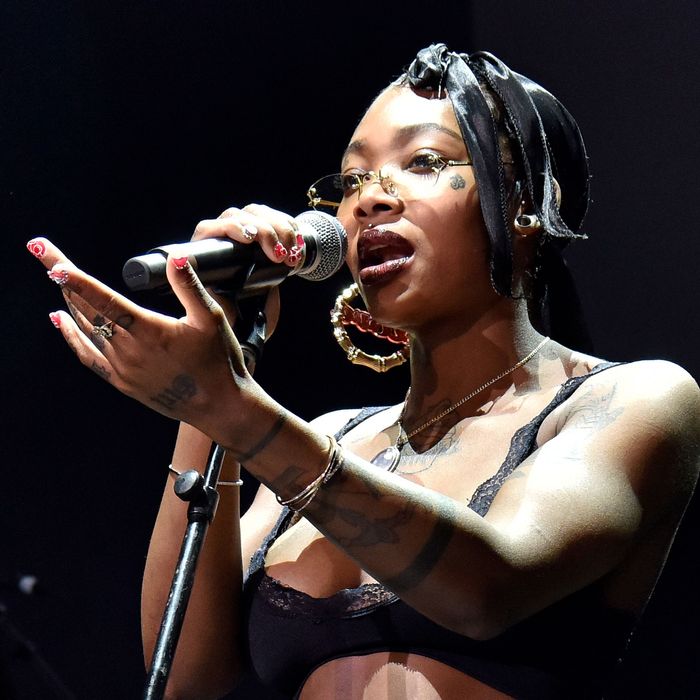 Summer Walker
Photo: Tim Mosenfelder/Getty Images
Mainstream R&B has been a roller-coaster ride in this decade, a space where figures like Rihanna and Beyoncé elevated from surefire hit-makers to authors of classic albums worthy of the pantheon of great soul music, and where songwriters like Frank Ocean, Miguel, and the Internet's Syd poked at the very idea of what black music is supposed to sound like. Artists like Trey Songz and Chris Brown carried adult themes back to center stage, while Janelle Monáe created and cultivated her own technocratic world-within-a-world with her Metropolis series. All the while, there was the Drake revolution, a kind of calculated taste exercise. The warmest Drake songs — "Girls Love Beyoncé," for instance — arrived couched in familiar sounds, as a teen might discover a certain sense of personal style cruising eBay for vintage band tees and recontextualizing evocative symbols in a way that the architects never intended.
In the same way that Kanye West used samples of religious music to add gravitas to his songwriting, in the same way that Disney's Hercules used the muses to give its story a layer of meta-commentary sung from inside its own margins, Drake and his right-arm producer Noah "40" Shebib made music quite literally informed by its elders within the meter of the beat, sad songs about the experience of listening to sad songs in a tight spot. (See also: the great country songs about stress-drinking to great country songs.) Accidentally or on purpose, the trickle of '90s R&B aesthetics informing songs like "Girls Love Beyoncé" and popular records by Drake contemporaries like singer and soul scholar Ty Dolla $ign and our resident patron saint of fed-up lovers Jhené Aiko — as well as successors like Bryson Tiller and Tory Lanez, whose "Exchange" and "Say It" made good on the same framework— gave veteran groups a second run on the charts via sampling.
R&B's new and emerging heavyweights take less direct inspiration from the intentional lines and rap cadences that sprung out of the co-mingling of trap and soul popularized by effortless hybridizers like Future and more from veterans like Mary J. Blige, writers whose songs feel less like words meant to be performed for an audience and more like diary entries or stressed-out calls for a friend's advice. One of the more successful writers of this variety is SZA, whose 2017 debut CTRL told stories about common experiences in plain terms. CTRL's "Drew Barrymore" is a word about second-guessing yourself and your significant other that sounds like it's spilling out in the middle of an ill-fated public gathering rather than a siloed recording studio: "Why is it so hard to accept the party is over? / You came with your new friend / And her mom jeans and her new Vans / And she's perfect, and I hate it / Oh so glad you made it."
SZA's unadorned, unbridled emotion is matched by an expanding crop of albums by newcomers, including Jorja Smith, whose 2018 debut Lost and Found blended the U.K.'s sleek post-genre black pop (see: "Teenage Fantasy") with earthen hip-hop/soul ("February 3rd"). D.C. vocalist Ari Lennox's warm, beguiling tone is a dead ringer for Erykah Badu on the radio, and her debut Shea Butter Baby is kin to the Texas Soulquarian's relatable approach toward matters of the heart: "Whipped Cream" overindulges in snacks when a fling goes south, while "Broke" and "New Apartment" speak candidly to money matters that plagued the singer before her music earned a measure of job stability. These artists are outlining a new path for young black creatives, subverting the expectation of hardness that weighs on public figures in hip-hop. "I am not your typical girl," Chicago poet and activist Jamila Woods sings on "Betty," the first song on her brilliant sophomore album Legacy! Legacy! "Throw away that picture in your head." The aim isn't being the coolest in the room. We all just want someone who'll stop playing games and settle down.
Atlanta star Summer Walker loves music but seems to hate the industry machinery surrounding it. She looks to be bored to death in most interviews, but she's a natural on social media. She's processing fame on her own terms. The writing on Walker's debut album, Over It, which is cruising toward the top of the Billboard 200 in its first week out, is matter-of-fact to an almost startling degree. "Just Might" catches her wondering why relationships always end in breakups. Each verse makes the lurid chorus line — "I just might be a ho" — feel less like a too harsh assessment of the singer's love life and more like someone considering making an executive decision to be less vulnerable.
Over It's obligatory '90s R&B fan service includes a killer flip of Vegas singing trio 702's "Get It Together" in the early highlight "Body," where Walker informs a crush in line one that she has options, as if to inform you that she could be anywhere else in the world, so it's extra special that she wants to spend her time with you. "Come Thru" is a cuffing anthem that samples Usher's 1997 breakout jam "Make Me Wanna" that goes as far as calling the Atlanta legend in to update his own song in verse two. It's a fascinating choice. At 23, Walker is just a few months older than her guest's My Way album. The thing about great love songs is that as long as people keep breaking up and making up, music about the experience will never feel far away. It's not so much that these sounds are cyclical. We're the ones moving in circles.