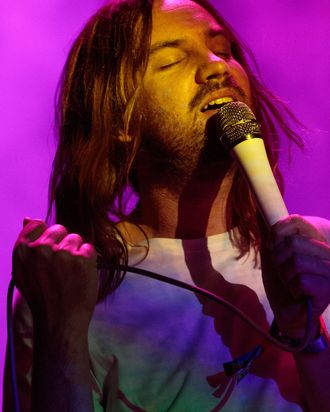 Photo: SUZANNE CORDEIRO/AFP via Getty Images
After releasing new music for the first time in years, headlining Coachella, and other "we're gonna release an album soon" hints, Tame Impala has finally made it official. According to Pitchfork, The Slow Rush will drop at some point next year. Fan interest was piqued earlier this week when the band updated its website with a mysterious video of Main Impala Kevin Parker in the studio. Hinting at an album before announcing an album is the move, as exemplified by Harry Styles earlier this month.
Since releasing 2015's Currents, Tame Impala headlined both Lollapalooza and Coachella, performed on Saturday Night Live, and released two singles. Kevin Parker has produced for the likes of Lady Gaga and Travis Scott. Rihanna covered a song off Currents on Anti. Maybe a new Tame Impala album is what she needs to get her committed to the stu.