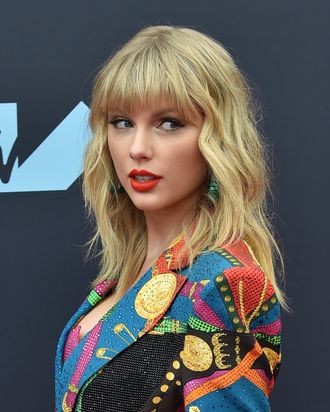 Photo: Aaron J. Thornton/Getty Images
"You … need to calm down," Taylor Swift to the L.A. Kings, most likely. According to Deadline, the L.A Kings have naturally decided that the pop star is to blame for why they had the second worst record in the NHL last season. To rid themselves of this absolutely real curse, the Kings have decided to cover up a Taylor Swift banner that hangs in the Staples Center while playing home games. The very cursed banner was hung in 2015 to commemorate Swift's record-breaking 16 sold-out performances in the arena. The Kings won the Stanley Cup in 2012 and 2014, but have had much worse luck since 2015 when the extremely cursed banner was first installed.
As the Kings mascot Bailey noted, they've been undefeated at home since covering Swift's legitimately cursed banner, so they might be onto something. Unsurprisingly, Swift has yet to release a statement about why she decided to curse the L.A Kings. While we're sure Taylor Swift is too busy hanging out with Phoebe Waller-Bridge to worry about what sports teams she may or may not be cursing at the moment, you never really know with Swift. She's got a blank space, baby, and maybe she wrote down the entire roster of the L.A Kings.