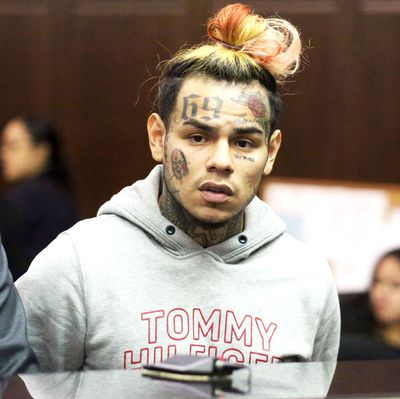 It's not looking good, to put it mildly.
Photo: Jefferson Siegel/NY Daily News via Getty Images
If you've made it this deep into the internet, you're at least vaguely aware that Daniel Hernandez, a 23-year-old with long, colorful hair and innumerable tattoos on his face and body, testified last week in Manhattan federal court. Hernandez is better known as the Brooklyn rapper Tekashi 6ix9ine, who shot to fame in the latter half of 2017 thanks to his breakout hit, "Gummo," and to his constant, immutable trolling on social media and in press appearances.
Last November, Hernandez was arrested on federal racketeering and weapons charges stemming from his alleged involvement with the Nine Trey Gangsta Bloods. His arrest was part of a joint investigation by the NYPD; the Justice Department's Bureau of Alcohol, Tobacco, Firearms and Explosives; and the Department of Homeland Security. The arrest was rushed due to investigators' worries that Hernandez's former associates were planning to attack him. He faces the possibility of life in prison.
Hernandez's fame had always seemed more like a nexus of various controversies than it did traditional music fandom: His Instagram stories were covered more dutifully than most of his songs, and a 2015 sexual-misconduct case involving a minor became central to his public identity. (Last year he avoided jail time and the sex-offender registry in that case by pleading down.) All of which made it inevitable that his testimony from this month, in which he implicated a number of former friends, famous peers, and associates in an attempt to reduce his own sentence, became a media circus. Here's what you need to know about it.
Who, exactly, did 6ix9ine snitch on?
Hernandez testified in a racketeering case against two alleged Nine Trey members, Aljermiah "Nuke" Mack and Anthony "Harv" Ellison, the latter accused of kidnapping Hernandez in July 2018. At various points during his testimony, he:
• Pointed out for prosecutors the gang members who appeared in the videos for his songs "Gummo" and "Kooda"
• Implicated the defendants in various violent acts, including assaults and kidnappings
• Alleged that his former manager, Kifano "Shotti" Jordan, was a prominent member of Nine Trey and was also involved in criminal activity
• Claimed that the Ohio rapper Trippie Redd, whom he had attacked along with other Nine Trey members, belonged to a different Blood set
• Called Jim Jones "a retired rapper" and claimed he was a member of Nine Trey
• Alleged that Cardi B was a member of an unspecified Blood set
• Admitted that he had ordered a shooting of Chief Keef — who he named as a member of the Chicago gang Black Disciples — in June 2018
• Referred to the legendary Houston record label Rap-A-Lot as "not a fucking gang" ("they're like, a wannabe mafia kinda thing")
• Named rapper Casanova as a member of a rival Blood set
Are his lyrics being used against him?
Yes. Prosecutors have asked Hernandez about the lyrics in "Gummo," and have argued that his music contains evidence of organized crimes and gang conspiracies. There is, of course, a long and sinister history of rappers' creative work being used against them in court. This decade in New York, Bobby Shmurda's music was presented by prosecutors as evidence of real-life crimes; in Los Angeles right now, Drakeo the Ruler is awaiting a potential retrial after being acquitted on murder charges that stem from a 2016 shooting. (While Drakeo was shown not to be the gunman, the DA's office is arguing that the shooting is somehow related to a rap beef between Drakeo and a second rapper who was not even at the party where the shooting took place — and they're using his lyrics to make this argument.)
As New Yorker critic Briana Younger notes, the racism that animates these prosecutorial strategies sometimes bubbles straight to the surface: in YoungBoy Never Broke Again's trial in Louisiana, the judge said, simply, "Your genre has normalized violence." The way this dynamic is playing out with respect to Hernandez is especially concerning in that it could make it easier for prosecutors around the country to continue with this strategy in the future. At Pitchfork, writer Marc Hogan points out that Hernandez, unlike rappers who appear in court as defendants, is telling prosecutors that his music does reflect real life, and should serve as evidence rather than be protected as creative expression.
How has hip-hop reacted?
While the comments have usually assumed the form of jokes, condemnation of Hernandez has been swift and uncompromising. Meek Mill has tweeted his disapproval; Future mocked him as a "rat" on his Instagram story; Boosie Badazz and 50 Cent laughed at his predicament. Vince Staples has provided a cutting running commentary on Twitter. Snoop Dogg has posted about Hernandez numerous times on Instagram, including in an instance where he contrasted Hernandez with the comparatively tight-lipped Martha Stewart. He's been shunned by elder statesmen like Phonte and Royce da 5'9" and newcomers like YBN Almighty Jay alike. Some rappers, like Mr. Mothafuckin' eXquire, took the opportunity to remind his fans how many people were fine associating with 6ix9ine when he was merely an unhinged troll with a sex-crime case hanging over his head.
What other details have come out about his case?
Earlier this week, Jorge Rivera, who was driving Hernandez when Hernandez was allegedly kidnapped by Ellison and another man, testified that he had been working as a confidential informant following an ICE arrest. It was also reported that Shotti has appealed his 15-year sentence on two federal weapons counts.
What's the future for 6ix9ine?
Hernandez faces anywhere from 47 years to life in prison, but in February of this year he pleaded guilty to nine federal counts and agreed to cooperate fully with federal investigators. If he meets the terms of his deal, prosecutors may write a "5K1" letter, which would permit (though not require) the judge to sentence Hernandez below the minimums for his various charges. He is expected to be sentenced in January 2020. At a hearing discussing the deal, Assistant U.S. Attorney Michael Longyear said that it's "likely" that witness protection will be required — a tall order, given Hernandez's truly singular appearance. While many in the music business would likely balk at working with Hernandez after his turn as a government witness, it stands to reason that, in an unscrupulous attention economy, there would be a market for more music, Instagram stories, and content from 6ix9ine should he ever be released. And it should be noted that participation in witness protection is 100 percent voluntary. Prior to his arrest last fall, Hernandez declined FBI protection, even when told his safety might be compromised.
Update, September 26: According to TMZ, Hernandez plans to reject the witness-protection program in favor of around-the-clock security after prison, if he gets out. "We're told Tekashi's still itching to make new music, and believes he can pick up where he left off," TMZ says. "It's, essentially, the hide-in-plain-sight approach." He'll reportedly use his remaining funds to pay for 24/7 security while he figures out how to salvage his career, and believes he'll be released as early as next year.
Update, October 3: Hernandez's former bodyguard Anthony "Harv" Ellison has been found guilty of kidnapping the rapper in July 2018. He and fellow 9 Trey member Aljermiah "Nuke" Mack were also convicted of racketeering conspiracy; additionally, Mack was found guilty of distributing drugs. The men will be sentenced at a later date.
Update, October 8: Hernandez's sentencing in the 9 Trey racketeering case is now scheduled for December 18, 2019; his original sentencing date was January 24, 2020. Prosecutors revealed in a letter last week that Hernandez's defense team wanted his sentencing moved up. He faces up to life in federal lockup, but is hoping to secure a more lenient sentence following his cooperation with prosecutors.
Additional reporting by Victoria Bekiempis.