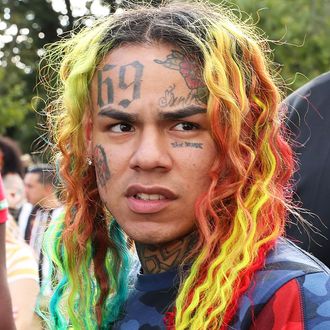 Photo: Shareif Ziyadat/WireImage
When this year gave us two documentaries about Fyre Festival, it was likely one more than many of us needed. Get ready to see double again, with two docuseries about Tekashi 6ix9ine now in the works. Today, Showtime announced a series about the ever-snitching racketeer and sex offender, once an emblematic star of SoundCloud rap. Inspired by a January Rolling Stone feature, the three-part series, called Supervillain, "will trace how a New York City deli clerk named Daniel Hernandez exploded into Tekashi 6ix9ine, the tattooed face of Gen Z and hip hop's prince of trolls," per a press release. But it's not your only chance to dive into 6ix9ine's story on television (if you really want to do that); 50 Cent announced last week that his series Moment in Time, featuring six to eight hour-long documentaries about celebrities, will include an episode about 6ix9ine. It's unclear when either will premiere.
6ix9ine is currently awaiting sentencing in federal court without bail for nine racketeering charges he previously pleaded guilty to, and could face up to life in prison. He's hoping for a lighter sentence for cooperating with prosecutors and providing information about the Nine Trey Gangsta Bloods in his testimony. The court recently moved his sentencing up to December 14 from a previously set January 24 date. In the meantime, he reportedly rejected witness protection in favor of his own security and has signed a new record deal from prison.