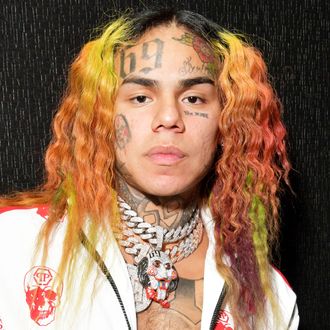 Tekashi.
Photo: Swan Gallet/WWD/Shutterstock
Tekashi 6ix9ine's former bodyguard was found guilty on Thursday of kidnapping the "FEFE" rapper last summer.
Anthony "Harv" Ellison, whom prosecutors said was a Nine Trey Gangsta Bloods member, was tried in a racketeering case alongside another purported Nine Trey member, Aljermiah "Nuke" Mack.
The Manhattan U.S. Attorney's Office said Ellison kidnapped and robbed Tekashi, whose real name is Daniel Hernandez, in July 2018. Prosecutors also claimed that Mack peddled drugs such as fentanyl and heroin.
Mack was found guilty of distributing drugs. Both were convicted of racketeering conspiracy.
Ellison was found not guilty of using a firearm during Hernandez's kidnapping. Mack was found not guilty of a firearms count related to his drug-dealing.
Both face sentences of up to life in federal lockup.
Hernandez was the prosecution's star witness at the made-for-tabloid trial, and snitched on pretty much everyone during his three days on the stand — from low-level gang members to Cardi B and Jim Jones.
His testimony stemmed from a plea deal with prosecutors. He and other associates were busted by the Feds in November on a racketeering rap and, in January, the Brooklyn-born performer pleaded guilty to nine counts in the case. He agreed to cooperate against Nine Trey, which is a Bloods offshoot, in an attempt to secure a more lenient sentence.
Hernandez revealed at trial that he decided to cooperate just one day after his arrest. He testified that he bankrolled Nine Trey with his music and, in exchange, got protection and street cred.
His time on the witness stand was characterized by both bombshell and bizarre moments.
Hernandez claimed Cardi B was a member of the Bloods and that Jim Jones was in Nine Trey.
Prosecutors played audio from a November 2018 call  in which Jim Jones and accused Nine Trey "Godfather" Jamel "Mel Murda" Jones complained that Hernandez was publicly dissing gang members.
"Now he gotta get violated," Jim Jones said in the call, which was recorded via wiretap.
"Yeah, super violated. Super duper," Jamel Jones responded.
"Just tell that n—a that he not a gang member no more. He kicked out the whip. He was never a gang member," Jim Jones also said.
Hernandez also said that rapper Trippie Redd — who was the object of his diss track, "GUMMO" — was in another Bloods offshoot, Five Nine Brims.
He further testified that rival rapper Casanova was in "another" Bloods group and that Chief Keef was in the Black Disciples.
The repeated dime-dropping earned Hernandez the #Tekashisnitch9 hashtag on Twitter.
Hernandez also detailed attacks on Trippie Redd and Chief Keef.
While Hernandez and Trippie had shared the same label — they even recorded a song together that "did really well" — jealousy spiraled into an online dispute.
The result?
"We attacked him at his hotel," Hernandez said plainly of the November 2017 melee.
Hernandez claimed he and his former manager, Kifano "Shotti" Jordan, were in a restaurant when Trippie Redd's manager called.
"Trippie Redd's manager said that he wanted to squash the beef … the online verbal attacks," Hernandez testified. "At the time I was upset with him, I was like, 'Naw, I don't want to squash the beef.'"
"He said, 'If you change your mind, here is the address of the video shoot. If you have time, stop by, we'll take a picture and let the world know you're friends again.'"
Hernandez and Jordan went to Red Hook, where the video shoot was taking place.
They saw Trippie Redd's "sprinter van" — a sizeable vehicle that can transport more than 12 people — and waited.
"We camped out," Hernandez explained, matter-of-factly. "We surveillanced it."
After Trippie Redd left the shoot, he got into the sprinter.
"We followed him for about an hour and a half, two hours, on the highway," Hernandez recalled. "We're, like, cutting between lanes."
The van ultimately arrived at the Gansevoort Hotel. Ellison also rolled up, parking parallel to the Meatpacking District building.
Ellison, Kifano, and some others in their clique walked into the Gansevoort.
"Shotti comes out screaming, 'It's fucking TreyWey. It's the fucking mob! We got that n—a!" Hernandez said. "He said that Harv punched Trippie Redd in the mouth."
With Chief Keef, Hernandez recalled how their rivalry hit a breaking point in mid-2018, with a shooting outside a Times Square hotel. Hernandez claimed he asked his pal Kooda to fire at Keef in exchange for $20,000.
Hernandez and Kooda met up after the incident on June 2 last year. Hernandez told jurors  that he only wound up paying $10,000 because Kooda shot into the air.
Hernandez went on to recount his claimed July 22, 2018 kidnapping by Ellison, who was his muscle before the two had a falling out..
He and his driver-turned-cooperating witness, Jorge Rivera, were driving to an associate's home in Brooklyn when a car hit them from behind.
Rivera got out to take a look.
"I see a guy running up to the passenger side with a gun," he said.
"Damn, they caught me. It's over," Hernandez remembered thinking. "I couldn't hit the lock to the door."
"He opens the door and has the gun pointed at me," Hernandez claimed, identifying this man as "Sha." Ellison was also standing there with a gun, Hernandez alleged.
"They told me to get into the car before they shoot me," Hernandez continued.
Hernandez did as told and his alleged captors sped off.
They stopped at one point. Sha dragged Hernandez out.
"Sha had me pinned down by the hair," Hernandez claimed. "He just kept hitting me on my face."
Sha and Ellison told him to say "not Billy" — a way to state he wasn't in Nine Trey.
"I said it three times," Hernandez testified.
Despite complying, Sha kept saying, 'We should do this n—a,'" Hernandez claimed.
"You're right," Ellison allegedly responded. "Nobody's ever gonna know, this is a stolie anyway."
"A stolen vehicle," Hernandez subsequently explained of the word "stolie."
Ellison allegedly asked Hernandez, "'Yo, what you got?"
Hernandez said he didn't have any jewelry with him.
"We came to an agreement, if I gave [them] jewelry, they would let me go."
Hernandez called his daughter's mother, who was at his house. He told her to bring his jewelry downstairs, where Sha met her.
The booty included a spinning 69 chain, four "fully diamond" rings, a Presidential Rolex, a Cuban bracelet, and a My Little Pony chain. (The pony's mane was made with Hernandez's own Technicolor hair.)
They drove away. Hernandez wound up bolting from their car.
He slipped into the back of a passing stranger's vehicle, eventually winding up at a Long Island hospital.
Jurors in the case also got to hear a sampling of Hernandez's profanity-filled songs, with prosecutors playing excerpts from the "KOODA" and "GUMMO" music videos.
They were also given transcripts of "Gummo's" lyrics, such as the lines "N—s iffy, uh, blicky got the stiffy, uh. Got the blicky, uh, drum it holds fifty, uh," as well as "In the hood with them Billy n—s, and them Hoover n—s."
He identified purported Nine Trey members who appeared in these clips.
When Hernandez heard his music, he gently nodded with the beat.
Ellison is scheduled to be sentenced on February 26, and Mack om February 9.
One of Ellison's lawyers, Devereaux Cannick, said his client was "shocked and disappointed" by the verdict and that they're considering an appeal.
He also said he was "a bit confused, in that if you believe he was kidnapped, then you should have believed there was a gun. But there's no conviction there was a gun."
One of Mack's lawyers also expressed disappointment, saying he is "looking forward to his appeal."
As for what the jury thought of  Hernandez and his music, one juror spoke with reporters for a few moments outside the courthouse after the verdict came down.
"I thought he was interesting," the juror said. "Tekashi is Tekashi."
She said Hernandez was a believable witness and that his music didn't come up during deliberations "at all." His music was "interesting" but "not my style," she also said, saying she prefers Green Day.
"It's different, to say the least."
Update November 4, 2020: Manhattan Federal Court Judge Paul Engelmayer sentenced Ellison to 24 years in federal prison, followed by five years of supervised release, Vulture confirmed.