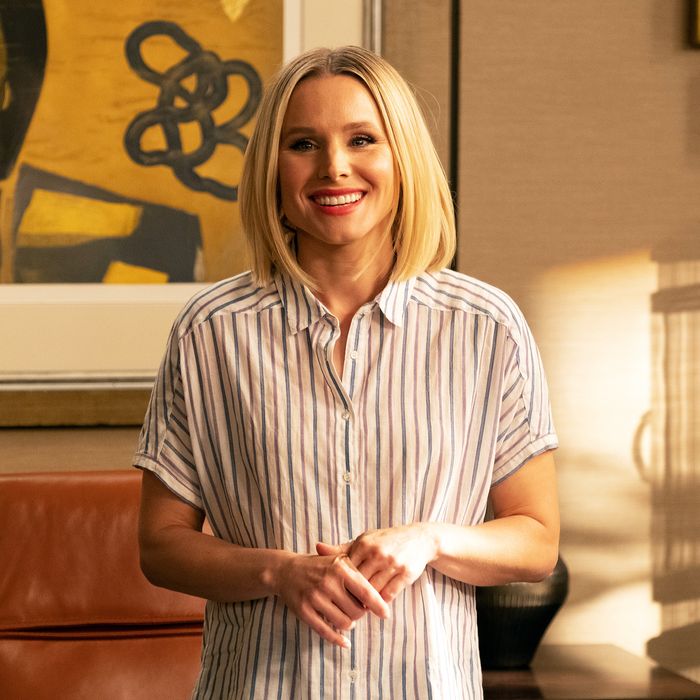 As the father of two teenagers, I have a secret to share. We parents think our children are our gifts to the world: brilliant, funny, talented humans, capable of anything. We also think they're thoughtless, careless idiots who can't remember to set an alarm or pick a wet towel up off the floor. We know our kids' strengths and weaknesses so well — or at least we think we do — that we instinctively anticipate every mistake they might make. A big part of being a good parent is letting them screw up anyway … or, more often than we can imagine, letting them surprise us with how ready they actually are to take command of their own lives.
Is this Michael's ploy with Eleanor? By the end of this week's "A Girl From Arizona Part 2," she sure seems to think so; and he does nothing to disabuse her of that notion. But when she accuses him — admiringly — of faking his nervous breakdown as a way to get her to step up and take charge, he hesitates for a second before he says, "Guilty!" Because here's another secret about parents: Sometimes we don't know why we make the choices we make, or why they work.
Granted, the jury's still out on whether the Michael-to-Eleanor transition is "working" per se. But she definitely rallies after a disastrous first few days as the Neighborhood's fake architect. She started out so poorly that midway through this episode her friends stage an impromptu intervention, with Janet noting that the already marginal win-probability for their soul-saving mission has dropped since Eleanor took over. "Strictly from a mathematical standpoint, you are kind of pooching it," Janet says, to which our Arizona gal reflexively snaps, "You're all ungrateful ash-faces who can shove your fat grumps all the way up your snork-box." ("Which curses are those?" Michael asks.)
The source of Eleanor's exasperation? Well, everything really, but specifically Brent, the entitled ash-hole who was "born on third base, thinks he invented the game of baseball." Eleanor has what she thinks are two good ideas for breaking Brent. First, she concocts a fake talk show called That Was Your Life, to see if comparing his meager accomplishments to what genuinely good people have done will help him realize he doesn't belong in the Good Place. Then she pulls the "living nightmare" trick on him, torturing him with his own preoccupations and privilege by showering him with Perrier rain while a giant Princeton Tiger mascot and enormous golfballs and SUVs terrorize the Neighborhood.
Both gambits fail. For one thing, Brent actually thinks he was a great man. (Who else could have grown an inherited materials-supply business from $90 million in revenue to $94 million in just 18 years?) But also: The attack on the Neighborhood convinces him that the Good Place is not the Best Place, which is where he belongs. He should be in a place with a Janet who's not so "uptight," and is willing to wear the outfits he has her make for herself. Also, where are his guys? Where's White Guillermo? Mexican William? Squirtman?
All of this leads Eleanor to sip on a fishbowl-size margarita, under the collapsing That Was Your Life sign (a nifty little visual cue, that), while telling Michael she quits. It's ridiculous, in her opinion, to entrust the future of humanity's afterlife to some run-of-the-mill American nobody, who in her lifetime mostly just ate junk food, watched reality shows, and "sometimes left H&M wearing more underpants than I had on when I came in."
But in one of The Good Place's sweetest scenes — and this series has had a few of those — Michael peps Eleanor back up, saying that really only some Arizona rando can do this job, because, "Human beings, it turns out, are weird." Failing a thousand times doesn't mean she shouldn't try for a 1,001st, like "a hot blonde Wile E. Coyote." (Eleanor's choice of words, not Michael's.)
In the closing minutes of "A Girl From Arizona," the girl in question starts her comeback. She tricks Brent into not being quite so infuriatingly awful, by promising him some good ol' fashioned moral dessert, saying there really is a "Best Place," and that he can get there by treating others with kindness and courtesy. A similar scheme works on Simone, once Chidi charms her with some flirtatious banter and a suggestion that her solipsistic insistence that she's stuck in her own malfunctioning subconscious is both juvenile and jerky. Why not be just nice to her neighbors, in case they happen to be real? Simone agrees there's no harm in that. Another win for Arizona.
Eleanor still has her work cut out for her. There's trouble brewing with Jason, who can't seem to stop himself from distracting Janet, even after Michael gets him to admit that his biggest weakness is impulse control, and that wanting to do something isn't a good reason to immediately do it. (Jason wonders why nobody taught him this lesson on Earth, and Michael says, "People tried. Mostly judges.") Jason tries to give Janet space … for about a day, before he's pestering her by describing the box of chocolates he got for her and then ate himself. ("The first one was gross," he says before she stops him.) Janet has no choice but to put their relationship on hold, which is crushing enough. Then she also lets him know that back on Earth, the Jacksonville Jaguars cut Blake Bortles.
So yeah, Jason's going to be a mess for a while. But Eleanor can handle it, with her "trademark brand of B-minus leadership." Because perhaps the only way to save a species as basic as humankind is call on someone who knows our ways, from the inside out.
In the Neighborhood
• If all humanity needs is a girl from Arizona to fix a broken universe, does it absolutely have to be Eleanor? She volunteers Scottsdale's own Emma Stone.
• This two-parter's credited writers, Andrew Law and Kassia Miller, have a lot of fun defining the exact nature of Brent's smug entitlement. One of their best gags is having Brent pull the all-too-common "Who really needs to know things, anyway?" trick of misattributing a sentiment to Martin Luther King Jr. — who, for the record, did not ever say, "When life knocks you on your butt, you jump right back up and start throwing haymakers."
• Jason is ready to lift the Neighborhood's spirits with "a Jacksonville carnival." All he needs is a bouncy house, ninja stars, and a bunch of ambulances.