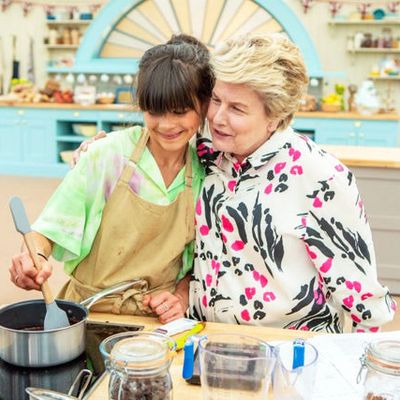 Do you believe in miracles? No? Well, maybe reconsider that because this week's episode of the Great British Baking Show featured nothing short of a miracle. That being said, this story does not have a happy ending. Most stories don't. Depressing enough for you? Let's get into it.
This week's episode was GBBS's semifinal, the penultimate episode before we find out who will be crowned the star of all Star Bakers. These nine weeks really flew by, wouldn't you say? And we lost some precious people along the way: Michael, Helena/Grim-Joy, HENRY! Some of you will recall that last season after Jon Jenkins was kicked off the show in week seven, the remaining bakers paid tribute to him by wearing his signature Hawaiian shirts.
In week nine, the bakers of season ten make a similar tribute to Henry, all arriving in the tent with loud colorful ties on. To be honest, none of them pull it off except when they pull them off so they can bake in earnest, but the symbolism is sweet. Anyway, no use crying over eliminated horses.
For the second season in a row, Paul and Prue and the producers decide that this year's semifinals should involve patisserie, that French-born beast of pastry work. It's essentially late-stage Bread Week, requiring a breadth of knowledge, attention to detail, and sorting the good from the truly great. The tent is now down to just four bakers.
We've got David, the well-coiffed international health adviser who's distinguished himself through creative flavor combinations (some of which have fallen flat) and his intense attention to detail. Then there's Alice, the geography teacher, who sometimes seems to be flying by the seat of her mid-length floral dresses, but almost always manages to pull it off, sometimes blowing the judges away in the process.
Veterinarian Rosie has had an even more uneven path: She impressed the judges in Biscuits Week and scored first or second in a few Technicals, but for the last four weeks or so, she's survived because someone else did worse than her. Then there's Steph, who, between her three jobs, has still managed to not only do well, but kick ass almost every week since week four, when she clinched her first Star Baker. It's not that she has terribly creative flavors or neat bakes, but she always nails the baking part. No stodgy cakes or soggy bottoms here.
So, those are the stakes going into week nine and literally no one looks happy to be there. They just look nervous and like they'd do anything to be the people who've left the tent and no longer have to deal with the immense pressure of getting into the final.
For their Signature Challenge, the bakers are asked to make domed tartlets, which feature a sweet tart base, layers of their choosing, and a dome topping, also of their choosing. And there must be eight of them. The onus is on the bakers to combine as many elements of baking into one item as they can, that's what makes it patisserie.
For her bake, Alice decides to go for flavors that need absolutely no explanation: mocha, hazelnut, and orange, or citrus-Nutella-chocolate in layman's terms. The mocha flavor will be in mousse form with an orange curd, espresso buttercream, a hazelnut-praline paste, and a chocolate mirror glaze. Paul and Prue are immediately sold and Paul basically admits that he eats Nutella by the jar. Don't we all.
Steph also opts for a chocolate element, but leans more into the fruit and chocolate side of things. Her raspberry, lemon, and white chocolate tartlet will feature raspberry jelly, white chocolate glaze, lemon mousse, dark chocolate drizzle, and a pate sablee pastry shell. Not terribly complicated, but she hasn't gotten to where she's gotten by going for complicated. Her secret power is having a little self control. Rosie does exactly the opposite, trying to squeeze as much patisserie into her tartlets as possible. There'll be raspberry-gin and mint creme pate, lemon Bavarian cream, yuzu jelly, a lemon mirror glaze, and isomalt strands.
Then there's David and, apparently, he's been bought by Big Campari. His tartlets are aperitivo-themed with a leche flan dome, an orange disc, chopped hazelnuts, Achusa flowers, and even though they blur out the logo, Aperol jelly. The man will never cool it with the exotic flavors and for that we salute him.
As the bakers get to work, the pressure of perfecting all the elements of their bakes starts to get to them. While piping, Rosie realizes that her creme pate is too thin and then calls herself an "eejit," which according to Google means "stupid person" or "idiot." Be kind to yourself, Rosie! Alice also runs into problems with one of her fillings: Her hazelnut-praline paste won't spread evenly inside her tart shells, so she's forced to use her fingers to speed up the process. It takes up so much time that she has to rush her piping espresso buttercream piping. Meanwhile, Steph's lemon mousse, which will house her raspberry jelly, "isn't as set as it was at home." Only David seems to have everything in order.
Everyone manages to get their tartlets done in time. The judges start with David. Prue notes they look "so unusual" but in a good way. Paul doesn't agree about the aesthetics, but they both enjoy the interplay between the aperol jelly and rhubarb lining the bottom of each tart and  the sweet white chocolate mirror glaze. David is happy to have pulled off a dessert that isn't so sweet. Sad!
Rosie's up next and the judge say absolutely nothing about her craggy pastry cases, but they do note that her raspberry-gin-mint creme pate, the center of the whole thing, is way too soft. However, her yuzu jelly is spot-on. Rosie is relieved that the creme pate was the only weak spot in her bake. The judges move on to Steph's raspberry, lemon, and white chocolate tartlets. While Prue likes the design (white dome, chocolate striping) and the colors, they note that the tarts aren't as neat on the bottom as they could be or as was expected. And as expected, her lemon mousse is way too soft and Prue says if it were a pudding it would be nice. Ouch. She twists the knife with a "nearly perfect." David's ears prick up.
Finally, Alice presents her tartlets and even though they are by far the most professional-looking, with perfect mirror-glazed domes, the judges ding her for seemingly shoddy piping work. Prue also notes that they're too big. Don't listen to 'em, Alice! They looked fantastic! What's more, the tartlets actually hold together well and the flavors are amazing.
It's time for the Technical and this week the bakers have been asked to make Gateau St. Honoré. Gateau means "cake" in French, but this follows a very loose definition of cake. Sure, there are layers, but if you gave this to a kid for his birthday, he would cry. After telling the bakers, this bake is "very hard to make look good," Prue shows Paul what she's looking for. A layer of full puff pastry, topped with caramel-dipped choux pastry with a line of "silky" creme chiboust followed by another layer of puff pastry and caramel-dipped choux pastry with a line of Chantilly cream piped down the middle.
The bakers get to work and are immediately intimidated by the use of full puff pastry just one week after everyone got away with rough puff. Alice seems to lack any concept of how to make proper puff pastry vis-à-vis the necessary folds, but everyone seems to have a handle on the choux pastry, which must be cooked and then piped onto a baking sheet, and filled once out of the oven. Everyone's choux is going according to plan — Steph points out that you can tell a choux is ready when it forms a V shape coming off the spatula — but Rosie is struggling.
Her first choux attempt was too runny and the resulting choux look sad. So, she whips up another batch. Also runny. Then she realizes that her puff pastry is extra sticky, never a good sign when it comes to puff, rough or otherwise. She decides she needs to restart that, too. Rosie's attempts keep falling flat and our usually stoic queen starts to crack under the pressure a little. Sandi comes over to comfort her and she explains that she's actually really good at making choux, just not right now. Sandi tells her it's going to be okay and like a true Brit, Rosie pokes out her stiff upper lip and starts baking from scratch with less than an hour to go.
The other bakers are nearly done and haven't hit any of the major hiccups Rosie has, though Alice burns her caramel and Steph's puff pastry loses a lot of butter during the baking process. Time begins to tick down and miraculously, Rosie finishes on time. Suddenly, we're reminded why she's outlasted everyone. Lesser bakers — [cough] Ian — would have thrown their hands up, but Rosie pulls through. David notes that she probably didn't do as badly as she thinks she did.
Paul and Prue come out and look over the pastry. There's nothing completely horrendous on display. David's up first: His choux buns are nice and uniform (obvi), but his pastry is a bit soggy from butter melt-age. Additionally, his creme chiboust has split and looks like scrambled eggs. Ew. Steph's bake has the same issues with the additional notes that her choux are not uniform and there's too much caramel on them. The whole thing looks "untidy," according to the judges. Alice's pastry is good, but she overwhipped her Chantilly cream and has clearly burnt caramel on some of her choux. The pastry is good, though. Finally, Rosie is up. The judges' only note: Her choux are upside down. Otherwise, the bake is spot-on.
And thus marks The Week Nine Miracle, as we shall heretofore refer to it: Rosie gets first place in the Technical. Rosie who was barely keeping it together, but refused to quit working on her choux and pastry. Rosie who castrates pigs in her free time. She's an icon for our time. Alice comes in fourth and Steph in third, followed by David, who points out that getting second all the time (this being his sixth time), "will get you all the way to the final. It won't make you win the final, but it'll get you there." That said, ambitious coasting — coined right here, right now — may be his downfall.
Having received nearly all positive feedback in the Signature and second in the Technical, David realizes he's pretty much a shoo-in for the final and can kind of rein it all in now. But the rest of the (all women) bakers still feel an intense need to prove they should be here, otherwise known as Womanhood 101. For the Showstopper Challenge, the bakers are asked to make sugar glass boxes with transparent panes that house some patisserie delight of their choice. And they're giving a whopping four and a half hours to pull it off.
The theme of Rosie's bake is Time with Family, which she says is hypocritical considering she hasn't really seen her husband since the competition started, though he cleans up after her bakes. (That's a keeper, Rosie!) Inside her sugar box, there will be a what's-what of patisserie offerings: Miniature choux buns religieuse, mocha creme patissiere, salted caramel crème, chocolate ganache, a chocolate tart, and an orange sable Breton clock face.
Alice, too, wants to showcase as many different types of patisserie as possible. Her Save Our Oceans cake will feature a mirror-glazed entremet cake with lemon genoise sponge, lemon and honey custard, raspberry curd, white chocolate bavarois, chocolate shells, and isomalt corals. And to think, all this time we thought Alice was a Belle when she was really an Ariel.
Steph opts for an opera cake, an ode to an ancestor, and it will feature jaconde sponge, chocolate ganache, chocolate glaze, chocolate-orange macarons, almond brittle and orange creme beurre (or French buttercream). Steph refuses to relax or even let her shoulders down for a moment.
Finally, David explains his bake and it's — a cake. Okay, a beautifully decorated cake, but essentially alternating rows of beetroot and prunes and parsnips and apricot sponges, chocolate soil, ground almonds, maple syrup cream cheese frosting, and piped buttercream succulents, the hottest plants of 2015. He's nervous that he may be in trouble for not doing enough patisserie work, but "it's Important not to give yourself too much to do and not have a neat bake," David says, in a well-edited jab at Alice. Over the side, Paul says he's impressed that Alice is really going for it with all her disparate elements.
After getting all the elements of their bakes together, the gang starts constructing their glass boxes. Everyone is using isomalt, a sugar substitute that doesn't caramelize and thus stays clear. Yay, science! Everyone decides to pour theirs into some kind edible frame except Steph who "glues" her pains directly to one another for a kind of tropical hotel bathroom window effect. David and Alice opt to "stain" their window, with David's cool, Christian church windows stained pink and Alice creating a blue ocean design along the bottom of her windows.
In another blow to the producers, no one's glass case falls apart in dramatic fashion and everyone manages to finish on time. (These season's bakers really aren't much fun, right?) Steph and her opera cake are on the chopping block first: Prue is quite taken with the antique glass look of her completely frameless sugar box. The cake inside looks "very pretty" and Steph doesn't miss with her foolproof interplay between chocolate, orange, and almond, which Alice pretty much proved was a perfect combo the previous day.
David is up next and, as usual, his bake is stunningly neat — from the outside. Once the judges remove the case around it, they notice that his cake is a bit lopsided Still, the combination of beetroot and parsnips doesn't fly over Paul and Prue's little gray heads and they compare it to a "wonderfully light" carrot cake. Then they throw the hammer down: As beautiful as his bake is, it's not delicate enough to truly count as patisserie and is lacking in "finesse." David nods solemnly.
Rosie and her Time with Family bake are judged next and Prue enjoys the antique look of her windows before noting that it's a bit simplistic and features the three same colors: tan, brown, and red. It doesn't get much better for Rosie after that: Her religieuse are too small to be interesting, the brioche is dry and floury, and there's nothing worth writing home about in general. Plus it makes absolutely no sense as a concept.
Finally, Alice steps up, and while the glass isn't transparent enough and her sides aren't flush (something the judges surprisingly don't bring up), Paul and Prue love her big cake with its blue mirror glaze and delicate genoise sponge. They're especially taken with the fresh raspberries, though they describe her mousse as lacking in mousseiness. Okay. Her design is the most stunning, though, and that's undeniable.
So undeniable that Alice manages to pull off the baking competition equivalent of a coup and clinch Star Baker even after coming in dead last in the Technical. As unassuming as she comes off, nervous even, Alice seems to be pulling out all the stops, something Steph flirts with but never fully commits to. And unless she steps up to that plate, Alice or David could win the final. That sentence pretty much tells you who got kicked off this week: Rosie, making her the second baker this season to get kicked off after coming first in the Technical and raising the question: Does coming first in the Technical even matter anymore? It's really not the safety net it used to be.
Steph, David, and Alice are our finalists for season ten, and while I would have said (and have said) that this was Steph's competition to lose, that's not so clear anymore. After nearly going home for phoning it in this week, David will likely overcompensate in week ten (is there really such a thing in the final week?) and Alice is wildly unpredictable in the best way, plus she's been slowly trending upward over the last three weeks. As long as no one's asked to make a fucking pita over a live flame, this year's finale looks like it will be a real nail-biter.