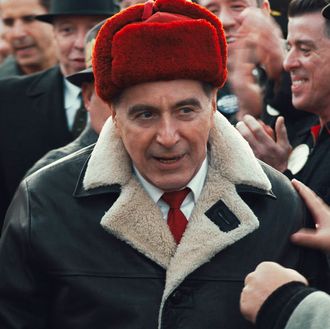 Dear Bob De Niro, today's gonna be a good day and here's why.
Photo: Netflix
In good news for the continuing life of the theatrical moviegoing experience and bad news for your lower back, Netflix has announced plans to screen Martin Scorsese's The Irishman at a Broadway theater this fall. The three-and-a-half-hour gangster epic will play at the 1,059-seat Belasco Theatre from November 1 to December 1, the first time a film has played there. (The Belasco was home to Network with Bryan Cranston this spring, and will host the Bob Dylan musical Girl From the North Country later this winter.) According to a Netflix release, the streaming service will bring in state-of-the-art equipment to screen the movie and tickets will cost $15, which is honestly a pretty good deal. "We've lost so many wonderful theaters in New York City in recent years, including single house theaters like the Ziegfeld and the Paris," true movie-theater fan Martin Scorsese said in a statement. "The opportunity to recreate that singular experience at the historic Belasco Theater is incredibly exciting. Ted Sarandos, Scott Stuber, and their team at Netflix have continued to find creative ways to make this picture a special event for audiences and I'm thankful for their innovation and commitment."
The Irishman also has a limited theatrical release in other theaters in various cities that starts November 1, and will be released on Netflix on November 27. Like a Broadway show, The Irishman will screen eight times a week, Tuesday through Sunday evenings, with matinees on Saturday and Sunday and the theater dark on Mondays. Unlike a Broadway show, you're not getting intermissions (this may be three-plus hours long, but it isn't The Inheritance), so remember to stretch beforehand and bring a back pillow, lest you age in serious, non-CGI ways over the course of a screening.