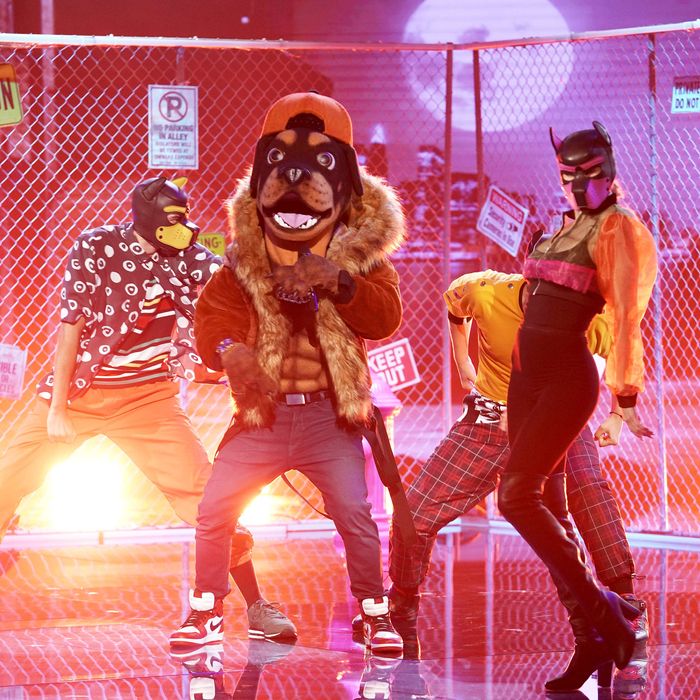 The first episode of The Masked Singer cracked our spirit like so many Eggs. With folk hero Egg out of the picture, how could we go on watching? How could we go on at all? Or so we said, for all of five minutes, before TV's most Boschian singing competition pulled us right back in. How could we possibly say no to the intrigue? To the pageantry? The show sets itself apart from similar reality shows by disguising its celebrity contestants in elaborate, anthropomorphic costumes, so that any Tori Spelling skeptics find themselves unclouded in their fandom for the Unicorn, to give an example from season one.
For every Egg that season two has thrown at us, there are also more traditional costume concepts, like Fox and Panda. We won't know who's underneath the outfits' analogue fur technology until the season progresses, but we did want to consult an expert for their initial thoughts and predictions. Mainly, we wanted to know: Is The Masked Singer courting a furry audience?
For those who are reading this despite somehow having never been online, furries are fans of anthropomorphic cartoon animals who develop original characters called "fursonas," which they embody with fan art and fursuits not unlike the larger-than-life costumes on display in The Masked Singer. So we asked Patch O'Furr, the husky behind furry news site Dogpatch Press, to sniff out the new contestants. Patch interviewed furry ally Margaret Cho after she was revealed to be the Poodle during the show's first season, so he seemed to be the canine to ask.
Patch was of two minds regarding whether The Masked Singer counts as furry crossover culture. Certain elements, like the "gender neutral" design of costumes like Leopard, and the seemingly well thought out backstories and design elements for characters like season one's Rabbit (Joey Fatone), are pretty damn furry. When asked about the odds that someone on the design or development team might themselves be a furry, Patch said that "that's a bit hard to judge," but noted "at the very least, they're aware — they're very, very aware — of stuff like Comic-Con and cosplay. And furry would be one part of that."
On the other hand, Patch made it clear that unlike the contestants on The Masked Singer, "furries don't 'dress up.' They actually become what they feel like inside." He elaborated: "I would rather see a nobody become a something. Not just a celebrity becoming 'oh hey, here I am! I was this garish thing and now here's my attention-getting face.' I would rather see a nobody — a plumber, my UPS driver — become something that doesn't exist."
And as Patch explained, the very premise of the show, which features the ritual beheadings of the worst singers when they're sent home each week, is particularly abrasive to a furry palate. "When people want to see them take the heads off, that's a really big deal to furries," he explained. "It's supposed to be private. So you know, having the audience demand it, it's kind of counter-furry, I'd say."
Another thing that makes The Masked Singer less than furry? It's definitely not living up to the high-kink potential of its concept. "This show is kind of tamed down from what could be if you gave it to a bunch of furries," said Patch. "Because celebrities, you know, they've got to play safe. And they're not going to have sexual awakenings with their new selves. They won't tell you how it feels when the audience is going, 'take it off, take it off.'"
Patch still thinks that, at heart, The Masked Singer is "actually a really wholesome show, which I love." But as for whether it's specifically a furry show? "You know, the Monster is a giant ball of fun," Patch allowed, "But I don't think he's going to have a lot of furry crushes on him. You know, having crushes on cartoons is where all the furries come from." (Patch's first furry infatuation? "The easy answer, which is probably the same for almost every furry, is Robin Hood the fox. I mean, Bugs Bunny, too.")
So which, if any, of season two's Masked Singer creatures are going to be some future furry's origin story? Patch took a look at some of his favorites to determine their crushworthiness.
Note: at the time of this interview, Ladybug and Penguin had not yet been announced, and we were still collectively operating under the very false impression that Thingamajig was an Asparagus. Our sincerest apologies to Thingamajig.
Flower
"That's funny. I used to joke about Planties and Plant-suiters. It doesn't really exist, but I went looking and found a few in the furry world. There's someone who has like, a really beautiful Audrey suit, from Little Shop of Horrors." 
Butterfly
"Oh, do Flower and Butterfly have some extra-special energy together?"
Eagle
"I think the Eagle looks kind of crushworthy. He's kind of fierce."
Egg
"He's goofy as hell."
Rottweiler
"He's tough, man. I liked his looks." And as for his backup dancers, "Those actually look like puppy play masks, which is a whole other level of … Interesting. And I like that he's dancing in front of a fire hydrant, which is actually a feature at the leather bar the Eagle in San Francisco where we have our furry parties."
[Author's note: We're not going to get into it into it here, but in case you're that same person from the earlier paragraph who didn't know what furries are, puppy play is a role-play kink involving leather dog masks. The furry/puppy/leather bar Venn Diagram? Is hearty!]
Fox
"Fox is definitely going to be popular with the furries. You know, generally, if you step into a room with a bunch of furries in it, and you just yell 'ShadowFox!' [one of the most common names of all fursonas], you'll get about five heads turning. Foxes are a very popular species."
Thingamajig
"I can imagine jokes about him hanging out by the fire hydrant."
[Author's note: Again, this was a hot Asparagus take. We cannot apologize enough to Mister Thingamajig.]
Ice Cream
"Ice cream's gotta be a really chill dude."
Tree
"Tree is very, very festive. Christmas tree here, but it's not Christmas. The party's whenever Tree shows up. Can you imagine them all together in one room? Like having a party with you? I would just think I'd died and just went to furry heaven."