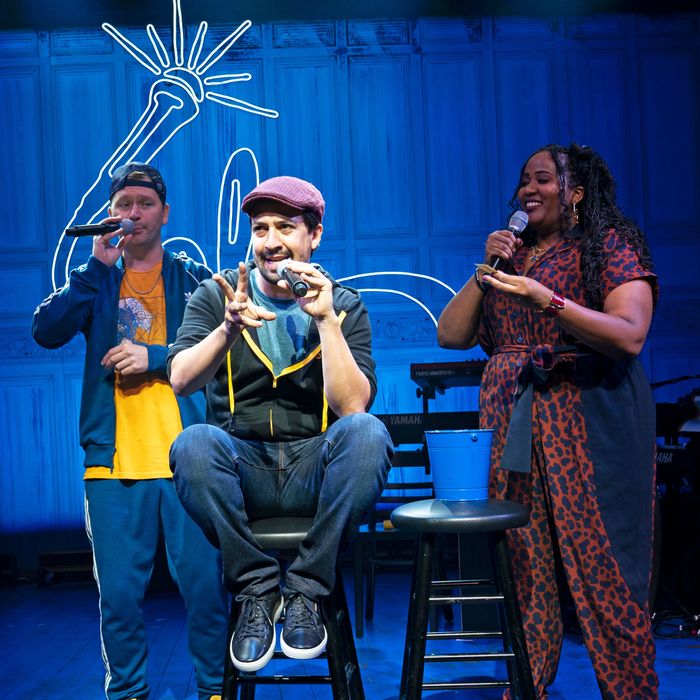 From
Freestyle Love Supreme,
at the Booth.
Photo: Joan Marcus
There's something about Freestyle Love Supreme — the hip-hop comedy group created by performer Anthony Veneziale, director Thomas Kail, and a group of high profile buddies, including Lin-Manuel Miranda — that takes you straight back to college. Especially if you went somewhere, like I did, where your fellow students tried to convince you that singing without instruments or being hilarious without a script were your only marketable skills. (The bright-eyed people seeking donations on New York street corners give me the same jolt of terror I used to get when some senior would stop me on the quad with, "Hi! Do you sing?") Veneziale and Kail were undergrads together, and their upbeat rap-meets-improv project retains that youthful peppiness. Now on Broadway for a limited run, they're even doing two shows on certain nights. Not that things are gonna get crazy — fls, as the show abbreviates itself, is a swift, wholesome affair, and even the 10 p.m. curtain on Mondays and weekends will get you out before 11:30.
In college, I always found my critical impulse significantly dialed down at an improv show. Turns out that hasn't really changed. What a group like Freestyle Love Supreme does isn't theater (that's not a dig, just a description), though it is a totally invested kind of performance. It changes so much from show to show, audience to audience, and relies so entirely on the in-the-moment agility and charisma of its performers, that intense critique just doesn't feel right. I always found myself wanting to laugh at college improv, and giving it a big old heaping helping of benefit of the doubt, even when it wasn't all that funny — because it's terrifying up there, y'all! Jokes are hard enough when they're written in advance. Freestyle Love Supreme, like the quick-spitting rap style in its name and the improv comedy form it's built around, is held together by nerve and verve, good instincts and a lot of good will. You may hit it on an on-fire night or a night of mostly mild chuckles, but it's still a formidable performance feat. It's high-energy, very sweet-natured fun.
The show's content is a nightly surprise for both audience and performers, though the structure is fixed. Like many an ancient improv ancestor, the fls performers spin their material out of audience suggestions, warming themselves up with some relatively simple requests ("Give us some verbs!" Veneziale, who goes by the rap moniker Two-Touch, entreats the crowd early on. "You know, action words. Like impeach.") and building all the way up to the creation of a "rap musical" based on one enthusiastic audience member's day. There are a couple of strange scenarios in life when people are thrilled to be made fun of in public, and having your day musicalized at an improv show is one of them. Angelica, from my audience — names have been changed to protect the exuberant — was thrilled to see her flight from Orlando to Newark, her relationship with her husband (who stayed home with their cat), and her probably-not-actually-a-flirtation with a theater-district bartender all gently mocked, in rhyme, by the fls crew.
That crew is a rotating roster of big talents, along with a special, unannounced guest at every performance. Along with Veneziale — the production's smooth, playful emcee — I saw Utkarsh Ambudkar, who's witty, sly, and hella quick; Chris Sullivan, a mightily impressive beatboxer; Arthur Lewis, who's soft-spoken, straight-faced, and mostly rocks one of the keyboards, along with Ian Weinberger; the very, very funny Aneesa Folds; and Hamilton's original George Washington, Christopher Jackson. "That's my president," said Ambudkar, to huge cheers.
Though the show builds toward a couple of long-form scenarios, I often found myself more truly amused by the fls crew's simpler bits. A faux-aggressive rap based on things the audience loathes (which, despite the "impeach" joke, stayed notably clear of politics) reminded me, delightfully, of the Lonely Island's "I Threw It on the Ground." Out of a list of shouted options that included college loans, the MTA, lactose intolerance, and "my twin brother," Folds took on "raisins," hilariously recounting (or fabricating, whatever) the experience of finding them in the stuffing at a Thanksgiving shindig hosted by her "white friend … her name is Carrie." The horror! Why are white people always putting raisins in shit? NOOOO. Though they didn't drop the beat, Folds's fellow freestylers cracked up right along with the audience — and that's probably the biggest charm of Freestyle Love Supreme. It's like — no, it just is — watching a talented, generous group of close friends having a damn good time. More power to them.
Freestyle Love Supreme is at the Booth Theatre through January 5, 2020.