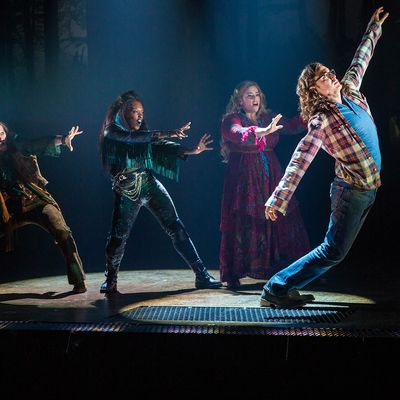 From
Scotland, PA,
at the Laura Pels.
Photo: Nina Goodheart
It's bad luck for the Roundabout that its new musical, Scotland, PA — which has been in commissioning cycle for years — has had to hit the scene just now. The programming logic might have linked its source material (a 2001 movie that loosely adapted Shakespeare's Macbeth) to a Halloween-y mood, and so here it is in October. But the show's untimely. While it's already a weak musical, it suffers particularly in comparison to the revival of Little Shop of Horrors that just opened across town. There's too much overlap to ignore: Book writer Michael Mitnick and composer-lyricist Adam Gwon have written a black-comic musical based on a film, set about 20 years in the writers' past, among working stiffs who start killing after supernatural voices give the command. It's a classic structure! There's no harm in borrowing it! But with the parallels so close, it's almost impossible not to see where Scotland … detoured.
Mitnick and Gwon follow Billy Morrissette's movie in turning Shakespeare's foggy moors into the Pennsylvania hinterlands in the '70s: Instead of kingship, our anti-hero just wants supremacy in the Keystone State's burger wars. Spurred on by a trio of witchy stoners (Alysha Umphress, Wonu Ogunfowora, and Kaleb Wells) and his wife, Pat (Taylor Iman Jones), Mac (Ryan McCartan) permanently deposes his boss, the creepy diner owner Duncan (Jeb Brown). Murder follows on murder, as they do, but despite a pesky homicide detective named McDuff (Megan Lawrence), Mac revamps the restaurant to become MacBeth's, inventing a burger called the Big Mac and creating a drive-through window. Shakespeare's hellhound turns out to have a nose for business: Flying in the face of actual history, his updated self invents the Golden Arches and does great business, at least until fate catches up to him.
Little Shop is Faust with flowers; Scotland, PA is Macbeth with McDonald's. But where the former used its setting in the early '60s to exploit musical styles like doo-wop and girl-group close harmony, Gwon sets every song in a near-identical, rock-adjacent mode that plays no games with the '70s — no funk, no psychedelia, no disco. Characters do sometimes dress for disco (at his zenith, Mac wears a white suit out of Saturday Night Fever); Umphress — who makes her own sly-eyed comic hay wherever she can — would clearly love to bust out with a bit of repurposed Joni Mitchell. But Gwon isn't interested in pastiche, and he rarely varies his sound. The tunes are also notably slow, with their pace creating some strange challenges. During the finale, "Everybody's Hungry," the thunk-thunk-thunk of the downbeat is so sluggish it actually makes dancing difficult. The company starts at the back of the stage and has to advance like a squad of zombies — plod, plod, plod — just to match the tempo.
Two songs stand out from the rest. In the first act, Mac's loser best bud, Banko (Jay Armstrong Johnson), decides to throw a party. He's a noodle of the first rank, a dim bulb that's never been switched on. Johnson plays him as bombed out of his mind, reeling through scenes and ambling doggishly away whenever his friends swat at him. But in "Kick-Ass Party" he gets to own the stage, capering around in a Hugh Hefner bathrobe and hoping for the best. In the second act, Gwon's other charm song also works: Duncan's son, Malcolm (Will Meyers), admits to a love for football that sways sweetly into a ballad about the locker room. Gwon doesn't seem to have as many ideas for his leads, so their lyrics just repeat ideas about "heaven," and "paradise" as they pledge their rather boring love for each other. Gwon's heart is clearly with the odd boys out — his wit is roused, his lyrics sharpen, and you sense the scope of what he'll someday do.
Morrissette's movie got much of its humor out of its textures. The visuals of the '70s were supposed to be part of the fun: People love to giggle at a bell-bottom, and, crucially, the wild card Christopher Walken played McDuff, painting the whole picture with his dark zaniness. Here, neither Mitnick nor director Lonny Price has the same excitement about either detail or weirdness — it's bizarre that in a comedy, there are so few decent jokes. There's too little spirit of invention or danger; even the low-hanging humor seems to have gone unpicked. (No one wanted to get a damned ketchup spot out of their uniform?) Despite the efforts of all involved, Scotland, PA seems sleepy and a little sloppy. I will say, though, that it's pretty good advertising. After a solid decade of avoiding the McDonald's on Sixth Avenue, I went there after the show. I was halfway through my Happy Meal before I realized what the musical had made me do. Was that … a French fry which I saw before me?
Scotland, PA is at the Roundabout's Laura Pels Theatre through December 8.