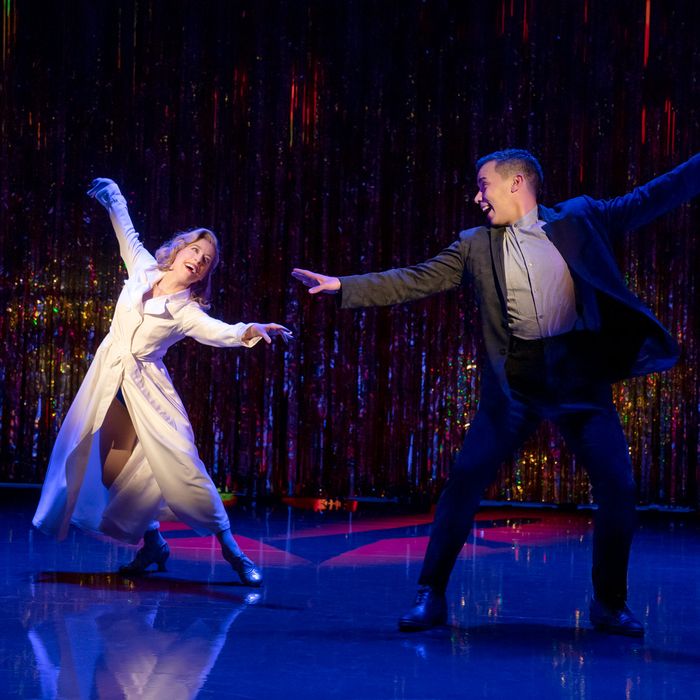 Alyse Alan Louis and Conrad Ricamora.
Photo: Joan Marcus
"There's the story — and then there's the delivery system," a white actress (Alyse Alan Louis) explains early on in Soft Power, "and musicals have gotta be the best system ever." She's talking to a character named DHH, a stand-in for the show's playwright, David Henry Hwang, and explaining the enduring appeal of a classic American spectacle like The King and I. You may not appreciate the ideology of such a show or its insertion of a white hero who just happens to know how to fix everything in a "backward" Asian country, but "once those violins start playing, these shows go straight to our hearts."
In the first scenes of Soft Power, Xūe Xíng, a producer from Shanghai (played by Conrad Ricamora) is trying to convince DHH (Francis Jue) to reappropriate that delivery system and write a new musical from the Chinese perspective in an attempt to secure a little of that titular power for China. Soon, after DHH is stabbed in a freak act of violence that resembles one Hwang himself lived through, the show mutates, imagining a Chinese musical made years in the future that blurs the action in the first few scenes. Xíng becomes a kind of Anna Leonowens, a.k.a. the "I" of The King and I, to none other than Hillary Clinton (in the "real" version of the plot, he merely got a selfie with her at a campaign event). Meanwhile, Soft Power's ensemble of Asian-American actors play Chinese actors playing gleefully inaccurate versions of white Americans, often in silly blond wigs. You watch the American delivery system serve up communist values, and it does it well enough — and this is the key factor on which Soft Power depends — that it reaches a point of simultaneous pathos and discomfort.
With the resources of the Public Theater at its disposal, this production comes with a stately score from Fun Home and Thoroughly Modern Millie's Jeanine Tesori, plus the orchestra and production design to make its classic musical-theater gestures land. Ricamora, playing the show-within-a-show's version of Xíng, dances and sings like a cartoon prince, wooing Louis's screwy version of Clinton with genuine feeling. He gets a "Whistle a Happy Tune"–style farewell to Shanghai; she tries to win voters with a costume-change-filled dance number. They share an intimate moment as Xíng teaches Clinton Mandarin tones via song, a scene that comes with a nod (via Sam Pinkleton's irreverent choreography) to the polka steps in "Shall We Dance." The audience on my evening burst into laughter at that, making it clear just how extensively this show speaks to people who've seen at least one big Lincoln Center Theater revival, preferably the most recent King and I, in which Ricamora played Lun Tha.
In even the most celebratory musicals, as Hwang well knows, there's always a tragic supporting character and violence in the shadows. Here, that menace tends to usurp the rest of the proceedings, as the playwright's stabbing both triggers the character's fantasy musical and replays itself within that musical in a bloody Act One finale hinting at Miss Saigon. Both playwright and character are trying to process an attack in which the assailant likely mistook the victim for an Asian food-delivery person in what is almost surely a hate crime. The president goes unnamed, but Donald Trump and his party's presence are everywhere in Soft Power, fueling the caricature-but-not-really-a-caricature of America we see in the show-within-a-show. The Americans here carry guns at all times and worship the illogical results of their Ballot Box, a physical prop that Hwang's directions tell us "might resemble a Sorting Hat." It takes center stage, of course, in a big production number.
Soft Power has many concepts to balance at once, which may make it sound fascinating or messy, and it tends to be both. The framing play often feels dramatically inert, as the characters pause to tell you, Hello, this is the dramaturgical concept you'll encounter later, while the musical within the play is occasionally too clever by half: The joke that its Chinese writers have smushed the Golden Gate Bridge into their version of New York City gets triple underlined. Clinton as a character feels just right as both the subject of a future musical about right now and a political figure with too much baggage for any musical to handle for a while, especially one that needs to whittle her into an archetype. To that end, one song about her exhaustion with smiling during a postelection ice-cream-and-pizza binge comes off as both pandering and glib.
Hwang is right, however, to have a mad faith in the musical as an emotional delivery system. The moments when Hwang, Tesori, and director Leigh Silverman assemble the show's points into a sweeping orchestral moment — as they do at the end of its first act — are indeed something wonderful. They're unsettling, too, as you feel Hwang directing the audience's sympathies toward a different kind of political nightmare. Soft Power wisely includes critiques of the musical-within-the-show's communism (in case you're worried the toe-tapping will just lead to totalitarianism), and it finally redirects toward ambivalence. It's a forceful ambivalence, though, backed by the full arsenal of the American musical, with strings and horns and a whole ensemble of actors, all deployed here not to deliver an ideology but to try to shake you out of one.
Soft Power is at the Public Theater through November 17.