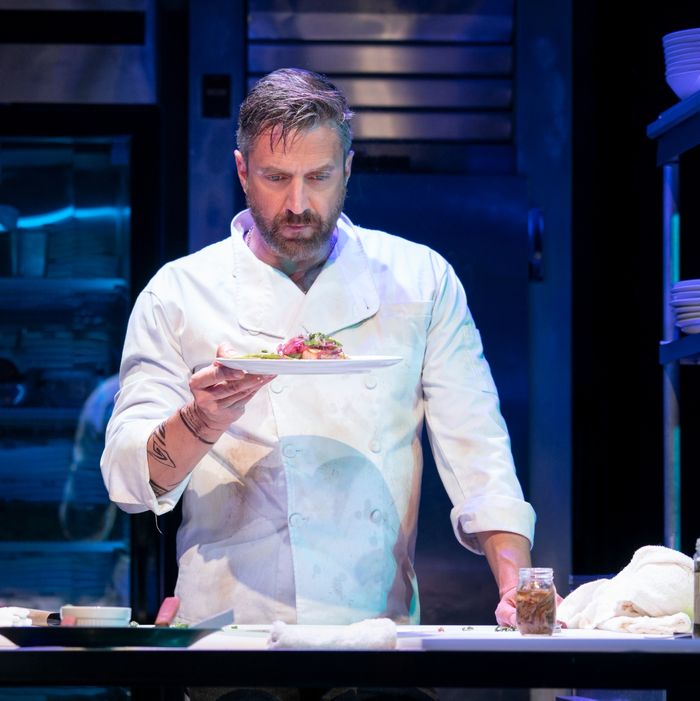 Raúl Esparza in
Seared,
at MCC.
Photo: Joan Marcus
The prolific Theresa Rebeck has followed up her Broadway show Bernhardt/Hamlet with an easily consumable dramedy, Seared, rather in the same way one might follow a heavy meat course with a light dessert. The shows do share some ingredients: Both were directed by Moritz von Stuelpnagel, and both deal with a temperamental artist feeling unappreciated and resistant to criticism. In the first, it was the fin de siècle French actress Sarah Bernhardt; in Seared it's a Park Slope chef called Harry (Raúl Esparza) who has tattoos and a signature scallop dish. But despite that classic Rebeck tang—a readiness to rise to insults and to have arguments that turn suddenly into airy pronouncements about reality—Seared is actually quite a modest effort, content to be a forgettable little treat. It's repetitive and a tad empty, but what's the harm? Some people have arguments, farce breaks out, someone tells a man that he's got an overblown sense of his own genius. Bake that thing for 120 minutes, and it'll work for a lot of people's tastes.
When we meet Harry, he's whizzing around a small restaurant kitchen. Esparza gets to use some of his musical-showman's grace here, spinning from fridge to working stove (Tim Mackabee designed the detailed set), and sliding tasty-looking things from pan to plate. Waiter Rodney (W. Tré Davis) catches the plates as soon as Harry can whiz them across the service shelf; Mike (David Mason) hasn't quite got their rhythm, but he is the restaurant's sole investor/owner/punching bag, so they let it slide. Mike and Harry are in a perpetual fight, the current stanza of which is that Harry won't make his scallops because someone from New York Magazine said they were good, and he has a hang-up about praise. (Hi! I am now waving at the mention of New York from inside New York! And they said postmodernism was dead.)
The men seem to be at a stalemate, when in waltzes Emily (Krysta Rodriguez), a restaurant consultant in Blue Fairy mode. She wants to upgrade their scrappy three-man joint, to bring fame and attention and sponsorship deals, to introduce them to wealth beyond their imaginings. If you're thinking, "So she hires a sous-chef," you are wrong. Instead she seductively writhes around Harry and brings everyone to total chaotic breakdown: The snake of Capitalism in the garden of Great Food. "Money isn't real! Food is real!" cries Harry, at his most pressed, which you'll note is a silly thing to say. Everyone tells him that he can talk as well as he can cook, which I fervently hope is meant to be ironic.
Rebeck whisks in a lot of egg-white lightness, mostly made of that Hollywood disregard for how work actually works. Don't trouble your cute little noggin over the particulars of Emily's not-really-a-job (she can call in a New York Times restaurant review as a favor, but she mostly works on spec). Reality isn't the mission here. If it were, our sexy bad-boy chef wouldn't be devising a sparkling new entrée at the top of Act Two that is—drumroll, gastronomes—salmon with a side of asparagus. Instead, we're inside a delivery system, one that gets us from one big debate to the next. And I'll say, I admire Rebeck's machine-building capabilities without necessarily enjoying them myself. There's no doubt that she knows exactly how to ramp up the shouting and plating, how to  pepper every exchange heavily with conflict. She and Stuelpnagel are a good match in the physical-comedy department; both are good at seasoning a show with door-swinging farce, an energy that keeps the action moving when more serious things (characterization, logic) flag.
Another prominent flavor here is rom-com. When did we last have a brash lady consultant come in wearing spiky heels, flirting her brains out, coaxing hapless boy-men into financial success? Renée Zellweger did it in New In Town; there was Drew Barrymore circa Fever Pitch; I want to say J. Lo had a whole "sexy consultant" period. And Rodriguez knows exactly what genre she's in. She pivots sharply on her pumps, and exaggerates everything's she's doing as though the coverage camera might miss it. She seems to relish playing the plum role: Emily gets to issue the trademark Rebeck men-are-pampered-babies put-down. The others are playing at a slightly smaller size, and so the machine grinds them up a little bit. Even Esparza—who shouts a lot and throws a naughty Salt Bae pose during a silent scene—tries to give us a bit of acting at the end. He subsides into a soberer, sadder, realer mode, and while he's good at it, it has nothing to do with Seared. After two hours of pot-banging, we weren't there for sober or sad or real. Those particular dishes had dropped completely off the menu.
Seared is at MCC Theater through December 1.