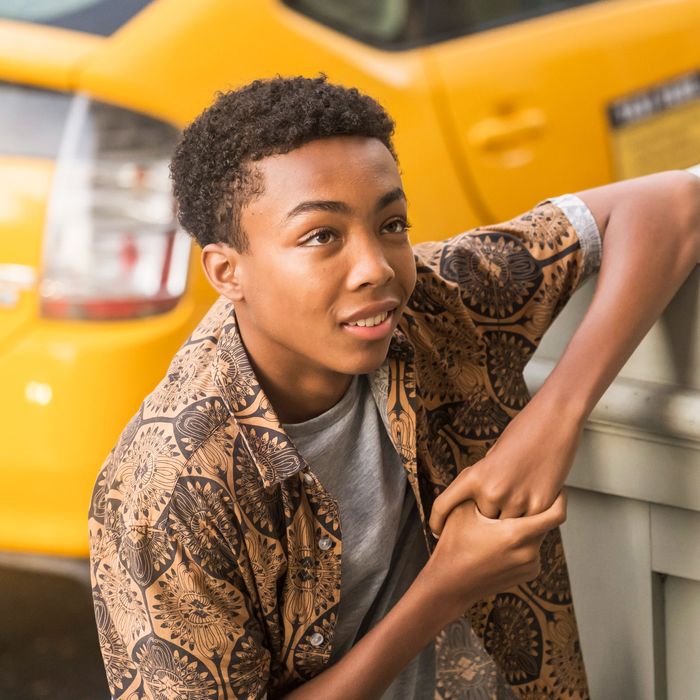 After last week's return to normal This Is Us shenanigans, I was hoping we were full steam ahead, with no planned stops until we get to the ghost of Rebecca haunting Baby Singer Jack, or whatever is going to happen in the way, way future timeline. Alas, "Unhinged" feels a little like treading water — like, really uninteresting water. For better or worse, This Is Us is usually great at presenting a through line that connects an episode's storylines, regardless of where they fall on the Pearson Timeline of Destiny. There are a few storylines that somewhat connect in this episode, but too many of them feel like they came from a grab bag of plots. I'm assuming we're slowly building to something and these storylines will mean a whole lot more in the future, but this is too slow and I'm bored!
There are a couple of bright spots: siblings being there for each other! It warms my cold, dead heart. Although the siblings I always want to see interacting with one another are the Adult Big Three — because this show is 3,000 times better when that happens and honestly I should just get that on a T-shirt because I feel like I say it so much — I am very much here for a little Deja and Tess bonding session after a rough first day at school. Deja just found out that Malik has a 6-month-old daughter (good on Malik for getting ahead of that news), which is very complicated for a ninth-grader. Tess is mad at herself for balking on coming out to the kids at her new school as she planned. Deja, Tess, and Annie are the Big Three Next Gen, so I'm open to them finally having some storylines on their own.
Their bedroom chat also mirrors one the original Big Three have back in 1992: Randall wears Air Jordans to his first day of seventh grade to impress his new teacher, but gets written up for it and proceeds to have a meltdown. He immediately calls home to tell his mom, because Randall's gotta Randall, but Kevin, whose school hasn't started yet, answers and decides he's going to actually be there for his brother this time. For a 12-year-old troublemaker, "be there" means show up at Randall's school and sign the demerit slip, which is not on the up-and-up, but the intention is good and also it's just a uniform infraction. Look at me, siding with a 12-year-old who spends his days off laying around with cucumbers on his eyes!
That storyline ends with Randall coming to explain his panic attacks to Kevin as they sit on the bedroom floor, and Kate — who has spent the day doing aerobics with her mom because she's worried Stuart won't like her since she's bigger than him — joins them and tells them about her big kiss, and her brothers act appropriately: They tease the hell out of her. And when Randall asks Kevin about Arsenio Hall — Randall's teacher had mentioned him, his teacher is another potential black male role model for Randall, which is why he's been trying to impress him — it's Kevin's idea to have the whole family watch The Arsenio Hall Show together.
Why have a nice Little Kevin and Randall bonding moment and not have that reflected in the present-day storyline, I do not know. Instead, Adult Kevin and Randall are both off on their own adventures. Have they even called to check in? They should be constantly texting, okay?
Kevin is with Uncle Nicky, attempting to do damage control after Nicky tossed a chair through a window at the V.A. We get a quick visual of Nicky's journey since Kevin, Randall, Kate, and Rebecca met with him: Kevin's note of encouragement and insistence that he try a meeting at the local V.A. office works, and after bonding with his therapist there, he starts to get better. He's landscaping and throwing out trash and looking wistfully at pictures of Baby Jack and, most importantly, not drinking. And then his therapist gets transferred and he completely regresses. Thus, the chair-throwing. If he doesn't show remorse or agree to continue treatments with the new doctor, he could be facing a big fine or jail time.
So Kevin takes him to get assessed by the doctor. While he's in the waiting room, he makes friends with Matty, who you may remember from the premiere — he's Cassidy's son. He's there waiting for Cassidy, also going to therapy. When Cassidy comes out and sees the two of them eating chips and playing video games, she's mad. Okay, fine, do you want your 9-year-old being friends with a strange adult man? Obviously not, but they were just sitting in the waiting room, hanging out! I love a good dig at Kevin's age (she asks if he was on Who's The Boss?), but Cassidy went a little overboard. I know, I know, she's Dealing With Things, but, like, be nice, lady. You left your kid out there!
Even though Nicky gets approved to continue treatments at the V.A., which hopefully translates to a lesser sentence, he's not taking it seriously. He leaves his assessment and walks immediately into a bar across the street. Kevin can't take it anymore! He needs an AA meeting and he's bringing Nicky with him. Would you look at that? Cassidy's there, too! And she's still so mean!
Kevin starts talking about how his nephew helps him focus on his sobriety, but then starts rambling about how he thought he'd have more purpose in life by now and that he's worried he might be living in "Jowl City" by 50, and Cassidy breaks out into laughter. Yes, it's a very silly thing to worry about (except for the guy using cucumber slices at 12), especially in an AA meeting surrounded by vets, but laughing at him like that? I guess Kevin doesn't mind, because Cassidy, Nicky, and Kevin all begin howling and are asked to leave the meeting. So that Kevin-Cassidy storyline is right on track, people.
Randall, on the other hand, is trapped in a dreadfully boring political storyline. I don't know anyone who was completely jazzed about all the politics last season, so why are we still here? Sure, it's very cute that Randall and Jae-won are best friends — they run together and do a lot of fist bumps, so you know it's true love! And Randall fires an experienced aid who disrespects both Randall and his chief of staff, which I guess ties into Jack and Miguel's story that we'll get to below, but I feel like their burgeoning friendship and insistence that being idealistic is the only way to make changes in the City of Philadelphia could've been mixed into another, more engrossing storyline. Although, I do hope Jae-won's proposal goes well, backed by an acoustic version of "Everlong" or not.
This Is The Rest
• Back in 1992: Jack makes a huge mistake at work and gets fired, until Miguel marches into their boss's office and tells him that he, the most successful account manager there, is quitting and taking his clients with him, unless Jack gets his job back. It works, and if Jack and Miguel weren't yet the two best friends anyone could have, they are now.
• I laughed so hard during Jack and Miguel's "did we just become best friends?" phone call when Jack said that he knows they "don't say mushy things" to each other. Jack is King of Mushy Things. (I mean, his speeches are said sternly and with a mustache, but still their contents are mushy.) He makes up for lost time, I guess?
• If I could, I would return every part of Kate's storyline — she discovers Toby has been going to CrossFit and he's ripped and she's ashamed! — except for the part where she meets her surly neighbor, Gregory (Timothy Omundson). When Kate tries to brush him off for complaining about the Damons parking partly on the sidewalk, he lets Kate know she's not the only person in this town who's suffered a tragedy. He had a massive stroke over two years ago (as did Omundson, and this part was written specifically for him to return to TV), had to teach himself to walk and talk again, lost his job, and just wants to walk around the block without cars in the way, dammit! By the end, Kate, Baby Jack, and Audio join Gregory on his trip around the block. It's actually very nice.
• REBECCA'S WORKOUT ATTIRE, I CANNOT. I know it's supposed to be 1992, but no.
• "You are all radiant women and this town is lucky to have you." Can I get that line looped and set up as my alarm? Either that one or, "Sashay on in here, little cutie." I just like positive reinforcement when I first wake up, okay?