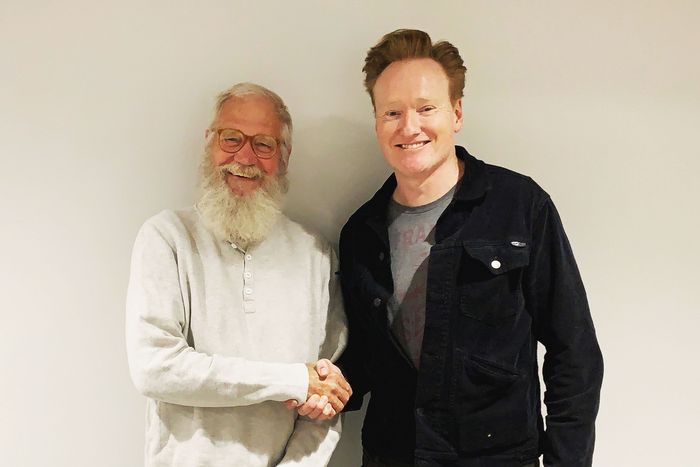 David Letterman and Conan O'Brien.
Photo: Earwolf
The comedy-podcast universe is ever expanding, not unlike the universe universe. We're here to make it a bit smaller, a bit more manageable. There are a lot of great shows, and each one has a lot of great episodes, so we want to highlight the exceptional, the noteworthy. Each week, our crack team of podcast enthusiasts and specialists and especially enthusiastic people will pick their favorites. We hope to have your ears permanently plugged with the best in aural comedy.
Conan O'Brien Needs a Friend - David Letterman
The sophomore season of Conan O'Brien Needs a Friend starts this week, and O'Brien is kicking it off with the man he identifies as being responsible for helping to hone the sensibilities of a generation of comedians: David Letterman. O'Brien reveals that he once submitted comedy material to his guest's NBC late-night show in hopes of landing his first TV writing job … and was crushed when he didn't get it. Letterman commiserates with him but also points out everything that might not have happened for O'Brien if he had landed the gig. There's a bit of delving into Letterman's early days, but it's more about what he's been doing — and thinking — since closing the tent on his CBS nighttime talker. Sure, there's the Netflix show (My Next Guest Needs No Introduction), but there's more about something he never let himself do when the TV crush was on: simply enjoying life, and life at home with his son, Harry. And that gets both hosts going off about the positive influence their children have on them in terms of showing them what's most important. There are a number of funny stories throughout this hour-long chat, but the best comes toward the end, when we learn that Letterman sent O'Brien a horse when his NBC show was wrapping up. A blue-eyed crazy "show horse" that O'Brien still tends to and cares for to this day. —Marc Hershon
Listen: Spotify | Apple | Website
Couples Therapy - Crush Hashana
Imagine wanting to hear two people talk about their relationship. Sounds insane, right? Well, Couples Therapy co-hosts and real-life couple Naomi Ekperigin and Andy Beckerman know how to make wanting to hear people talk about their relationships not only reality, but a riot. It's a promise they make good on in the first five minutes of this episode, when they dive right into Andy's goal to really crush it in the Jewish New Year 5780, and Naomi's attempts to get more comfortable driving in L.A. Spoiler alert: The driving part isn't going that well, landing them in what Naomi calls "a Green Book situation, which is not good for our love, at all." And, like any couple worth hanging out with, Andy and Naomi know to not make everything about them, sharing sets from other couples in their Couples Therapy live show. The couples featured in the live shows range from lovers and ex-lovers to friends and comedy partners, and whatever's left in between. The first set featured this week are two longtime friends, Andy Kindler and Wayne Federman, who celebrate their 30-year friendship by doing each other's material from their early days. Then, at the other end of that is Sara Schaefer and Charla Lauriston, figuring out the dynamics of their fairly new friendship as they recount what could have been a harrowing weekend at a comedy condo had they not had each other to get through it. Did all of that make you go, "Aawwww"? That's because Couples Therapy is the perfect mix of touching and hilarious to warm even the coldest of hearts. —Leigh Cesiro 
Listen: Spotify | Apple | Website
Scream, Queen! - Black History Is Black Horror 
It's spooky season, and new podcast Scream, Queen! is here to offer insightful takes on scary movies. More specifically, hosts Tommy Pico (Food 4 Thot) and Drea Washington "dish about what goes bump in the night — from a black/queer/indigenous perspective—and have a damn good time." It's the latter note that will get you laughing. As the hosts analyze horror movies, they crack wise about the absurd tropes that often plague the genre, bringing their impressive love for horror to three distinct segments. First is "Have Y'all Seen," which relies on Washington's encyclopedic knowledge of scary movies to generate lesser-known recommendations. This week it's Society, an '80s bawdy body-horror flick, which lends itself well to riffing given that involves, among other horrors, "a face coming out of a man's butthole." The second segment normally takes an in-depth look at a single film. Previously covered gems include Child's Play and The Faculty. This week, however, Pico and Washington go deep on Horror Noir: A History of Blackness in Scary Movies, which opens the conversation up to other titles, including Blacula and Get Out. Lastly, the third segment sees the duo discussing a favorite scream queen, which concludes the show's effortless flow. —Becca James
Listen: Spotify | Apple | Website
Roundball Rock - Central Division Preview
In just under two weeks, comedian and pro roaster Blake Griffin will kick off a six-month, 28-city journey as part of the epic "2019-20 NBA Season" tour. Until then, analysts and comedians in their own right, Joey Devine and Sean Keane, are here with their thoroughly hilarious division previews. The world's foremost Tilman Fertitta enthusiasts lead off with a highly relevant rendition of recurring segment "Tilman Time," about the Houston Rockets owner's involvement in this week's NBA-China scandal. The Central Division preview runs through all the pressing Bucks, Pacers, Pistons, Bulls, and Cavaliers topics even the most diehard NBA fans haven't thought of, covering questions like, "Will the Lopez twins' cat-related infighting and difference of opinions on the third act of Avengers: Endgame tear the [Bucks] locker room apart?" and "Is Victor Oladipo Thingamajig from The Masked Singer?" Keane and Devine sandwich the jokes with legit insight, but the real analysis comes in the fourth quarter during another episode of Slamm'd Up. Stat nerds "Brett Slammson" and two-inch tall "Randy LeDoux" bust out the spreadsheets in a 100 percent accurate parody of serious mainstream NBA podcasts, down to the soulless corporate sponsors ("China is bae"). Roundball Rock remains an excellent alt-comedy supplement to the basketball season. —Mark Kramer
Listen: Spotify | Apple | Website
The Endless Honeymoon Podcast - Live from the High Plains Comedy Festival with Kate Willett and Baron Vaughn
When Natasha Leggero and Moshe Kasher launched their Endless Honeymoon tour in 2016, they really took that title to heart. Three years later, the married couple launched the Endless Honeymoon podcast loosely based on the third act of their tour in which the veteran comics, after solo sets, joined each other onstage in matrimonial bliss to give relationship advice to willing couples. The format hasn't changed much since their first live recording of the podcast at the High Plains Comedy Festival. First, the couple gives an update on their life, which like many episodes this summer, involves Moshe's yearly Burning Man trip and the couple RV-ing around the country with their young baby (jokingly named "Material" in a NYT profile). Then they open it up to relationship advice. But this episode doesn't just have couples seeking Talmudic counsel on how to fit Dungeons & Dragons and lengthy Rosh Hashanah services into their marriage. There's also a segment in which callers left voicemails seeking non-relationship advice, most notably a white man who took mushrooms on a Connecticut beach and thought he was black. Moshe and Natasha left that to Baron Vaughn to answer, and he did, in a succinct two-word reply that I can't write myself but sums up that idiot pretty well! —Pablo Goldstein
Other Podcasts We're Listening To:
Pod Don't Lie - Shaq gets racist, more Super Head, & Hornets memories with Roy Wood Jr.
Listen: Spotify | Apple | Website
Anna Faris is Unqualified - Lilly Singh
Listen: Spotify | Apple | Website
Best Friends - Sasheer Will Have a Glass of Hot Water with Lauren Lapkus & Laura Willcox
Listen: Spotify | Apple | Website
You're Making It Worse - Ilana Glazer
Listen: Spotify | Apple | Website
Superego - Episode 5:1
Listen: Apple | Website
The Honey Dew - Josh Potter
Listen: Spotify | Apple | Website
Got a comedy podcast recommendation? Drop us a line at comedypodcasts@vulture.com.