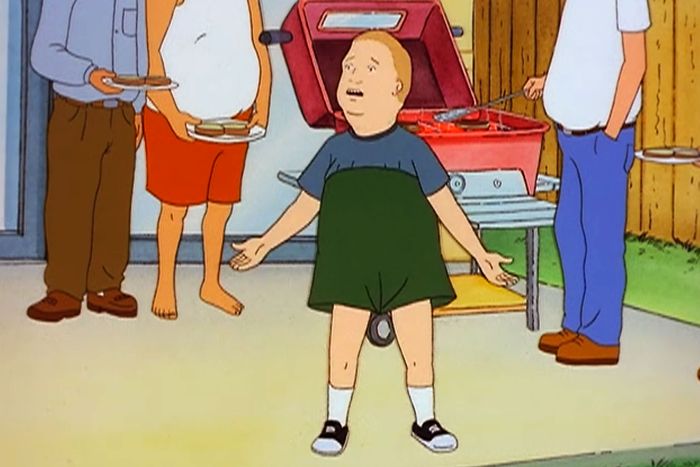 King of the Hill.
Photo: Hulu
The comedy-podcast universe is ever expanding, not unlike the universe universe. We're here to make it a bit smaller, a bit more manageable. There are a lot of great shows, and each one has a lot of great episodes, so we want to highlight the exceptional, the noteworthy. Each week, our crack team of podcast enthusiasts and specialists and especially enthusiastic people will pick their favorites. We hope to have your ears permanently plugged with the best in aural comedy.
Ho Yeah! — Shins of the Father, Season 1, Episode 8
Ho yeah! That's not just the name of this podcast, but what I hollered after finally discovering an episode-by-episode recap of, in my humble opinion, the greatest half-hour comedy ever. Hosted by best friends and die-hard Propaniacs Amy and Jackie, Ho Yeah! has spent the last couple months exploring season one of King of the Hill, a season that set up the fictional world of Arlen, Texas. But what this season really did was lay the groundwork for Hank Hill, a compassionate conservative in the literal sense of those words, not the twisted campaign phrase famously co-opted by George W. Bush. Hank's stubborn interpretation of patriarchal deference is tested here by the introduction of fan favorite Cotton Hill, his misogynist, shinless father who overstays his welcome after gifting Bobby with a loaded shotgun ("You don't give a toy without batteries!"). As Amy and Jackie note, this is the first time we see Hank unsuccessfully try to wring a single drop of affection from his dad, much to the chagrin of Peggy, whose series-long feud with Cotton ends with the war hero killing himself to spite "Hank's Wife." Hank never wins the love of his father — he's called B.H. once his half-brother Good Hank is born in season four — but he is able to stop the cycle of abuse from affecting his very impressionable and sensitive son. Ho Yeah! understands the subtle nuances and engaging character arcs that made Mike Judge's Texan magnum opus so brilliant. Hopefully they'll be podcasting the show for years to come … or at least until Lucky shows up. —Pablo Goldstein
Scam Goddess — the Hollywood Hoodwinker With Lauren Lapkus
In a world increasingly filled with scams, scammers, and scams that sound like scams but aren't, who will help the poor marks make sense of it all? Thankfully, self-proclaimed Scam Goddess Laci Mosley (Florida Girls) has graced mortals with her new and definitely-not-a-scam podcast. Scam Goddess plays equal parts cautionary tale and scam manual, investigating small- and big-time scams with Mosley and guests' hilarious footnotes. This week, Earwolf mascot Lauren Lapkus visits to reminisce on a recent indie-film scam that hoodwinked both women. Student loan debt consolidation services also draw both guests' ire — although, ironically, last week's episode ran an ad for debt consolidation service Upstart. Through the "Hollywood Hoodwinker" scam we learn all the important lessons, like to never trust people who ride mopeds or who can do hundreds of accents. In just three episodes, Mosley's natural charisma, fun and repeatable segments, and running jokes like the "desp-o-meter" have quickly made Scam Goddess a weekly listen. Added props go to the show for listing all their sources in the show notes because some would say repurposing other journalists' hard work without giving credit is a scam of its own. —Mark Kramer
Listen: Spotify | Apple | Website
Entry Level With Brooks Wheelan — Alana Johnston
Listening to Brooks Wheelan's Entry Level is very reminiscent of watching any good hangout movie. Here we're given insights into the mundane, day-to-day activities and early jobs of some of our favorite comedians, while also getting a good sense of what their teenage years were like. In other words, it's like watching Dazed and Confused if the whole story focused on Ben Affleck's character working at a gas station. Before getting to this week's guest, Alana Johnston, the show's preamble with Nick Turner proves to be a highlight. Here the two comics talk about a recent charity event attended by Wheelan at a ritzy Hollywood home. Much to the surprise of Wheelan, the Red Hot Chili Peppers showed up to perform some B-sides before bumming people out with a video about plastic in the ocean. In following the hangout-movie format, a simultaneous story line was live-tweeted by a neighboring Scott Aukerman as his confusion grew while he questioned why his neighbor was blasting the RHCPs. For more on this and why Alana Johnston was the coolest piano teacher ever, tune in to Entry Level. —Tom Rainey
Listen: Spotify | Apple | Website
Life Is Short With Justin Long — Jonah Hill 
An excellent two-person podcast will make you feel like you're spending time with a set of best friends while they shoot the shit. Given his carefree spirit and conversational ease, Justin Long is adept at consistently creating that vibe on his podcast, Life Is Short. So imagine how heightened the experience is when he has one of his actual good friends as a guest. Enter Jonah Hill, who we all know as a funny movie man and who Long knows as the broke dude who lived in his tiny pantry. Long and Hill cover a lot of ground in this episode, reminiscing about their respective Hollywood come-ups. Highlights include Hill's admiration for his sister Beanie Feldstein's burgeoning career as well as her ability to correct people with compassion. There's also a lot of equally endearing banter about Hill's parents. He hilariously reports that his mother, Sharon, is often too busy to see his movies but never too busy to brag about his success. The podcast wraps up as usual with a lighthearted debrief between Long and his also affable brother Christian. As Long says, "Join us, or if you have more important things to do, that's okay, too — life is short!" —Becca James
Listen: Spotify | Apple | Website
Armchair Expert — Jim Jefferies
Comedian Jim Jefferies (The Jim Jefferies Show) joins Dax Shepard in his attic studio to go pretty deep yet keep things fairly lightish on a variety of subjects. That includes his early sets bombing as a teenage comic in the Sydney clubs ("It's just not in your wheelhouse, son," Jefferies says that his father told him after driving him home from a disastrous gig), his flirting with sobriety, or the recent passing of his mother. Shepard says he first became aware of the Australian-born comedian from his viral gun-control bit, and that he and wife Kristen Bell enjoy watching his show on Comedy Central. One topic that gets teased but never plumbed is how Jefferies got buddy Brad Pitt to appear as his weatherman in the first season of the show, but it does lead Shepard's guest to confess that he's angling to get Mrs. Shepard to fill the role sometime in the new season. There's a shallow dive into the use of the word mate and how its emphasis can differ depending who is using it. The two men turn out to have a trait that annoys them both — that of being unable to stop themselves from topping someone else's story in a conversation. Fortunately, that trait doesn't derail what these guys have going on, rapport-wise, in this friendly chat. —Marc Hershon 
Listen: Spotify | Apple | Website
Other Podcasts We're Listening To:
Why Won't You Date Me? — Managing Anxieties During Intimacy With Dave Ross
Listen: Spotify | Apple | Website
Doughboys Double — The Ate-TL: The Doughboys Went Down to Georgia
Listen: Website
Gettin' Better With Ron Funches — Live From Toronto With Kate Berlant
Listen: Spotify | Apple | Website
Air Buds — Drama in the WNBA
Listen: Spotify | Apple | Website
Conan O'Brien Needs a Friend — Tina Fey
Listen: Spotify | Apple | Website
An Agnostic's Guide to Heaven With Tim Bedore — Episode 14
Listen: Apple | Website
Got a comedy podcast recommendation? Drop us a line at comedypodcasts@vulture.com.