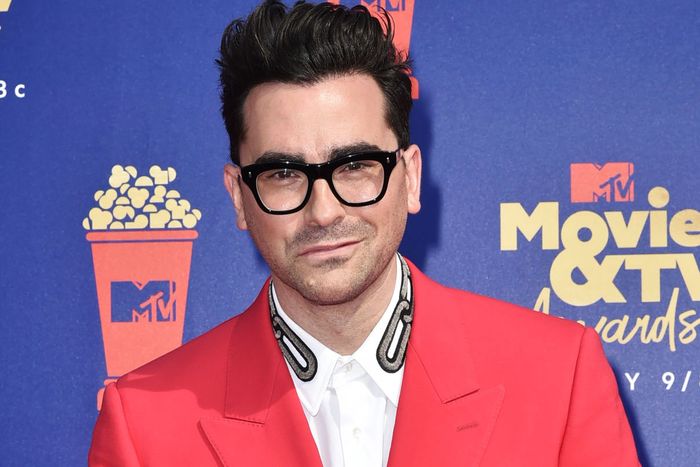 Dan Levy.
Photo: David Crotty/Patrick McMullan via Getty Image
The comedy-podcast universe is ever expanding, not unlike the universe universe. We're here to make it a bit smaller, a bit more manageable. There are a lot of great shows, and each one has a lot of great episodes, so we want to highlight the exceptional, the noteworthy. Each week, our crack team of podcast enthusiasts and specialists and especially enthusiastic people will pick their favorites. We hope to have your ears permanently plugged with the best in aural comedy.
Thirst Aid Kit - Dan Levy: Smokeshow Extraordinaire 
After a nine-month drought, Thirst Aid Kit is back, and hosts Bim Adewunmi and Nichole Perkins are thirstier than ever. After catching up on what they missed out on, including the eyebrows and cheekbones of Crazy Rich Asians, they dive into what they do best: going deep on why we desire who we desire by questioning Hollywood inclusion and opportunity. This week, the object of the hosts' affection is Dan Levy. Co-creator, showrunner, and star of Schitt's Creek, Levy provides plenty of qualities for the duo to lust after. Adewunmi and Perkins are quick to address Levy's lineage. As the son of well-known Hollywood multi-hyphenate Eugene Levy, he inherited a "magnificent" set of eyebrows, but what about talent? The hosts are happy to report that "this guy is actually talented," with "fantastic comedic timing." Adewunmi and Perkins go back and forth shouting out both his physical ("He … looks like someone who considers grooming to be a natural part of masculinity") and professional ("It's a working face, and he makes use of every single part of it") attributes, which combine to make him "uncomfortably hot." The first sip in a new era of Thirst Aid Kit, this episode is the perfect refresher. —Becca James
Listen: Spotify | Apple | Website
How Neal Feel - Inside. Better than Outside. 
Given we live in the "everyone has a hot take" era, I'll be the first to admit that it's rare for me to get excited about people sitting down for a podcast to cover current events these days. With that said, I'll happily get off my soapbox, put said bar of soap in my mouth, and listen to How Neal Feel week in and week out. For the better part of six months, comedian Neal Brennan and co-host Bianca "Binky" Sia have created a port in the podcasting storm. A refuge from the hot takes that go left unchecked. With segments like "Neal Gon' Pologize," Brennan and Sia hold their unpopular opinions from previous episodes accountable, and, in turn, apologize for their missteps. Granted, their hot takes hit-to-miss ratio is pretty high, but it's still a breath of fresh air to hear someone admit when they're wrong. Before you all start thinking, Damn, is this show just a bunch of people apologizing the whole time?,  to you I say, that's only about 10 percent of the content. For some of the best social commentary in the game, make time for How Neal Feel. —Tom Rainey
Listen: Spotify | Apple | Website
'
Two Old Queens - Scream with Mano Agapion
It's October, so you know what that means, comedy fans: spooky Twitter usernames and horror-themed blocks of your favorite podcasts! To launch their month of Five Cold Screams, Mark Rennie and John Flynn of Two Old Queens invite Mano Agapion (Horny 4 Horror, Drag Her, We Love Trash) to chat about Wes Craven's 1996 meta-horror film, Scream. While we all know that the film single-handedly revived the slasher subgenre after the flood of 1980s second-rate horror flicks exhausted audiences, the real question is: How gay is Scream? Using a 1,000+ point scale, the answer is: pretty gay! The film scores very high for its campy qualities, relentlessly self-referential nature, and potential to inspire drag performances. However, the film loses points in the "felt" category since Ghostface is dressed in a cheap polyester blend. While Scream ends up in the podcast's top five thanks to Skeet Ulrich and Jamie Kennedy's homoerotic undertones, as well as Courtney Cox's iconic "chunky highlights," it comes nowhere near dethroning their gayest movie of all time: Muppets Take Manhattan. —Pablo Goldstein
The Dork Forest - Zelda and Link with Dave Ross
Jackie Kashian has been providing guests with a safe space to dork out over their favorite topics in The Dork Forest since 2006. Considering the Legend of Zelda franchise heavily involves both forests and dorks, it's a wonder that it's taken over 500(!) episodes for The Dork Forest to finally visit Hyrule. First Suicide Buddy Dave Ross plugs his new album, The Only Man Who Has Ever Had Sex. There are lots of URL jokes in this one, since Ross's special can be found at www.sex.guns.beer and Kashian's work at familypetancestry.com. Silly domain names aside, the two comics accidentally go topical with a smart discussion of sex and privilege for dorks and non-dorks alike. Ross's first appearance on TDF was eight years ago on episode 64. He and Kashian now have thousands of hours of podcasting under their belts, and it shows. Like a pro, Ross pivots from toxic masculinity to Link and Zelda's model platonic friendship. Kashian plays the captive audience as Ross explains the game's cooking system with a level of detail that rivals only The Dave Chang Show. There aren't many other shows that can draw legitimate parallels between The Legend of Zelda: Breath of the Wild, Bill Hader's Barry, and James Baldwin, which is part of the reason why The Dork Forest is still thriving after all these years. —Mark Kramer
Listen: Spotify | Apple | Website
The Goodie Goodie - Byer's Estate with Nicole Byer
Everyone knows that if you're scheduled to record a podcast with Nicole Byer and something gets in the way of her getting to you, you go to Nicole Byer and get that podcast recorded. It's a promise The Goodie Goodie host Sabrina Jalees makes good on this week when the thing that gets in the way is actually Nicole Byer falling asleep. After relocating the recording to Byer's house where her dog is in jail, they sit down to chat as planned. In between perfectly timed sound effects, the two cover the many podcasts Byer hosts, her love of pole dancing, acting tips, and her dream TV show, which she describes as "one that I'm the lead and it's funny." I feel confident to speak on behalf of everyone and agree that a show where Nicole Byer is the lead and it's very funny is something we can all get behind. Look out for the second half of their conversation that will be released today. —Leigh Cesiro 
Listen: Spotify | Apple | Website
Other Podcasts We're Listening To:
Stand By Your Band - MC Hammer with Will Miles
Listen: Spotify | Apple | Website
Why Won't You Date Me - Breaking Up (w/ Paul F. Tompkins)
Listen: Spotify | Apple | Website
Dr. Drew After Dark - w/ Nikki Glaser
Listen: Spotify | Apple | Website
Got a comedy podcast recommendation? Drop us a line at comedypodcasts@vulture.com.