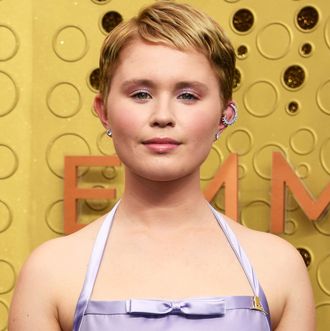 Eliza, don't you want to take a nap? Have some water?
Photo: Valerie Macon/AFP/Getty Images
You'd think that, considering Eliza Scanlen recently appeared as a creepy teen in Sharp Objects and will soon appear as Beth in Little Women (what happens to Beth redacted), she might want to rest for a bit or something, but no, the Australian actress is heading to Broadway. Scanlen is joining the cast of Aaron Sorkin's To Kill a Mockingbird to play Mayella Ewell as the production heads into its second year, alongside the previously announced Ed Harris, who's replacing Jeff Daniels as Atticus Finch, and Love, Simon's Nick Robinson, who will play Jem.
In addition to Scanlen, Mockingbird has also announced a slew of other actors who will join the show for its second year, replacing most of its original cast and all starting performances together on November 5. Kyle Scatliffe will play Tom Robinson, LisaGay Hamilton will play Calpurnia, Nina Grollman will play Scout Finch, Taylor Trensch will play Dill Harris, Manoel Felciano will play Horace Gilmer, Russell Harvard will play Link Deas and Boo Radley, M. Emmet Walsh will play Judge Taylor, Patricia Conolly will play Mrs. Dubose, Christopher Innvar will play Sheriff Heck Tate, William Youmans will play Mr. Roscoe and Dr. Reynolds, and there will be new ensemble members Rosalyn Coleman, Gene Gillette, Luke Smith, and Yaegel T. Welch. Original cast members Neal Huff and Ted Koch will take on the roles of Bob Ewell and Mr. Cunningham, while Liv Rooth will reprise her role as Ms. Stephanie, and Rebecca Watson, Aubie Merrylees, David Manis, Baize Buzan, Steven Lee Johnson, and Geoffrey Allen Murphy will remain part of the ensemble.
After opening last fall, To Kill a Mockingbird received nine Tony nominations this spring (though notably it was not nominated for Best Play), and won one, for Celia Keenan-Bolger's performance as Scout. It has been a hit on Broadway, selling remarkably well for a straight play throughout its run. So, no pressure, new cast members.