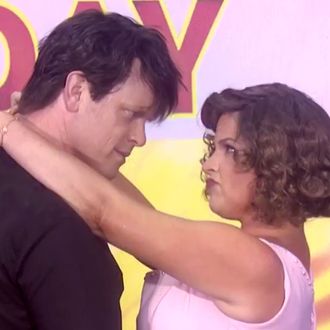 The Today show is supposed to be relaxing, uplifting, and feel-good 364 days of the year. But on Halloween, it turns into a literal nightmare just for funsies. This year, each of the anchors dressed up as a famous dancer (a very loose term) and performed that person's famous dance, the full versions of which are on Today. The costumes themselves are actually decent, unlike when they all dressed up as Peanuts characters and ruined millions of childhoods. What's so ridiculous about this year's is how hard they go. It's a level of dedication to shtick that one could have only if they got paid millions of dollars. Please, without further ado, the hip-hopping, move-busting, potentially hip-breaking Today show dancers.
Right off the bat, a duo who stretched the theme to its limits. Saying Carlton from Fresh Prince of Bel-Air is a dancer is like saying Daenerys Targaryen is a reptile enthusiast.
Who are these backup dancers? Just, like, other producers? Who is running the show right now?
To be fair, if we saw this Elaine at a party, we would be like, "Oh, nice. Elaine."
Instead of ditching the iconic lift, Jenna Bush Hager disappears and Willie Geist lifts … a mannequin, stiff as a board. The horror.
Sheinelle Jones followed the prompt! She is the Rihanna of this fever-dream Met Gala. Her dance moves were on point, and she served it right up to the camera. Anybody else's wig missing?
How is this only slightly better than when Hoda was weird Furry Woodstock from Peanuts?
First of all, Carson Daly's wig could use some more grease. Or hair. Second, in the full version, they're supposed to be lip-syncing over the track, but the mics are on so we can still hear them barely singing. It's a sound tech's worst fear. For that terror alone, Grease is awarded the scariest Today show costume this Halloween. Tune in next year when Al Roker may or may not cover himself in fur to become Paddington.