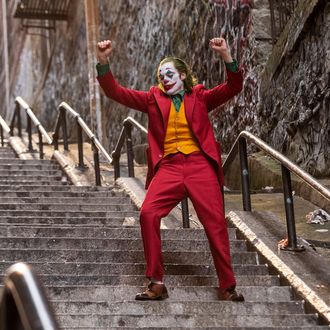 Photo: Niko Tavernise/Warner Bros.
Todd Phillips's gritty new iteration of the Joker might not break into banks like his comic book predecessors, but according to this weekend's box office reports, he is definitely breaking the bank. (Note: you have to laugh at dumb jokes like that, or else we will collectively become the Joker. Sorry! Them's the breaks.) According to Variety, despite the weeks of controversy and security concerns (or, let's be honest, because of them), Joker has careened past the previously set box office record, pulling in approximately $93.5 million at 4,374 North American locations and turning in the best October domestic opening weekend since 2018's Venom, which gobbled up a mere $80 million.
The movie also excelled abroad, making over $140.5 million on 22,552 screens across the rest of the globe. All and all, that's a lot of Laffy Taffy. We can only hope that much dough can help this poor super-villain gain the self-esteem he needs to finally turn things around and get back behind the mic.