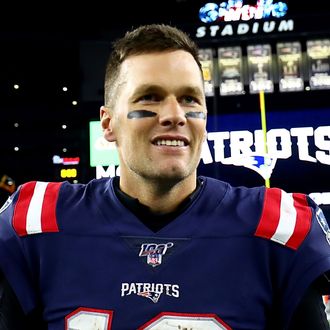 Photo: Adam Glanzman/Getty Images
As surprised as you were to see six-time Super Bowl champion Tom Brady in the first episode of Paul Rudd's new Netflix show Living With Yourself, you might have been more surprised with what the Patriots quarterback was doing: leaving a massage parlor (or, rather, what Rudd's character believes to be a mere massage parlor). Why? Well, according to some, the moment felt like a pretty obvious joke about Patriots owner Robert Kraft, who was arrested for solicitation at a Florida spa earlier this year. However, as Brady explained to reporters Saturday, people chose to take the scene "out of context" and also, that's not how television production timelines work.
In the scene, Rudd gasps as Brady saunters from Top Happy Spa to his car. "First time?," the quarterback asks him. "Uh-huh. You?," Rudd replies. Says Brady with a smile, "Sixth," an obvious reference to his six Super Bowl wins. "It was agreed to a year ago. It was written four years ago," Brady said of the scene, according to CNN. "Again, it's unfortunate that people would choose to think I would ever do something like that about Mr. Kraft. I think that's a very bad assessment of my relationship with him. I would never do that."
Still, even Living With Yourself creator Timothy Greenberg himself assumed Brady wouldn't want to do the cameo after Kraft's February arrest at a spa that looked very similar to the one in the show. "Like, I would have used it as a reference photo," Greenberg told Refinery29 last week. "So we're like, 'Alright, this is clearly not going to happen now.'" In retrospect, probably should have lined up that season two cameo while the show still had the chance.