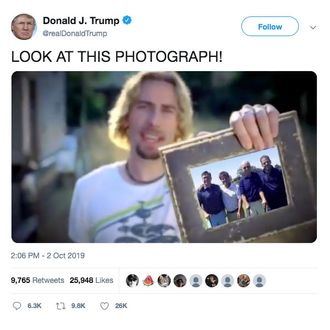 Photo: Donald J. Trump/Twitter
Look, there's no easy was to say this, so … actually, yes there is. Donald Trump, the leader of the free world, tweeted a Nickelback meme on Wednesday. More specifically, a "Photograph" meme in which the photo in the music video has been replaced with a photo of Joe Biden; his son, Hunter; and what the video claims is a "Ukraine oil exec." (Trump, amidst the ongoing whistle-blower scandal, is peddling a mostly debunked story that Biden interfered in Ukrainian politics to help his son.) "LOOK AT THIS PHOTOGRAPH," Trump, posting from his personal account, tweeted earlier Wednesday. President Trump's previous online and IRL behavior should have prepared me fully for this tweet, but, still, when the beat dropped … reader, I gasped.
You might have gasped too, if you saw it. But now you've missed your chance. The video has been removed at the request of the copyright owner, better known as a DMCA (Digital Millennium Copyright Act) takedown. Which means Nickelback — who did not respond to Vulture's request for comment — or the folks who own Nickelback's music demanded to have it taken down. Whether that's for political or economic reasons or a combination of both, we do not know. But, at any rate, you can no longer see the meme on Trump's twitter.
This is how you remind me of what I really am … I am trapped, with all of you, in the truly darkest timeline.
This story has been updated to reflect the removal of Trump's Nickelback tweet.