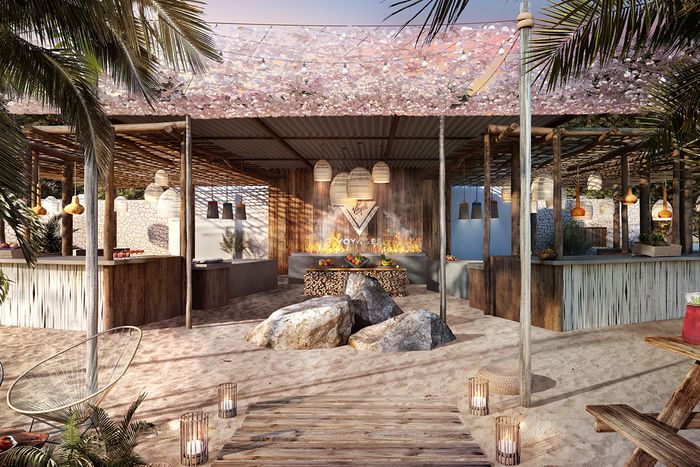 There are vacations, and there are unforgettable travel experiences that set a new standard for future trips. Virgin Voyages, the luxe new cruise line for the 18-plus crowd, has every intention of being the latter. It will begin sailing from Miami to the Caribbean in April, and we're giving away a four- or five-night cruise (winner's choice) to one Vulture reader and a guest. The trip can be taken between July and October 2020, and the lucky pair will stay in a Sea Terrace cabin, a mood-lit room with an oceanfront terrace. Just about everything — food, most nonalcoholic drinks, fitness classes, gratuities — is included, and you can enter to win below.
Dubbed a "sanctuary at sea," Virgin's first ship, the Scarlet Lady, will be all about balance. Yes, it will have a nightclub inspired by the music industry, over 20 places to eat, five bars and lounges, and a theater that can transform from an auditorium to a catwalk to a dance floor. But there will also be opportunities for quiet moments of relaxation and introspection. There will be a running track circling the ship's perimeter, sunrise and sunset yoga classes, an outdoor meditation space, multiple pools, and a 1920s-inspired athletic club designed to be a social experience (not to mention a tattoo parlor, blow-dry beauty bar, nail salon, and medispa inspired by an underwater cave).
The everything-in-moderation ethos continues on land at Virgin's private island in Bimini, Bahamas, which all of its cruises stop at. The Beach Club at Bimini moves at its own pace: Mornings start slow with yoga and meditation to the sound of the ocean, and the energy gradually builds throughout the day, peaking with a DJ-led pool party mid-afternoon. By the time the sunsets, the mood is set at chill, and guests can relax at a beach bonfire and listen to a live acoustic music performance.
Enter to win above, and start clearing your summer 2020 schedule now.
This is paid content produced for an advertiser by New York Stories. The editorial staff of Vulture did not play a role in its creation.