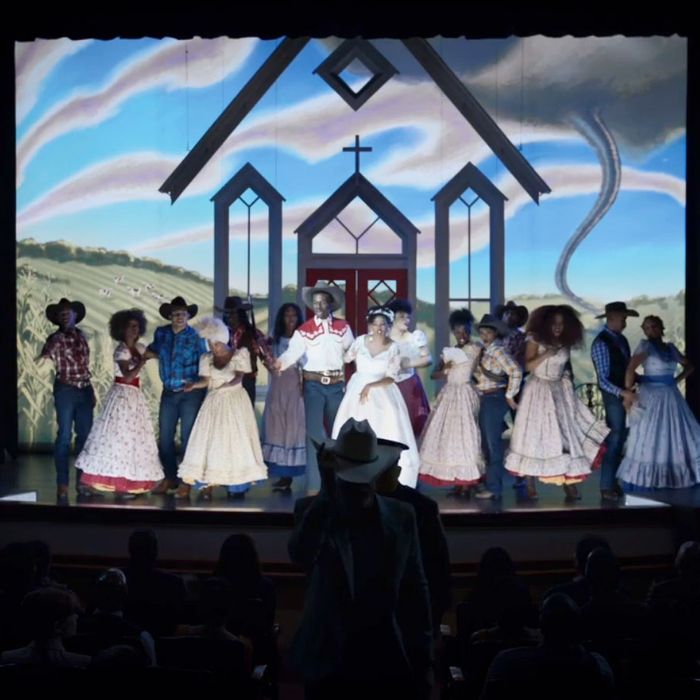 Damon Lindelof's reimagined spin on the Watchmen universe examines how characters new and old grapple with present-day life after the graphic novel's concluding events — specifically, with the struggle against racism and right-wing extremism in America. (There's a reason the series opens with a re-creation of the Tulsa Race Massacre.) Rorschach, for one, has become a fabled hero and mascot for a sect of white supremacists called the Seventh Kalvary; they're on the rise, and the masked police force of Tulsa, Oklahoma, is on the case. Regina King leads as detective Angela Abar, a.k.a. Sister Knight.
So where does Rodgers and Hammerstein's 1943 musical Oklahoma! fit in? Well, we already know from the current Circle in the Square Theatre production, i.e., Sexy Oklahoma!, that not everything was O.K. while the titular state was being settled. The cheery, patriotic tale of romance and westward expansion tends to gloss over the whole genocide and displacement thing. Watchmen has comparable social commentary on its mind.
In the premiere episode, moments after a black police officer is shot dead in his patrol car by a member of the Seventh Kalvary, Sheriff Judd Crawford (played by Don Johnson) is shown with his wife sitting in the orchestra at an all-black production of Oklahoma! The staging of Black Oklahoma!, as it's teasingly called for the rest of the episode, is a nod to the series' setting, yes, but when asked about it at New York Comic Con earlier this month, Lindelof (a secret musical-theater nerd, it turns out) explained that there's more at play here.
"My father was a big fan of Rodgers and Hammerstein musicals, and he would bring me into the city and they would show them at the Ziegfeld [Theatre] with a live orchestra," he recalled. "So we saw The King & I and South Pacific and Oklahoma!, and I was just completely and totally mesmerized. And it just felt like we wanted to make a real counterpoint between Oklahoma! the movie — where it's sort of like, 'Look at all these people singing and dancing and how wonderful Oklahoma is now that we've gotten rid of all the Native Americans. Let's make it a state!' — versus what really happened in Oklahoma, which we're starting to uncover on the show."
Now let's just hope Lindelof's musical-theater love has rubbed off on King — the Oscar and Emmy winner could use a Tony on her way to EGOT!