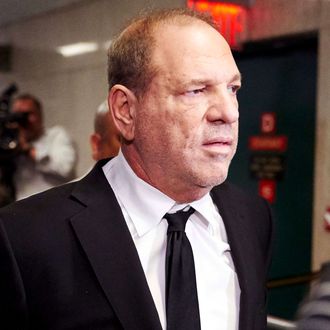 Photo: JAMES KEIVOM/EPA-EFE/Shutterstock
According to his legal team, a key witness in Harvey Weinstein's upcoming sexual-assault trial shouldn't be allowed to testify because she might have undergone "memory recovery therapy" that makes her testimony "unreliable." "Use of hypnosis, in particular, has not gained acceptance in the scientific community as a reliable method of restoring a witness' recollection of an event," lawyers argued in new court papers obtained by Vulture on Tuesday.
Weinstein's legal team further claimed that "such therapeutic procedures may cause the witness to be susceptible to suggestion; to confabulate or intentionally fabricate incidents in order to fill memory gaps or to please the therapist; and to be convinced of the accuracy of the false memory, resulting in testimony given with confidence and the ring of truth, when neither is warranted, thereby unfairly impairing the defendant's ability to cross-examine the witness."
The court papers are heavily redacted, so extensive details on the possible therapy aren't available. His legal team did say, however, that their argument was "based upon her use of what appears to be suggestive psychotherapy to recover memories of the incident about which she would testify; that is, techniques that render testimony unreliable and thus inadmissible."
The Manhattan district attorney's office declined to comment.
Weinstein's "memory recovery therapy" argument is part of a more than 100-page filing in which his legal team pushes for dismissal of the two predatory-sexual-assault counts, and the exclusion of several prosecution witnesses.
His lawyers also revealed in this filing that they want to bring in an expert witness who would testify about the "formation of fully false memories for events that never happened."
The expert, social psychologist Deborah Davis, would "discuss special issues of memory specifically for sexual or potentially sexual interactions."
"These include what is known about sexual consent communications, causes of original misunderstandings of sexual intentions, and causes of distortion in memory for sexual consent communications over time," Weinstein's legal team said. "In this context, she will specifically address the phenomenon of 'voluntary unwanted sex,' i.e., sex that is undesired, but that the person chooses to engage in, and why such sexual encounters are susceptible to inaccurate memories."
Weinstein's new arguments come in the wake of a defeat for his defense team. While Weinstein's lawyers had asked for his trial to be moved out of Manhattan — citing extensive media coverage and concerns that potential jurors here have liberal leanings — a state appeals court rejected their request.
Weinstein now faces five counts in Manhattan Supreme Court. They include two counts of predatory sexual assault, one count of a criminal sexual act in the first degree, one count of first-degree rape, and one count of third-degree rape. His trial is scheduled to begin on January 6, 2020. Weinstein has maintained his innocence.