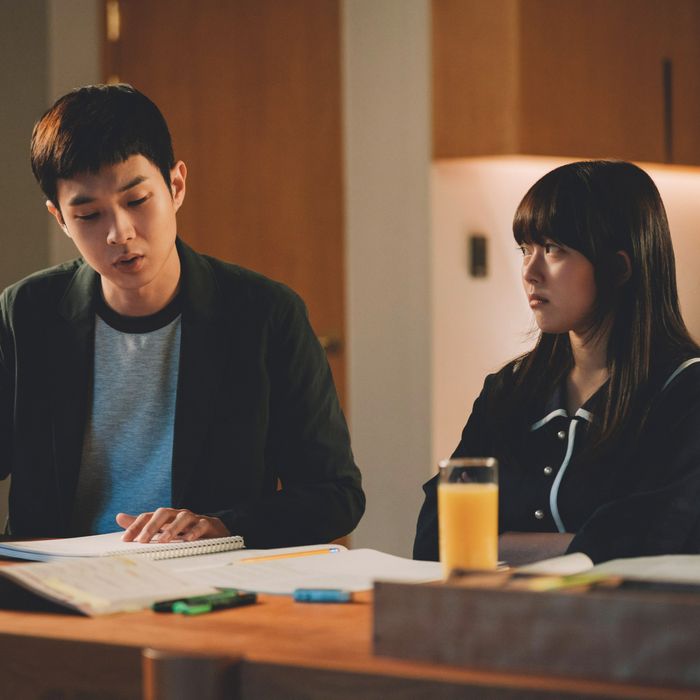 Woo-sik Choi and Ji-so Jung in
Parasite.
Photo: Neon
Back in May, writer-director Bong Joon-ho faced a tsunami of rapturous reviews, surfing to the top prize at the Cannes Film Festival for his pitch-black comedic thriller, Parasite. Along the way, he made history as the first Korean auteur to claim the Palme d'Or, earning a five-minute standing ovation and besting front-runners at the fest like Quentin Tarantino's Once Upon a Time in Hollywood and Pedro Almodovar's Pain and Glory. Parasite finally made its North American landfall at the prestigious Telluride Film Festival in early September, where it sold out screenings. By the time the allegorical thriller, about a poor Seoul family that manages to infiltrate a very rich one to unexpected consequences, debuted at the Toronto International Film Festival a few days later, the movie boasted a 99 percent Rotten Tomatoes rating, as well as a hive of Oscar buzz. Could director Bong — the force behind such beloved titles as The Host, Mother, Snowpiercer, and Okja — deliver South Korea's first Best Picture Academy Award nomination?
And yet, despite the intense and sustained Film Twitter interest — telegraphing a critical consensus that the less you know about the film before seeing it, the better — Parasite could only be found in precisely three theaters in the United States upon its October 11 release. Two were in Los Angeles: the Landmark and the ArcLight Cinemas (the City of Angels' go-to art houses), and one was in New York at the IFC Center, which similarly specializes in so-called art-house fare. (On Wednesday, Parasite began a run in its second NYC location at Lincoln Center.) Somehow, Parasite felt both suspiciously ubiquitous and conspicuously absent at the same time.
Over its opening weekend, Parasite managed to pull in $376,264 at those three locations to rack up the highest per-screen haul since 2016's La la Land, as well as the biggest per-screen returns of any international film in U.S. history. Its upstart specialty distributor, Neon (behind such films as Three Identical Strangers, The Beach Bum, and I, Tonya), could have taken a different route and attempted to push Parasite out wide over its theatrical debut. So why the slow-burn release?
According to two people with knowledge of the studio's distribution plan who spoke to Vulture on background, the strategy is a textbook "platform release." The thriller would have opened at Lincoln Center last week too had the venue not been booked by the New York Film Festival. On Thursday night, Parasite will expand into eight more theatrical markets across the country, screening at two or three theaters in each of those cities (in addition to several more theaters in L.A. and New York). By mid-November, the movie, which is already a colossal hit in South Korea, will branch out into between 50 and 75 other American cities. And by the middle of next month, Parasite will be programed nationwide, playing in 125 theatrical markets.
That kind of North American platform release is a go-to for foreign films and movies intended for art-house cinemas. But for Neon in particular, which bought Parasite in May ahead of its premiere at Cannes, the strategy of slowly building word of mouth after ecstatic receptions at various international film festivals is intended to maximize the film's awards-season prospects. According to Vulture's sources, Neon is betting that with proper placement within the movie marketplace, Parasite could walk away with Best Director and Best Picture Oscar nods in addition to an all-but-certain nomination in the Best Foreign Film category.
In 2017, the then year-old distributor shocked Hollywood's gurus of gold by buying the Margot Robbie–starring Tonya Harding biopic, I, Tonya, at the Toronto International Film Festival and mounting a full-tilt awards campaign for the scrappy indie, which arrived in theaters three months later. Despite the haste of release and relative lack of promotional pregaming, Allison Janney claimed an Oscar for Best Supporting Actress for her role in the film, while Robbie earned a nomination for Best Actress. By contrast, the studio has been working since May to figure out how to best promote Parasite down the awards-corridor stretch.
But a more telling contrast to the film's platform rollout may be the coast-to-coast theatrical bow of another recently released specialty film: Olivia Wilde's directorial debut, Booksmart. Cutting through the white noise out of the South by Southwest Film Festival with almost uniformly glowing reviews and gigantic social-media exposure in March, the female-fronted coming-of-age comedy was hustled into 2,500 theaters domestically by its distributor, Annapurna, ahead of Memorial Day to dissatisfactory effect. Booksmart faltered with a mere $6.9 million in ticket sales its opening weekend. (In the end, the film made $22.7 million worldwide, on a budget of $6 million.)
Many industry observers, as well as people within the struggling studio, second-guessed Annapurna founder Megan Ellison's decision to go wide rather than platform the picture. "To me, you had the template for that movie, which was Lady Bird, which had great reviews and slowly built that great number [$78.9 million worldwide] as one of the best movies of [the 2017 awards season]," a former Annapurna employee tells Vulture*. "With Booksmart, I don't know why you wouldn't do that. Or kick it to the festivals and go slow. To go wide seemed crazy."
*This quote has been corrected to reflect Lady Bird's 2017 release date.