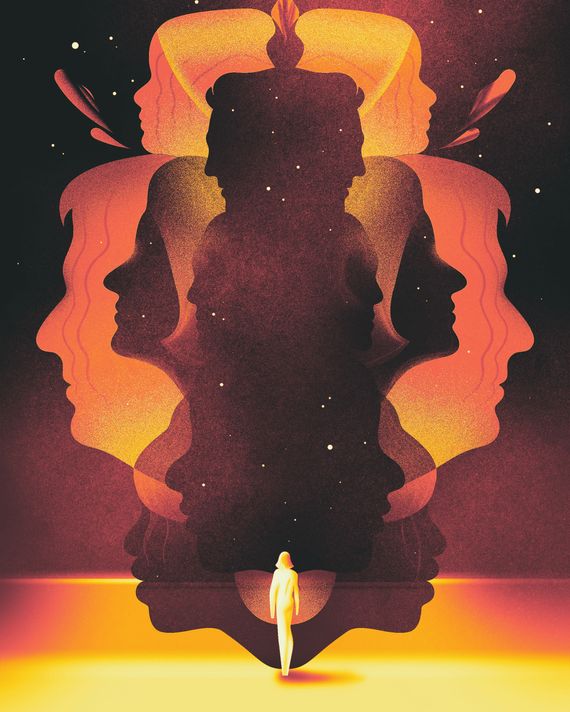 A few years ago, a writer named Ashima Saigal from Grand Rapids, Michigan, witnessed an incident on a bus in which a group of black kids were mistreated by the police. She was disturbed, and soon after, she wrote about it. Later, reading over what she'd written, she realized the story wasn't working. She'd tried to write from one of the kid's perspectives, but Saigal, who is Indian-American, wasn't sure that she had the skill or knowledge to write from the point of view of a black child. She decided to sign up for an online creative writing course called "Writing the Other."
The course was founded by the speculative-fiction writers Nisi Shawl, who is black, and Cynthia Ward, who is white, nearly twenty years ago. They'd met a decade or so earlier, at a fantasy and science-fiction workshop, and were inspired to design their own writing class after a conversation with another classmate, a white friend who'd declared that she'd never write a character who didn't share her background or identity because she'd be sure to get it wrong. "My immediate thought was, 'well that's taking the easy way out!'" recalled Shawl. While imagining the lives of people who are different from you is virtually a prerequisite of most successful fiction writing, the consequences of doing it poorly have grown more serious since the pre-Twitter, pre-woke '90s, as the conversation about who gets to tell whose stories has moved from the fringes of publishing into the mainstream. J.K. Rowling, Lionel Shriver, and Kathryn Stockett have all caught heat for botching the job. In the young-adult fiction world, a number of books have been pulled in advance of their releases for clichéd and problematic portrayals of minorities. The conversation is often depicted in the media as a binary: On one side are those who argue that only writers from marginalized backgrounds should tell stories about people who share their cultural histories — a course correction for an industry that is overwhelmingly white — while on the other are those who say this wish amounts to censorship.
For those following closely, it can feel as though the debate has gotten stuck in a rut, unable to move beyond the basic question of whether a writer has the right to tell a given story. One of the goals of the course is to shift the conversation from "whether" to "how." The class is predicated on the idea that "writing the other" is a skill that can be taught and learned, like any aspect of the craft. Shawl and K. Tempest Bradford, a speculative fiction writer who co-teaches the class, urge their students to get comfortable describing a character as black or Asian or white. They warn of common pitfalls — like comparing skin tones to chocolate and coffee and other kinds of food, which carry colonial associations and can make people sound like commodities, intended to be consumed. Students learn to analyze their identities and the unconscious biases that shape their work. They consider why some identities are more challenging to render than others. They practice taking risks.
After taking the course, Saigal decided to set the story she'd been working on aside. "There was something about being in that class that helped me recognize I don't have enough skill yet to do that," she explained.
This conversation is, of course, something all established writers are reckoning with today. I spoke to ten authors about how and why they decide to write outside their identities. Some found their interior lives uninteresting; others were compelled to represent the diverse worlds they inhabited. "There is no exact formula," says Laila Lalami, author of the National Book Award finalist The Other Americans. "It's not as if you can give a prescription to a writer: Take two teaspoons of empathy, a drop of research." They each approached the work in different ways, and none were immune to the fear that they might get the other wrong. "It's scary to be bold," says the horror novelist Victor LaValle, whose seventh book will be his first with an all-female cast of protagonists. "But that's what makes the work exciting."
The Sensitivity Read
Jennifer Weiner, In Her Shoes
In my 2004 book, Little Earthquakes, one of the characters was a woman of color. I wrote that character partly to subvert expectations. She was African-American, but she was extremely wealthy: She'd been raised in Paris and had gone to fancy boarding schools and was sophisticated. I wanted to have a character who wasn't anybody's stereotypical version of a black woman. But looking back, I'm sure there were ways I could have written her differently — more accurately, more nuanced, more grounded, more specific. What I probably did is I imagined a privileged white woman and poured this black woman inside of her.
My last book was the first I've worked on with a sensitivity reader. Harold, an African-American character in Mrs. Everything, is one of my women's happy endings, and so I wanted him to be a good guy, but not so ridiculously perfect that no one would ever believe him. I found an oral history of black soldiers in Vietnam, and that was really helpful in terms of what it felt like to be black in America at that moment in our country's history. I'd look at blogs and social media and talk to black friends. The sensitivity reader I worked with pushed me on the specifics: When my character's in bed with him, what is his body like? What is his hair like? Because that's going to be different than it is with a white guy. We'd talk about Harold's family, and she'd tell me, "You use food and ritual to talk about your Jewish characters, and that tells us who they are, and you need to do the same thing with your African-American characters: What are they eating for Thanksgiving? What are they doing when everyone comes home for the holiday?" Who is this person, really? That's the central question for any novelist. You have to put who you are aside and imagine as best you can every detail of that person's experience.
Scouring Tumblr
N. K. Jemisin, The Broken Earth Trilogy
It's all the same craft. What changes is our willingness about what to prioritize. Fifty years ago in science fiction, if you got the math or physics wrong, your name was mud. Nobody gave a damn about race or gender or any of these other identities. Everyone was a white guy, and if you wrote a woman, she was a white guy with tits. Now it's a writerly virtue to get people right. I've learned to not fear obviousness when I'm describing race or topics related to oppression. With an American audience, you have to be as in your face about it as possible because our society encourages delicate euphemism. I'd rather be accused of being obvious than allow people to get away with thinking all of my characters are white people. The truth is, when you walk into a room and you see a bunch of strangers, the first thing you notice is their appearance, their race and gender. When I first describe a character, I sometimes hang a lampshade on race. My narrator will immediately think: 'She might be Latino, oh maybe not, she might be Indian.' I render that mental process.
You're not going to be perfect. In The Broken Kingdoms, my protagonist was a blind woman, and she had a superpower associated with her blindness. As I now know, disability as a superpower is a trope. I didn't read enough literature featuring blind people to really understand it's a thing that gets done over and over again. Ehiru, a character from The Killing Moon, is asexual, and I don't think I explored that well. If I were writing it now, I would have made him more clearly ace. I figured this out by reading Tumblr. I am on Tumblr quietly — I have a pseudonym, and nobody knows who I am. Because lots of young people hang out there and talk about identity and the way our society works, it's basically a media-criticism lab. It's an interesting place to talk about identity, and I did not understand until I saw these conversations that asexuality was an identity. I thought about it as a broken sexuality. My story reflected my lack of understanding of how that worked.
Scarier Than Writing White
Kaitlyn Greenidge, We Love You, Charlie Freeman
My feelings have changed since I wrote my first book, which is partly in the voice of a racist Yankee heiress. Her section is written as an apology to all black people everywhere, and originally, the impulse was to parody that style of non-apology we often see after a white celebrity has done something racist, the 'sorry if I've offended somebody.' The first time I wrote the section, I was told by my readers, by my editor and my agent, that the letter wasn't working, and at first I was like, 'They just don't get what the letter is supposed to be doing.' But eventually, I realized they were right, because it didn't read like an actual human wrote it. There wasn't an emotional truth there. So in rewrites I had to go back. I wrote 40 or 50 pages of this woman's backstory that never made it into the book.
When I wrote the first draft, in between 2008 and 2013, we were in a national conversation about race that was all about how we were post-racial, that Obama had healed all wounds. I was writing about a black family, but I wanted to have a way to talk about what they were up against, that certain strain of racism that people are more familiar with now — the type of person who can say all the correct things about race and reconciliation, but fundamentally wants you to know that they're superior in every possible way. If I were to write this novel now, I don't know if I'd include that section of the book. I'm not sure I want to keep exploring blackness in relief with whiteness. I'm still interested in writing the other, though. The project I'm working on now is about black Americans and Haitians, and that's scarier than writing white. The thing about whiteness is, of course, if you're not white, you know whiteness and the rules of whiteness better than white people do, because you have to to survive. In this project, I'm looking at identity in a different context from any I've lived in — it's set in the 1870s. I'm very worried about getting it wrong, especially knowing I'm writing about a country that's often written about through a very biased lens. Even doing research on it, it's difficult to find emotional and historical truths. That's why I'm doing it — because it's a challenge.
Cross-Racial Longing
Jess Row, Your Face in Mine
In grad school, the curriculum I was taught was virtually all white. Very few people, if any, were talking about writing cross-racially — the necessity of it, the dangers of it. It took me a long time to even admit to myself that that's what I wanted to do. It wasn't until I'd struggled with a novel that I tried to write for six or seven years, that was a complete disaster, that I had this idea which became my 2014 novel, Your Face in Mine. It's about a white American who undergoes racial-reassignment surgery and becomes a black person. I did a lot of research. There's a whole American literature on the subject — books like Passing. But the other thing I had to do was really search my own background. As a white kid growing up in Baltimore in the early '90s, just totally obsessed with hip-hop, saturated in the golden era of Public Enemy and De La Soul — how did that affect my identity as a young person? And how did it shape me later, when I went to college, where I was effectively told that I had to forget that side of myself?
My editor and I had a lot of questions about why exactly my protagonist chooses to do this. Does he authentically feel like he's a white person in a black body, or does he do it as a kind of fraud? When the novel came out, critics dove into those questions in interesting ways — is it possible for someone to actually want to be black? Why? Is there really such a thing as a transracial person who actually believes that they are black? My answer to those questions was yes. I do think there's a relationship between longing to be black, and the decision, as a white writer, to write outside one's own identity. I've always experienced cross-racial longing, and that translates into my fiction. My profound skepticism about my own whiteness drives me to write the kind of fiction and nonfiction that I write. When I went out on the road with Your Face in Mine, a student asked me a version of that question: 'How can you be comfortable writing from a nonwhite perspective?' I said to the student, 'That assumes I'm comfortable writing from a white perspective, and I'm not.' I've never been comfortable with normative representations of white American characters. I'm always looking to undermine and deconstruct and take apart those representations. That's the material I'm drawn to, and it's also the material of my life.
The Inevitable Failure
Monique Truong, The Sweetest Fruits
In my historical novel, The Sweetest Fruits, I write about three women of color from different places and times and backgrounds, all different from my own. They're all connected by a white writer named Lafcadio Hearn. I was drawn to Hearn because he was a traveler, and he took the reverse journey I did as a Vietnamese refugee. This book took me eight years to research and write. When I began reading about him, I noticed there was something horribly deficient in the way the women in his life had been written. There were these gaps in their lives, and for historical-fiction writers like myself, we work within the gaps. I had questions about Hearn and his women.
The one who concerned me most was Alethea Foley, an African-American woman and former slave who moved to Cincinnati and was married to Hearn. She concerned me most for good reason. What does it mean for an Asian-American woman to write in the voice of a formerly enslaved woman? And how can you not be confronted with that question every single day? The way I think about it is I honestly believe stories belong to all of us. At the same time, the glory of publishing — who gets to tell the stories — does not belong to all of us. So how do you resolve these two things? You have to work with both. The first step in writing the other is, I try to shed as much of my own language as possible. I like to write in the first-person voice because it forces me to let go of my own language and think about the context of my characters — their era, their education, their lack of facility with the written language. I had to take into account that Alethea was prohibited from learning to read and write because of her enslavement, and how that would shape her voice. And that tells me as much about her as it does about me. How I'm dependent on certain tropes, where my humor lies, where my assumptions lie. There is an inevitable failure in my trying to write these women. We have that desire, and the tension is: Why do we do it? Do we do it for ourselves? Does it make us feel better? Are we rescuing a bird or something? I think a lot of it is for ourselves. If you acknowledge that there is a failure in the project, in an odd way it frees you.
*A version of this article appears in the October 28, 2019, issue of New York Magazine. Subscribe Now!
*An earlier version of this piece quoted Nell Freudenberger as saying "metaphysical device." In fact, she said, "metafictional device."