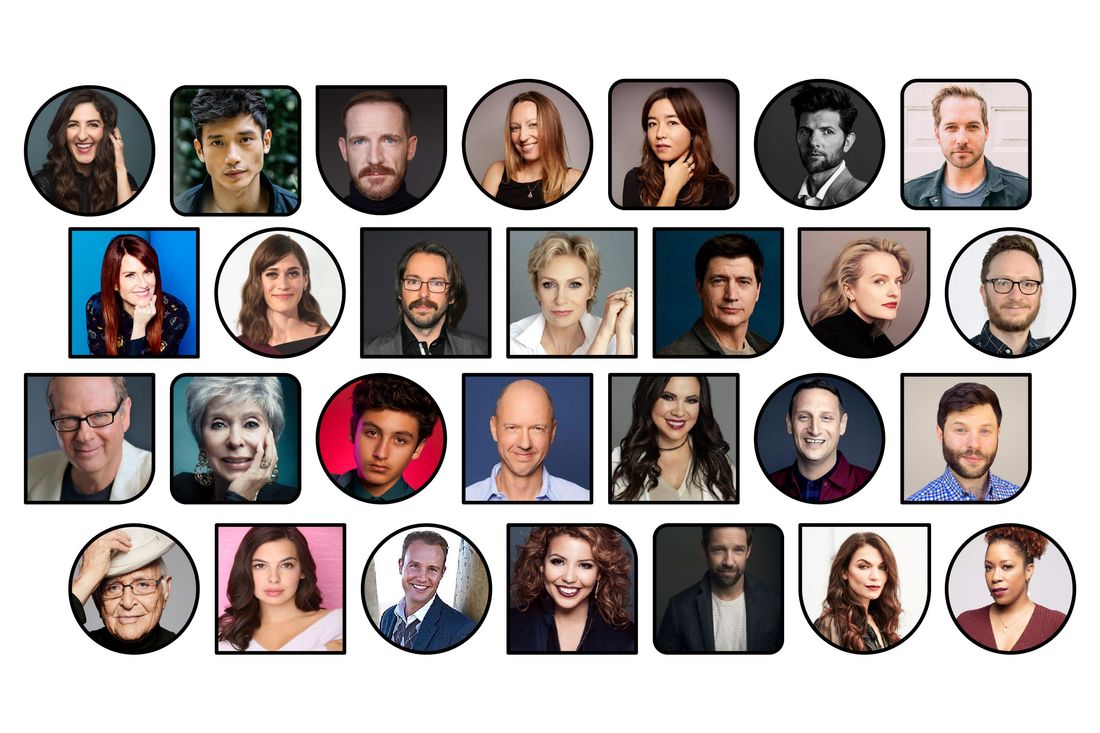 Vulture Festival L.A. Presented by AT&T is back and we're throwing the coolest poolside party, maybe ever? It's all happening November 9 and 10, when Vulture Festival returns to the Hollywood Roosevelt. And who's joining us there, you ask? Well, we're glad you did, because this is literally our first lineup announcement and that is why we're writing it. Just to whet your appetite, we'll kick this off with a reunion of Party Down. That's right, we've got Adam Scott, Lizzy Caplan, Megan Mullally, Jane Lynch, Martin Starr, Ryan Hansen, Ken Marino, along with series creators John Enbom, Dan Etheridge, and Rob Thomas coming together for the first time in a decade. We're also reuniting the cast and creators of One Day at a Time to get you ready for the Alvarez family's big debut on PopTV. Now, get ready to really start screaming, because we're also going to be hanging out with cast members from I Think You Should Leave, The Good Place, Pen15, getting the inside scoop on the art of performance from Elisabeth Moss, and getting to know almost too much about Netflix's You. Okay, now you should stop screaming, because you'll need your voice for our poolside screening and singalong of A Star Is Born. Check out the entire lineup below, and keep an eye out for even more announcements to come!
Buy tickets on VultureFestival.com!
TV
THE
GOOD
PLACE'S
HOTTEST
BOYFRIEND
AND
GIRL
(NOT
A
GIRL)
FRIEND
A couple so forkin' cute, they needed a panel all to themselves.
The Good Place cast members D'Arcy Carden and Manny Jacinto make their Vulture Festival debut to talk about playing an unconventional couple, to say the very least. The conversation will be moderated by demon - The Good Place: The Podcast host, Marc Evan Jackson.
Podcasts
MAILCHIMP
PRESENTS:
GOING
THROUGH
IT
LIVE
We can't tell you exactly what it is, but, if you've been through it, you know.
Host Tracy Clayton sits down with Tamron Hall for a live recording of the Mailchimp Original podcast, Going Through It. They'll talk about facing down a pivotal moment where they had to make a choice: quit, or keep going.
Movies
A
STAR
IS
BORN
POOLSIDE
SCREENING
PRESENTED
BY
VIRGIN
VOYAGES
Hey! What? Just wanted to take another look at you, A Star is Born!
There are a lot of movies about the highlights and pitfalls of fame, but none of those movies have original pop songs by Lady Gaga and original rock songs by Bradley Cooper. (Also none of those movies have electrical tape eyebrows and Sam Elliott's deep voice.) Join Vulture's resident A Star is Born stan Hunter Harris for a special poolside screening and pop-rock singalong of Jackson Maine and Ally's greatest hits.
TV
THE
CO-STARS/CO-CREATORS
OF
PEN15
IN
CONVERSATION
OVER
AIM
It's Y2K. Cue the dial-up modem noise. You've got mail. Who is that who wants to chat?
OMG it's the creators and stars of Hulu's puberty-comedy Pen15, Anna Konkle and Maya Erskine. That's right, the duo will be interviewed the only way appropriate for a show about turn of the millennium teenage life - instant messenger. Hear how they worked to get the era of the show correct and how they pulled from real life experience, while also watching their honed chatroom skills.
TV
Party Down catering is here to make sure our 'dervs stay refreshed and that all of you stay out of our medicine cabinets.
Reuniting for the first time in a decade, cast members Adam Scott, Lizzy Caplan, Megan Mullally, Jane Lynch, Martin Starr, Ryan Hansen, and Ken Marino join with series creators John Enbom, Dan Etheridge, and Rob Thomas to reminisce about their days as everyone's favorite struggling actors turned caterers.
Comedy
I
THINK
YOU
SHOULD
LEAVE'S
FOCUS-GROUP
SKETCH:
LIVE
ORAL
HISTORY
All he wanted was a "too small" steering wheel and a car that was "stinky." Is that so wrong?
The result was one of the most beloved sketches in recent history. And at Vulture Festival, we'll gather the geniuses behind it to discuss how they caught lightning in a bottle. I Think You Should Leave's co-creators Tim Robinson and Zach Kanin will be joined by the sketch's director, Akiva Schaffer. [Dabs in excitement.]
TV
SUNDAY
DINNER
WITH
THE
ONE
DAY
AT
A
TIME
FAMILY
Reunite with the Alvarezes for the biggest Sunday family dinner you'll attend this year.
The cast of One Day at a Time comes together for the first time since finding a new home on Pop TV, exclusively at Vulture Festival. Join executive producers Norman Lear and Brent Miller; showrunners Gloria Calderón Kellett and Mike Royce; and cast members Rita Moreno, Justina Machado, Isabella Gomez, Marcel Ruiz, Stephen Tobolowsky, and Todd Grinnell as they serve up behind-the-scenes stories from their favorite moments of the past three seasons, and tease what is next for one of America's favorite families.
Theater
ELISABETH
MOSS:
ANATOMY
OF
A
PERFORMANCE
Elisabeth Moss is a performer who is never afraid to work up close, taking us from Madison Avenue to Gilead with a look. Now, Moss comes to Vulture Festival to walk us through what Vulture's Emily Yoshida called an "oscillating, energy-devouring performance" as Becky Something in the 2019 drama Her Smell. Find out what it takes to inhabit the worlds Moss consistently brings to life for us.
Comedy
COMEDIANS
YOU
SHOULD
AND
WILL
KNOW
SHOWCASE
Vulture's annual Comedians You Should and Will Know list highlights those comics who we believe, in our professional opinion, will soon become household names. And now we're bringing a selection of them to Vulture Festival for a night of laughs, hosted by a very special, soon-to-be-announced guest.