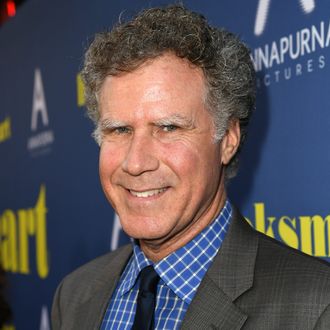 Will Ferrell
Photo: Kevin Winter/Getty Images
Having very recently entered the podcast world with the launch of The Ron Burgundy Podcast, Will Ferrell has now decided to take things up a notch and start an entire podcast network of his own. Ferrell has teamed up with iHeartMedia to create a new podcast network called Big Money Players Network, which was announced today. The network will focus on both scripted and unscripted comedy podcasts, and the plan is to release ten new podcasts over the next two years, with the first shows debuting sometime in 2020.
"The iHeartPodcast Network has been such a pleasure to work with. I love hanging out in the offices and I've only been yelled at once for using someone's computer, which I shouldn't have done," said Ferrell in a statement. "I'm looking forward to continuing our journey as creative partners and helping to define how comedy and podcasting will merge in the next couple years."
Ferrell's network joins a growing slate of newer podcast networks. My Favorite Murder co-hosts Karen Kilgariff and Georgia Hardstark launched the Exactly Right network last year, while Amanda Lund, Maria Blasucci, and Priyanka Mattoo launched Earios earlier this year. The comedy-podcast-network space is already pretty crowded, with networks like Earwolf, Forever Dog, and HeadGum being well-established with huge lineups of comedy offerings and long-running shows. But best of luck to Ferrell trying to merge the comedy and podcasting worlds with his new venture!