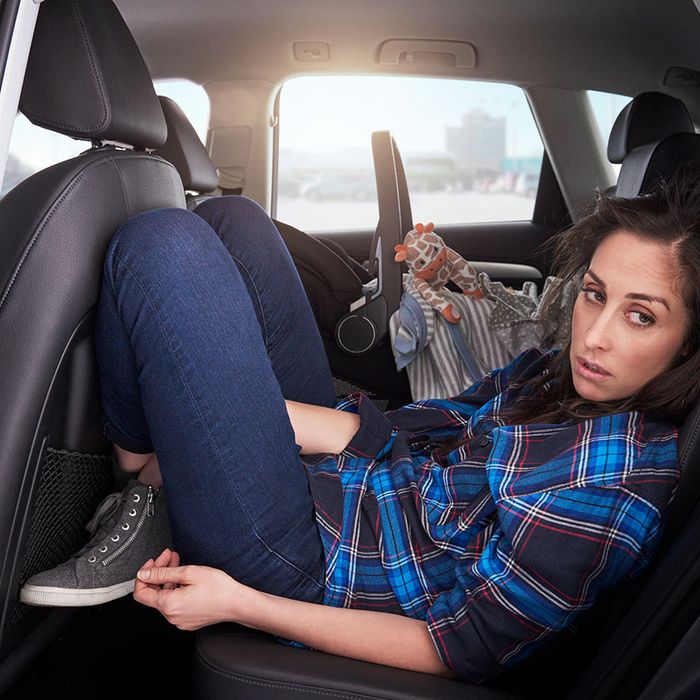 Catherine Reitman in
Workin' Moms.
Photo: CBC Television
In the inaugural season of Workin' Moms, Jenny (Jessalyn Wanlim) is downright determined to get her nipple pierced in a gritty bar bathroom. It doesn't matter that she just had a baby, that she's breastfeeding, or that she's drunk enough to make her friends do the piercing with an earring. She's struggling to adjust to motherhood, and so, understandably, she's rebelling.
The scene sums up the ethos of Workin' Moms, a Canadian ensemble comedy that navigates the identity crises, careers, and meltdowns of moms dealing with the messiness of postpartum life. In the Workin' Moms universe, those moments are simultaneously dark, cringeworthy, and hilarious. They're what make the show so addictive.
For creator and star Catherine Reitman, Jenny's "messy, selfish, self-destructive spiral" story line is very real. "A lot of moms all of a sudden get a tattoo, a dramatic haircut, get into ska music, or make these weird choices because they're trying to make sure they still have an identity outside of being a mother," she says. With two kids of her own, she knows what it's like firsthand: Reitman has dealt with postpartum depression, an identity crisis, permanent body changes, and the challenges of breastfeeding. "I identify with Jenny. Jenny represents this part of all of us that we don't want to talk about — our vanity, our selfishness, our ego. Especially coming in as an actress who got pregnant, I remember feeling so severely that I was going to have this kid and no one was going to think I was pretty or interesting or sexy anymore," she says.
The CBC series, which arrived on Netflix last February, features a cast that delivers story arcs toeing the line between the sincerity of Schitt's Creek and the vulgarity of Superbad. There's Reitman's character, Kate, an ambitious PR exec who must constantly choose between her son and her career; Jenny, who after giving birth realizes she's not ready to be a mother and would rather be partying; Dani Kind's angry and blunt mother of two, Anne; and the endearing and eccentric Frankie, played by Juno Rinaldi.
The idea for Workin' Moms was born when Reitman got pregnant and felt "hungry" to see herself represented on TV, but all the women she saw onscreen either looked "perfect" or "were at home struggling." In her eyes, the popular depictions of motherhood were too broad. "I just couldn't believe there wasn't a story like this when it's clearly more than half the population out there going through it every day," she says. "There wasn't a more relatable and sort of fantasy-fulfillment show that covered the subject matter."
So Reitman created her own vision of motherhood on the small screen, the messy, cringeworthy world that she and other moms she knew had actually experienced. Her goal? To show that being a new mom was a lot more nuanced than pop culture often cared to admit. "I remember being really hungry to watch what I thought would be what I looked like as a working mother on TV and in films, and I had a really hard time identifying with the representation there was," she says. Because of that, Reitman weaved in narratives that other shows typically glaze over, like a true-to-life look at the art and annoyance of breast pumping (and dumping), intimacy issues post-birth, and women's porn preferences. The series doesn't hold back on the moms-gone-wild moments, either, like when the ladies wind up tripping on psychedelics during an overnight trip, and heavier plotlines about postpartum depression, abortion, and the difficult choices between work and family figure into the story, too.
"I don't think I would be doing mothers much justice [if] I tried to tell these stories without showing the teeth that are involved in being a working mother because it does get dark," she says.
Reitman's shining moment is perhaps the show's most cringeworthy story line: At the end of season two, Kate finds out she's pregnant the same night she discovers her husband Nathan (played by Reitman's actual husband Philip Sternberg) is having an affair with the nanny. That turning point has a domino effect on the next season, as Kate ends up dating her old boss's 22-year-old son after he starts working for her. Turns out, the guy has a breast-milk fetish and ends up suing her for sexual harassment, even though their relationship was consensual. It's a lot.
It's no surprise, then, that Reitman says she's attracted to "messy" storytelling. "Usually when there's mess involved, that means you're into something good and real and meaty, otherwise it feels like the story lines feel too convenient or light," she explains. That messiness, she believes, has been positive for the show, with fans applauding its emotionally complex plotlines. (She also credits Schitt's Creek, which premiered on CBC two years before Workin' Moms, for paving the way for both comedy and drama and building an international audience on Netflix.)
But alongside that praise, Reitman's series has also drawn its critics. The mothers on Workin' Moms all have nannies and stay-at-home partners, definitely a luxury that many parents can't afford, and as Slate's Sarah Jaffe noted in March, the show inaccurately depicts postpartum depression by conflating it with postpartum psychosis. Then there's also the representation factor: The moms are mainly white, aside from Jenny, and there's not much depth given to Frankie's wife, Gisele (Oluniké Adeliyi), the only other person of color on the show. In response to that criticism, Reitman says she just wrote what she knew. "It was very personal to me to tell the stories that I knew from a perspective that I felt really confident in, and so that's what I did," she explains. "At the time when I was diagnosed, it was called postpartum depression. Frankie's story is pretty tied into my exact experiences with postpartum depression. The last thing I want to do is deal with it too lightly or in a way that doesn't honor people's experience. It's an accurate representation of what I went through, but that doesn't mean that every person deals with it this way."
But as the daughter of actress Geneviève Robert and film director Ivan Reitman, she's also quick to acknowledge how her privilege influenced that perspective. "I'm really lucky. I was born into a very fortunate situation where I had financial stability, and I've continued to work hard to keep that," she says. And while she recognizes that a lot of real mothers struggle far more than the women of Workin' Moms, she points out that her characters aren't uniformly comfortable in life: "A lot of people say it's four rich white chicks and it's not. I mean, Kate and Anna are absolutely doing well and they can afford help and they're got great places to live. Frankie, of course, is much more middle class and she has day-care situation. Jenny has her [stay-at-home husband] and lives in an apartment."
While season three hit Netflix in August, season four of Workin' Moms is set to air on CBC in early 2020. Moving forward, Reitman aims to diversify the storytelling with new characters who bring different perspectives to the show, all the while keeping the unpolished characters and messy plot points alive and well. "I want to represent every walk of life, and if I fail to do that in any way, it's something I take really personally," she says. "All we can do is get better."