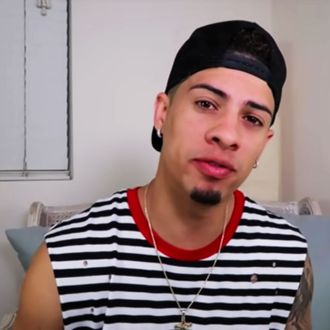 Austin McBroom
Photo: The ACE Family/YouTube
Rape allegations and extortion are not exactly AdSense-friendly topics, but recently YouTube's biggest family vloggers have been forced to tackle them. The ACE Family, made up of 27-year-old Austin McBroom, 29-year-old Catherine Paiz, and their young daughters, have over 17 million subscribers on their kid-friendly YouTube channel. But offline, they're allegedly suing another YouTuber, Cole Carrigan, for extortion after Carrigan claimed McBroom raped his friend.
Carrigan, a former member of YouTuber collective Team 10, posted a video accusing McBroom and at least two others of raping one of his friends at a hotel in Miami. In the video, Carrigan provided screenshots of messages, testimony from another alleged victim, and a photo of bloody bedsheets from the day of the alleged rape. In response, McBroom tweeted a Notes App denial and screenshots from the victim's Instagram of text messages saying that Carrigan fabricated the story in order to get the ACE Family to pay him and the victims to stay quiet.
This comes after Carrigan claimed that the ACE Family paid drama YouTuber Keemstar $500,000 to not report on rumors about them. (Keemstar later said he'd told Carrigan that as a joke.) On Wednesday, McBroom tweeted a screenshot of a Word document explaining that he and his family will be pursuing legal action for extortion, although it does not say against whom specifically. Although Carrigan says that Keemstar was interested in making a video about the rape, Keemstar posted another version of the story in which he similarly accuses Carrigan of extortion with his own set of screenshots. Carrigan has not responded publicly to the backlash.
McBroom is frequently the subject of cheating rumors. As recently as July, women have claimed McBroom asked them to sign nondisclosure agreements after hooking up. In January 2019, he came under fire for posting a video of himself buying a young relative a penis-shaped lollipop. "Bullying, extortion, slander and defamation of character is something I will not stand for," he said in a statement, "and I can promise that justice will be served."
* This post originally misspelled Cole Carrigan's last name.