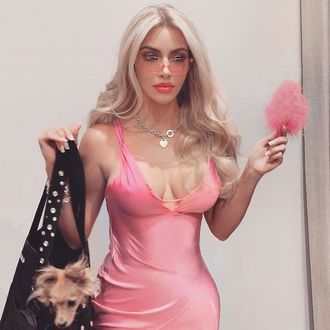 Kim Kardashian channels Elle Woods.
Photo: Kim Kardashian West/Instagram
November 1, finally! The month of October has felt more like a Halloween Groundhog Day. Week after week there's more and more costumes and the only relief is Reese's Peanut Butter Cups. Celebrities used the time warp to their advantage, dressing up as elaborate, referential costumes, and watching the "likes" pour in. Even though the entire month was basically Fashion Month but make it spooky, some of the most over-the-top, funny, and extravagant costumes were reserved for the night of. Now that Halloween has finally passed, it's time to see which celebrities won the day (or rather, won the two Halloweekends) with their costumes. We warn you now: Stormi Webster is coming in with some heat. Check out our (ever-expanding) collection of celebrity Halloween costumes below.
Gabrielle Union-Wade and her sweet baby Kaavia channel Bring It On, significantly lowering the Earth's temperature with an unseasonable amount of Clovers in the atmosphere.
In a year of J.Lo, Lisa Rinna gives you one J.Lo more.
One Halloween weekend down, and Demi Lovato has already delivered two looks: Casual Marie Antoinette and Sexy Pennywise.
Nina Dobrev contracts an ocean eye infection as Billie Eilish.
Cardi B administers life-saving medicine for whatever's wrong with your ass.
And meets her evil twin, Ellen DeGeneres as "Cardi E."
Jessica Biel is to early-aughts Justin Timberlake as Justin Timberlake is to a sentient microphone.
Meanwhile, Halsey channels Dope Show–era Marilyn Manson …
As well as '70s-era Cher, who definitely laid a lot of the groundwork for Manson's subsequent looks.
Here's baby Stormi dressed as mom Kylie Jenner at this year's camp-themed Met Ball. Wait, okay, is this … actually camp? No? Okay, what if Kylie dressed as her baby dressed as Kylie Jenner at the Met Ball for Halloween Week 2? We're going to figure this one out.
Not to be outdone by her cousin, 1-year-old True went as Untitled Goose Game. Kidding. Kourtney dressed her daughter up as a Swan Lake prima ballerina.
Former Bachelor Nick Viall teased current Bachelor Peter Weber about his bizarre facial injury that he recently sustained while filming the show. No windmills were harmed in the making of this costume.
The high pony! The highlight! The strategic use of subtle hair clips! We reckon Kourtney Kardashian did Ariana Grande proud.
The high pony! The highlight! Those under eye bags! The actual Ariana Grande makes a statement about societal beauty norms and classic anthology TV by going full, black and white Twilight Zone.
You can kill Bill, but not Elizabeth Hurley.
Tom Hiddleston and Charlie Cox do stage door at Betrayal in each other's Marvel outfits. Lots of tight leather crotch bunching here, with Cox rocking the Loki wig and Hiddleston looking positively chuffed as Daredevil. A symbolic representation of how Netflix and Disney+ can set aside their differences and be friends. It brings a tear to your eye.
Drake vies for a kiss from daddy by becoming his double. How very Lucille and Buster of them.
Shawn Mendes is "hot but scary."
Ashley Graham is pregnant Jessica Rabbit. A lot of weird corners of DeviantArt also happen to be pregnant Jessica Rabbit.
Liam Payne is Clark Kent bustin' out into Superman, but is crucially missing the glasses.
Kate Beckinsale misread the Otter Bay Elementary parents' memo that said the trivia night theme is "Audrey and Elvis," but Audrey and Elton is close enough.
Rebel Wilson's dressed as Rebel Wilson in a Bow. She could've just thrown up a quick high pony and been a perfect Jojo Siwa but here we are.
Little Mix is serving the haunted porcelain clown dolls in my grandma's South Florida condo.
Ciara and Russell Wilson pledged allegiance to First Family Barack and Michelle and Second Family Bey and J in an Apeshit homage. Talent recognizes talent.
Like we said, talent recognizes talent.
Genuinely scary.
YouTuber Liza Koshy as Anna Wintour is somehow, impossibly, even teenier than Anna Wintour.
The world isn't ready for Madame XCX.
Nicki Minaj and her husband Kenneth Petty know that the only thing more extra than a couple's costume is two couple's costumes, so followed their Joker and Harley Quinn look with a Chucky/Bride of Chucky photo shoot. All of these characters have the energy of a Minaj alter ego, so they work.
Looks like someone's excited for ABC's Little Mermaid Live.
Looks like someone saw the episode of Drunk History where Abbi Jacobson plays Gloria Steinem going undercover at the Playboy Club.
Here's Lupita Nyong'o in costume and in character as her tethered, jump-scaring unsuspecting Universal Studios tourists in an Us haunted house.
Do you think Kesha watches Watchmen?
Well now we know Kathy Bates is a Cats fan.
Kerry Washington went with a deep cut: Uma from Disney Channel Original Movies, Descendants 2 and 3, played by China Anne McClain. Any excuse for bright blue box braids.
Imagine getting the call that Khloé Kardashian needs Dalmatians photoshopped into her pic ASAP.
Kim Kardashian West really wants you to remember that she's studying to be a lawyer.
Something tells me it might've been easier to Photoshop Kanye West as Dino into the photo than it was to Photoshop Chicago in. But otherwise, the vision is impeccable.
DC Universe casting directors, pay attention.
Shakira is coming for Zoë Kravitz's cat ears!
Cam'ron's all-pink 'fit belongs on Lil Nas X.
A Mean Girls costume that comes with sexy built-in? Karen Smith would approve!
Gigi Hadid as The Mask is only one quick change away from being Elphaba from Wicked.
When else can you wear this much fringe?
Jason Momoa has the Elvis moves down.
Mariah Carey rocked out on Halloween, but come November it's caroling season.
Miley Cyrus and Cody Simpson are couples costume official.
No mac and cheese?
We have so many questions about the lore behind Heidi Klum's gory alien monster.
The best for last. A costume that will send you. Jennifer Garner as… a mailbox. "Live your truth, people. Happy Halloween."