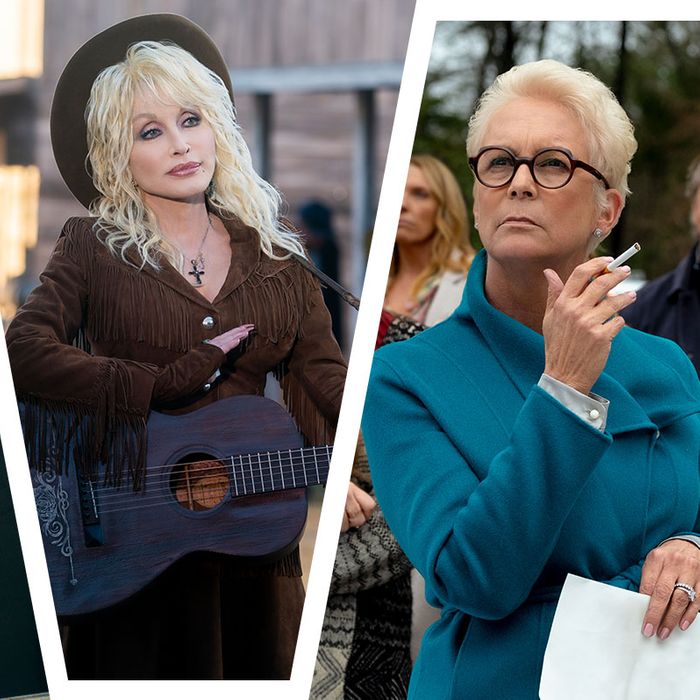 The Irishman, Heartstrings,
and
Knives Out
Photo: From left: Courtesy of Netflix, Courtesy of Netflix, Courtesy of Lionsgate
There are two categories of Thanksgiving programming from which one can choose this holiday weekend. (Call it the white meat vs. dark meat dilemma of seasonal watching, or imagine them as dueling football teams if you so choose.) The first is comprised of shows and movies you can watch with your family: unlikely to offend, appealing to all ages, so cozy they blend right into the overstuffedness of the day. The other is comprised of shows and movies you can watch whilst escaping your family, whether that means it's streamable on a contraband iPad during an extended bathroom break — or in a different state entirely, after you've piled the Friendsgiving plates in the sink. Below, a heavy helping of both. You decide which is which. (Just maybe don't let the kids watch Rachel Getting Married.) Happy bingeing, in every sense of the word!
Movies (In Actual Movie Theaters)
Knives Out 
This one requires some effort, like actually getting into a car and going to a theater and feeling rotten for the people who have to work there on a holiday. But you'll be rewarded with knits galore and rich, woodsy, family-murder-catharsis vibes. The money? Old. The England? New. The Knives? Most certainly OUT.
Marriage Story 
Would you like some utter devastation with your mashed potatoes? Just the gravy's fine? Oh, okay. If you change your mind, see Noah Baumbach's divorce film Marriage Story as it was intended: in a theater full of sniffling strangers. We also recommend sitting the family down to watch the most powerful eight minutes on Youtube to prepare for Adam Driver's performance.
Frozen 2
"Into the Unknown" has major "Just Around the Riverbend" vibes. This is praise! This is a good thing! "Lost in the Woods" sounds like a Crazy Ex-Girlfriend track without the jokes! This is … fine! You know you're going to have to see Frozen 2 if you have a tiny human in your life, so why not just give in and check it out?
A Beautiful Day in the Neighborhood
Every time I see the promotional still of Tom Hanks in character (the one that absolutely every article about this movie uses), I think it's a biopic about the journalist who threw his shoes at Bush. You see an airborne shoe and your brain only has so many points of reference. Anyway, this is not that. It's not even a biopic, in the traditional sense. It's about a journalist played by Matthew Rhys profiling Mister Rogers. This would be a very nice thing to see with parents.
Ford v Ferrari
The vroom-vroom movie where the cars go fast, starring Matt Damon, Christian Bale, Tracy Letts, Noah Jupe, a bunch of cars, and one (1) human woman. Settle your sensitive tum after you feast by going to the theater, buying a Coca Cola, and watching this with your old man. Did I mention the cars go real fast?
Queen & Slim 
From fast cars to fast cars with higher stakes, make a double feature of it and go see Queen & Slim, the feature-film debut from "Formation" music-video director Melina Matsoukas, written by Lena Waithe. The Thanksgiving tie-in here? The filmmakers respectively directed and wrote the "Thanksgiving" episode of Master of None. 
The Good Liar
I've seen this trailer so many times before so many movies and still have no idea what it's about on account of the generic title but I do know it stars Helen Mirren and Ian McKellen, and that has to count for something. Go take a beloved grandparent or aunt. It'll be a real treat.
Jojo Rabbit
It's cute and I liked it, why is everyone yelling at me!! You know your loved ones better than I do, and their mileage may vary with Taika Waititi's Hitler-youth comedy. So you can determine whether or not to take them. I personally think seeing the little bespectacled kid is worth the price of admission.
Dark Waters
Far from Heaven probably qualifies as Todd Haynes's Thanksgiving movie, seeing as it looks like a harvest Pinterest mood board sprung to life. But this holiday season he's brought us a true story about an attorney going up against DuPont, which I think is where Ken Cosgrove worked by the end of Mad Men. Or was it Dow Chemical? Either way, it's evil and it's poisonous and Mark Ruffalo is gonna put a stop to it!
Harriet 
Cynthia Erivo plays Harriet Tubman in this movie about the leader of the Underground Railroad movement, alongside Leslie Odom Jr. and Janelle Monae. If your family members like historical epics told on epic scales, this is a safe bet.
Movies (Streaming)
The Irishman (Netflix)
Gratitude is one thing, but forgiveness? That's a whole other roast beast. Thankfully, Netflix is uploading Martin Scorcese's ruminative The Irishman in time for an inter-generational Thanksgiving viewing with your grandpa, your dad, and your very quiet, reproachful niece Peggy that stares at y'all condemningly through a doorway. It's also such a good food movie that this one list of all the food in it forgot, like, at least five iconic foods.
Big Night (Rent on Amazon Prime)
Is there a better food movie out there (excluding those about rat-chefs who control humans like puppets by pulling their hair)? You could make a case for Tampopo, but the highly erotic egg and oyster scenes make it less than ideal for watching with the fam. So in comes Big Night, a movie about brotherhood, passion, stuffing your face with lovingly prepared carbs, and an excitable Ian Holm walking around with a little moustache. The power of Allison Janney, Minnie Driver and Isabella Rossellini in one movie is undeniable.
First Reformed (Amazon Prime)
Be thankful for literally the Planet Earth because it won't be around for much longer! Enjoy your Thanksgiving dinner of bread dipped in whiskey! (And then enjoy your Irishman dessert of bread dipped in grape juice.)
The Family Stone (Hulu)
This is the first appearance of Sarah Jessica Parker on this list, but it will not be the last. The Family Stone is traumatic, tonally bizarre, and often a downer, but its strange alchemy is just-different-enough from the Ephron/Meyers/Curtis holiday stand-bys to be more interesting than you remembered.
Rachel Getting Married (Netflix)
Every family gathering should have a timed dishwasher-loading contest.
The VVitch (Netflix)
I refuse to consult the style guide and I will never not spell it with those Satanic double-Vs. Thomasin's dread tale is the only pilgrim movie you'll ever need.
Chicken Run (Hulu)
As the great Robert Pattinson once said when asked about his favorite chick flick, "Chicken Run is the only thing coming into my head." Maybe it's horribly wrong to watch this after carving into the turducken, but I like to think it's a way to honor the fallen fowl for its service. For more stop motion in autumnal palettes, follow it up with Fantastic Mr. Fox.
Dora and the Lost City of Gold (rent on Amazon)
You already made your family watch Paddington 2 last year, and Paddington the year before that. If you're starved for another charming story about a young naïf who moves from deepest Peru to the big city to spread kindness and teach manners … this is also that!
Dolemite Is My Name (Netflix)
For all the expectedly raunchy humor, this Eddie Murphy biopic comedy about Rudy Ray Moore is ultimately a sweet story about the thrill of getting your voice out there. Its earnest approach to the maaaaaagic of moooooovies is very winning and probably a good watch with the grandparents.
The Big Chill (Crackle)
Yuppie scum — but yuppie scum with a gorgeous soundtrack, cozy sweatshirts, and so, so many '80s dream daddies. It captures the best of friendsgiving vibes, just hanging out in leggings on various couches. It's a chilly Michigonian Everybody Wants Some, if Everybody Wants Some grew up and got a mortgage.
Lady Bird (Kanopy, Amazon)
"Well, Happy Thanksgiving. We missed you, Lady Bird."
TV
Dolly Parton's Heartstrings (Netflix)
Bless Dolly for single-handedly saving the wretched wasteland of a genre that is streaming anthology series by doing something cute with it and weaving together a series of original stories each based on a different Dolly song. Genius. I haven't seen it yet because I told my mom I'd save it for Thanksgiving when we can watch it together. Pinky swear you'll do the same.
National Dog Show (Thursday, November 28, NBC)
A.K.A. the only sporting event that matters on Thanksgiving. Football who? Never heard of her. Immediately after the parade, 2,000 good boys and girls will compete to be the best pup in the land, based the judgment on an old man in a tuxedo fingerin' his gums. Always fun to turn it on and see how your dog reacts to the screen. This year, Azawakh hounds will be competing for the first time. Picture a Saluki without the blowout.
Glee, "Thanksgiving" (Netflix)
The Sarah Jessica Parker performance of "Let's Have a Kiki" will haunt me until my dying day. Lea Michele mashes it up with "Turkey Lurkey Time" from Promises, Promises to make it more holiday-appropriate, and the end result will ignite your fight-or-flight response. See if you can spot baby Shangela.
Over the Garden Wall (Hulu)
An honest-to-goodness underrated gem of the decade in TV, and one that uses every woodsy Thanksgiving motif: brown leaves and settlers and log cabins, crackling fireplaces and turkeys and pumpkins. It's like if Ichabod and Mr. Toad were made by Ghibli instead of Disney. Plus, it's only ten 11-minute episodes.
Billy on the Street (Netflix)
Billy Eichner's deconstructed talk show is now on Netflix in all its shouting, exasperated glory, and it's a fun, easy binge. Sure, you've seen the "For a Dollar" games and segments where celebrities run around Flatiron, but the more high-concept bits are stellar as well. The alternate Macy's Day parade featuring a Carol balloon is a classic, as is the Wicked tailgate.
Happy Endings (Hulu)
The "gonna tell my kids this was ___" meme is asinine and stupid and sucks, but the one about Happy Endings was good and correct. Demonstrate some goddamn integrity and eschew the Friends Thanksgiving agenda in favor of its superior successor. Nothing captures the gluttonous spirit of Thanksgiving like watching Alex eat ribs.
Gilmore Girls Marathon (Wednesday Nov 27, UPtv)
Scott Patterson (Luke) hosts a 24-hour marathon of the most Thanksgivingy show of all time. Considering the new season of Mrs. Maisel won't be out until after Thanksgiving this year, it's a perfect way to get your Amy Sherman-Palladino fix. And as always, Lane deserved better.
Documentary Now, "Juan Loves Rice and Chicken" (Netflix)
This season-one episode of Documentary Now has the Dewey Cox problem of being leagues better than what it's parodying. Fred Armisen is at his best when he's playing wide-eyed, humble neurotics who you feel sorry for, and watching Juan overcome his chicken-phobia to cook out of his father's shadow is more moving than it has any right to be.
A Self-Guided Frasier Dinner Party Marathon (Netflix)
If you're hosting Thanksgiving this year, just know that no matter how stressful it gets, you're pulling off a better soiree than Niles and Frasier ever could. Take comfort in their panic in dinner-party episodes like "To Kill a Talking Bird," "The Life of the Party," "Daphne Does Dinner," "The Seal Who Came to Dinner," "Taps at the Montana," "Dinner Party," "Halloween," and "The Innkeeper," to name a few of many.
Bob's Burgers (Hulu)
So many Thanksgiving episodes, so many Emmy-worthy vocal stylings from John Roberts.
Real Housewives of New Jersey Marathon (Wednesday November 27, Bravo)
If you're lucky enough to get Wednesday off, make the least of it (in a good way!) with an all-day-long Real Housewives of New Jersey marathon. Teresa flipping the table is a Thanksgiving mood if ever we've seen one.
It's Always Sunny in Philadelphia, "The Gang Squashes their Beefs" (Hulu)
A little Thanksgiving bounce-around between this holiday episode, the Suburbs one (with Mac's famous mac and cheese), the 2-part holiday special, and the Jersey Shore one (rum ham!) will help you give thanks your family isn't McPoyle-level bad. The less we say about the Pilgrim-themed "The Gang Cracks the Liberty Bell," the better.
Twin Peaks: The Return and "David Lynch Cooking Quinoa" (Hulu and Youtube)
There's still a month left in this decade to watch the single best piece of audiovisual media that came out of it so get on that and give thanks that David Lynch was given the resources to make this. Then rewatch the original if you want actual autumnal-sweater, log-cabin, "save the pine weasel" vibes. Watch Fire Walk with Me if you want festive Thanksgiving turkey talk and a side of trauma. Watch this 20-minute video of David Lynch cooking quinoa if you need a last-minute dietary-restriction-friendly side dish for Thanksgiving dinner. Gobble gobble!
Succession (HBO) 
Season two had so many pivotal meals: the stinky Summer Palace, Tern Haven, the yacht betrayal-meal, the Dundee dinner feat. DJ Squiggle, and of course, Boar on the Floor. Relive the memories with a weekend binge.
Not-Quite-TV
Bon Appetit's "Making Perfect" (Youtube)
It's a comfort to know that even professional, Youtube-famous chefs mess up, and mess up a lot. Binge every episode of their "Making Perfect" Thanksgiving miniseries as they fumble their turkey brines, undercook their sprouts, overcook their sprouts, fight about sumac, and (spoiler alert) lose a state fair pie-baking competition. The final episode, where they all come together for an August Thanksgiving dinner at Claire's parents' house, is the Avengers: Endgame of the BA stan community.