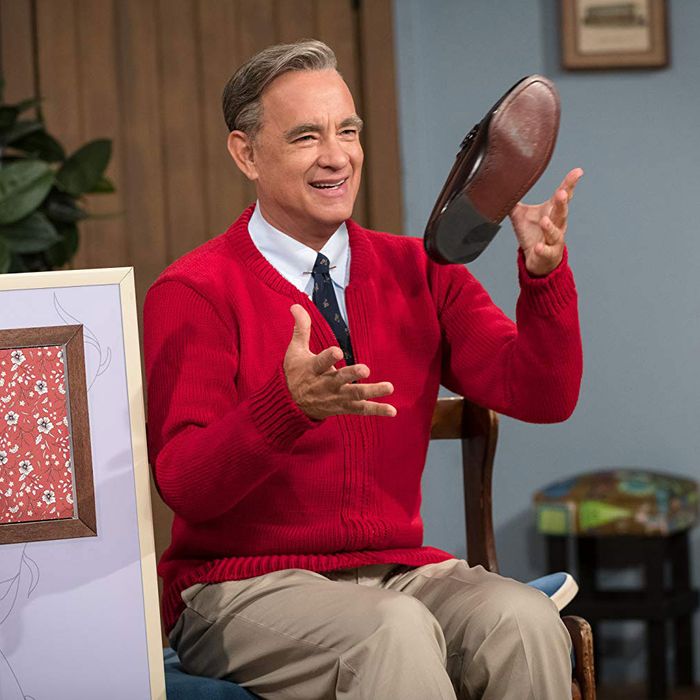 Watching our nicest Hollywood star playing our nicest-ever children's show host, you don't want to look like a sourpuss.
Photo: Courtesy of TIFF
This review originally ran during the Toronto International Film Festival earlier this year. We are republishing it as the film hits theaters this weekend.
The revelation of Morgan Neville's wonderful 2018 documentary Won't You Be My Neighbor? was that Fred "Mister" Rogers was exactly who he appeared to be: a man whose chief goal in life was to make every child feel loved. Although he was an ordained Presbyterian minister, he kept doctrine out of his TV show: The enemy wasn't Satan but a boy or girl's self-judgment and its attendant despair or cynicism. The gimmick in the new, fictionalized film A Beautiful Day in the Neighborhood is to pair Mister Rogers (played by Tom Hanks) with a cynic, an Esquire journalist named Lloyd Vogel (Matthew Rhys) who's on assignment for a profile he didn't ask for and doesn't want to do. Lloyd doesn't believe in benevolent patriarchs. The root of his curdled worldview is his fury toward his father (Chris Cooper), who abandoned the family when Lloyd's mother got sick, and now that anger is disrupting Lloyd's ability to be present with his wife, Andrea (Susan Kelechi Watson), and baby son. What is Mister Rogers — the magical Christian — to do? He gives Lloyd a safe space to show his vulnerability, gently but firmly ushering the journalist into his "neighborhood," with its primitive puppets and ding-dong choo-choo train. He looks into the camera and tells us kids, "Meet my friend Lloyd."
In other hands, this might be a horror movie (It Chapter 3?), but here it's a ticket to salvation, and it ought to make you roll your eyes — except that Mister Rogers had a way of disarming doubters who fell into his orbit, and the film does, too. Leaving the world premiere screening at the Toronto International Film Festival, I heard people say, "I actually liked that" — emphasis on "actually," as if they couldn't believe they'd gone so soft. But there might be more than softness at work. Watching our nicest Hollywood star playing our nicest-ever children's show host, you don't want to look like a sourpuss. There's peer pressure to succumb.
I actually liked about two-thirds of A Beautiful Day in the Neighborhood; I got impatient when Mister Rogers receded into the background and the film turned full time to solving the problems of Lloyd Vogel, who's based on the magazine writer Tom Junod. It's not that Lloyd is a drag. He's just not — as written here — that special. But as I write that I feel a twinge of shame. Mister Rogers said everyone was special. One of his weirder lyrics was, "Everybody's fancy, everybody's fine. Your body's fancy and so is mine." Yes, I know all the songs. As a kid, I even wrote to Mister Rogers to thank him for making me feel less judged, and though I didn't hear back, I know the message got through because the local PBS station made sure to send me fundraising letters every year. ("Mister Rogers tells us you're a big fan of his!") Perhaps if he had reached out, I wouldn't have become so judgmental myself. I wouldn't have been a critic. Ah, well. In this movie, Mister Rogers reduces Lloyd to a blubbering child and I envied the guy.
Directed by Marielle Heller (Can You Ever Forgive Me?), the movie has a neat visual hook. The cityscapes are cardboardlike, as in Mister Rogers' Neighborhood, and Mister Rogers introduces the film as Lloyd's story. He's the emcee, like Jiminy Cricket. Instead of "When You Wish Upon a Star," he opens with, "It's a beautiful day in the neighborhood, a beautiful day for a neighbor would you be mine?" while jauntily changing from a sports coat and shoes to a zip-up sweater and sneakers. Hanks's movements are a little jerkier than the real Fred Rogers, but this isn't an exact impersonation. It's Tom Hanks merging his own gentle public persona with Rogers's, and allowing the teeniest bit of irony to creep in — as if Rogers sees through Lloyd's obfuscations. Hanks's Mister Rogers is a better interviewer than Lloyd. He knows his effect on people. He takes an almost naughty pleasure in stopping his show's taping for over an hour to play with a visiting boy with autism, and the movie is honestly hilarious when we see Mister Rogers doing things on-camera (messing up the folding of a tent, for example, but refusing to do another take) that no TV host is ever supposed to do. You might even call him subversive. There's one amazing moment: Lloyd is listening on the phone to Mister Rogers say, "I want to look through the camera into the eyes of a single child," and happens to glance out his window to see his father — eager for a reconciliation — lurking under the fire escape.
Matthew Rhys's Lloyd is antsy, high-strung, with no evident equilibrium, but he's also — he can't help it — rather lovable. I hate to say this (Rhys was peerless on The Americans and proves here that he can hold his own in a movie), but I wish the role had been played by a wilder, more profane actor, a young Jack Nicholson or even an amorphously scuzzy Method man like Joaquin Phoenix. Imagine Joaquin Phoenix assigned to profile Fred Rogers — that's funny.
As Lloyd's dad, Cooper has some of that scuzziness, but he loses his edge along with everyone else. In its final act, A Beautiful Day in the Neighborhood slows down and turns maudlin, as if Mister Rogers had weighed in on the story line. Look, I'm not dumping on Mister Rogers. I told you I wrote him a fan letter. I cried when he died. I just wouldn't want him as my script doctor. I do believe that his tender call for respect and forgiveness can induce us to take our first steps on the road to grace, but those are first steps only …
Oh, no, I feel his presence:
Can you say hello to my friend David? He's a film critic. Critics think if they're too nice, people might think they're not very smart. But people who are nice are the smartest of all, don't you think? They would like this movie very much, all the way through. Can you say, "One of the year's best?"
*A version of this article appears in the December 9, 2019, issue of New York Magazine. Subscribe Now!