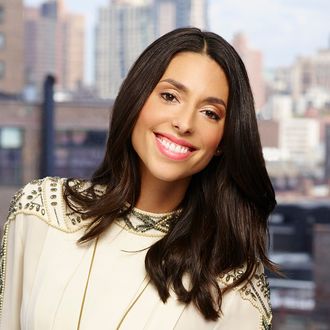 Photo: Craig Sjodin/Walt Disney Television via Getty Images
If you reheated 22-year-old soup after four years, you'd almost certainly die. If E! reheats The Soup after four years, you've got a brand-new reboot of the network's long-standing pop culture talk show. According to Deadline, E! announced the return of the series during Sunday night's People's Choice Awards with a new host, actress and comedian Jade Catta-Preta.
Joel McHale hosted the last iteration of The Soup, which ran from July 2004 to December 2015, but the show was itself a reboot of E!'s Talk Soup, which launched the career of Greg Kinnear in 1991 and subsequently featured the hosting skills of John Henson, Hal Sparks and Aisha Tyler prior to its reworking.
Catta-Peta has appeared in Future Man, Californication, Modern Family and The Jim Gaffigan Show, among other series, and was willing to get doused in gallons of soup for the show's Flashdance-themed promo, which, again, would have killed her instantly if the soup was from 1991. That's dedication. The new Soup reportedly arrives at the table sometime in early 2020.