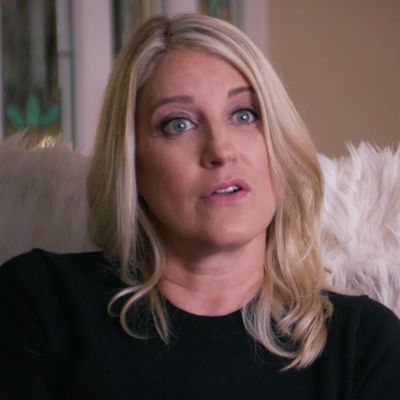 Alex Kapp in
The Preppy Murders
.
Photo: SundanceTV
You probably recognize longtime TV sitcom actress Alex Kapp as one of the "meanie moms" on The New Adventures of Old Christine. But Kapp recently took a much more somber tone, appearing on AMC's documentary series The Preppy Murder: Death in Central Park to discuss publicly for the first time her teenage relationship with convicted killer Robert Chambers and the guilt and shame she still feels for what he did in the summer of 1986.
Chambers, dubbed "the Preppy Killer" by the insatiable tabloids of the time, served 15 years in the strangulation death of 18-year-old Jennifer Levin, another girl he was involved with whom he claimed died accidentally after she assaulted him during "rough sex" in Central Park. Five years after he was released from prison, Chambers was convicted of selling cocaine and given a 19-year sentence, which he is still serving today.
As Kapp tells it in the documentary, she was 16 when she met and instantly fell in love with Chambers, who was 19. They began dating, and soon she lost her virginity to him. At the time, she had no idea that Chambers had been sleeping with Levin too. The night before Levin was brutally strangled and beaten, Chambers stayed at Kapp's Upper East Side apartment while her parents were away on vacation. In the middle of the night, he said he had to leave and asked for money for a cab. She told him he could borrow $5. After he left, Kapp discovered that Chambers had stolen all of the money in her wallet.
The next day, Kapp asked Chambers to meet her at their favorite neighborhood bar where she planned to confront him. Many of their friends were also there that night; at one point, Levin introduced herself to Kapp and told her they should be friends. When Chambers arrived several hours late, he brushed past Kapp and ignored her. Enraged, she walked over to him, yelled, and threw several condoms at him. Chambers was embarrassed and visibly angry. Eventually, he and Levin left the bar together. Her body was discovered at dawn by a cyclist.
As the news spread, some people cruelly and bizarrely blamed Kapp for upsetting Chambers to the point where he took it out on Levin. At first, Kapp even believed Chambers's claim that Levin had died as the result of an accidental broken neck. Because she still loved him, Kapp refused to cooperate with police and did not testify at the trial. But she didn't know about the dark discoveries police were making: his drug addiction, his penchant for breaking into apartments and stealing money and possessions, and the other women in his life.
In a candid interview with Vulture, Kapp explained why she stayed silent for so long and what prompted her to participate in The Preppy Murder, even though many of the people she socialized with then decided not to be a part of it. Produced by Robert Friedman's Bungalow Media & Entertainment and co-directed by Ricki Stern and Annie Sundberg, the five-part series follows how Chambers's defense team succeeded at trying Levin in the court of public opinion, blaming her for her own murder. By speaking out and admitting that she still feels guilt about what happened to Levin, Kapp is hoping to do better by Levin's memory and by other victims of crimes who deserve to be believed.
In the '80s, you didn't cooperate with police or testify at the trial. Why did you decide to participate in the documentary?
For 30-plus years, there's been this cone of silence among mostly everyone who was involved in that situation. In my particular case, it was in large part due to my parents not wanting me to be exposed anymore to that horrible thing.
When this [documentary] came about, it was a really strange set of coincidences. I had been writing this story — a fictional version about the '80s and rich kids and no parents — but then I got a call from a friend who said she was sitting in New York with Annie Sundberg. My heart sunk because I thought, Oh my God, someone else beat me to my own story. The weird thing is Annie Sundberg was a year ahead of me in college at Dartmouth and we were in the same sorority. Annie's directing and producing partner, Ricki Stern, grew up in New York and knew Robert Chambers. So there was that connection. I love Annie. I trust her.
I did it with a lot of reservation. The ultimate reason I did this was to selfishly cement my place in the story because I want to write this story. But, more importantly, because I knew that Jennifer Levin had been horribly murdered twice — when she died and in the trial — I felt I owed it to her family to tell my story, so that they understand that I wasn't on a side. It was a very traumatic experience. I'm probably still not over it. It changed the course of my life.
When you say there was a cone of silence, what do you mean?
It's just a silent understanding that if you talk, you're a sellout. I'm sure people think I got paid to do this. I didn't get paid a dime to do this. And I could use the money. This was about telling a story in an honest way that I had probably told in a self-protective, flippant way my entire life. You'll notice that only a couple of people in our age group were interviewed in the documentary. I had a lot of fear when this was coming out that I was gonna get pretty severely judged.
A man on Facebook wrote me and said, "I totally prejudged, and I'm really sorry." This is a person whom Jennifer Levin asked on the night of the murder if she should go home with Robert. He told her, "Do what you wanna do." And she left. So he said he harbors his own guilt. A lot of people carry a lot of guilt. That's what I've been hearing from all the people I grew up with who have been reaching out.
It took a long time for everybody to believe that he murdered her. That's what doesn't come across in the documentary. None of us saw autopsy photos then. I didn't see them until I saw the documentary. It was horrifying. Maybe if we'd seen them then, we would have known. But none of us thought he did it on purpose — nobody except her family and the police and the district attorney.
Tell me more about how this affected your life.
I was subpoenaed by both sides when I was just about to start my senior year in high school. I was really a mess. It was bad. I was drawn to going out more, partying a lot, and just a lot of self-abuse. My mother told [prosecutors] I was in Europe for the year. I had nothing really to offer. Everything I say in that documentary is all I know. I didn't do drugs with this guy. I didn't know he was a thief. I knew he'd stolen my money, but I didn't understand that he was a professional. I didn't know he'd been in rehab. On the advice of my family lawyer, I couldn't be a good prosecution witness because I didn't know anything and I still loved him. And I couldn't be a good defense witness because he had stolen from me and lied to me.
I left in the fall of '87 and the trial happened when I was a freshman at Dartmouth. I deliberately went to New Hampshire to get out of New York. But, of course, it definitely followed me where I went for a long time.
How do you think these events changed the course of your life?
My love affair with New York ended that night. I knew I had to get out of New York and stay out of New York. It pushed me to go to L.A. In the early days, it resulted in some very self-destructive behavior. I felt a terrible amount of shame. I felt worthless, and I dated a lot of guys to try to make myself feel like I was worth something. Which, of course, doesn't work.
Ultimately, it changed how I looked at people. If I hadn't checked my wallet that night, I would not have known that he'd stolen my money and I would not have had definitive proof that he was betraying me. It changed how I related to people. I recognize a sociopath a little more easily than most people. It also changed the way I raised my kids. My two daughters, who are 17 and 19, are very street smart and very dependent on their own intuition.
The documentary wasn't clear about how long you were with Robert. Were you under the impression that you were an exclusive couple?
Strangely enough, I blocked out almost all of my time with him. I met him probably that March, but we were together mainly just that summer — maybe May or June through the murder. We'd lie in bed and talk and talk and talk. I did see him after he got out on bail, which was terrible. If you'd asked 16-year-old me, I would've thought we were absolutely exclusive boyfriend and girlfriend.
Were you aware that Jennifer was interested in him before that night?
Not until that night. I felt a funky vibe about it like, "What's going on here? Why did she just come up to me and introduce herself and give me her little friendship bracelet?" I felt like you feel when you're 16 and somebody wants your boyfriend. There was no other explanation. But we had mutual friends. In one of the pictures of that night, she's with a bunch of girls. All of them were friends of mine; one of them was my best friend from high school. I don't even know if my friends knew that she had been seeing him. I tend to think probably everybody knew more than I did, but I don't know why no one would have told me.
People warned me, but I thought I could save this guy. I thought he and I had something special and that nobody understood what we had, just like you do when you're 16. I believed that there was somebody in there who was like a wounded animal. It was hard to hear the details in the doc about Cardinal Theodore McCarrick because that piece makes a tremendous amount of sense to me now. Knowing that there's the potential that Robert was a victim of assault by that priest makes everything line up for me: At 14 years old, he starts failing at his school, starts smoking pot, starts stealing for drug money. It doesn't justify a murder, but he was a vulnerable kid. His mother was extremely tied to the Catholic Church. It feels like the writing's on the wall.
If I'm being honest, 33 years later, I'm still not sure what the whole truth of this guy is. I believe he's a bad guy now. But was he born bad? I don't know.
When people warned you against Robert, what did they say?
I remember a lot of people said, "Watch yourself." All of the men in that situation ranged from 18 to 26, probably. We were 16-year-old girls hanging out with club promoters. I think a lot of guys knew about his secret life. I just didn't see it. No other girls saw it. Somebody the other day said, "He must have been so charming." But no, he was the opposite of charming. He was brooding and quiet, even shy. He was so good-looking that he didn't have to try. It was ridiculous. He was mesmerizing. At 16, I just felt seen and heard and grown-up.
In the documentary, you told the story of visiting him after he got out on bail. You said your opinion of him changed that day because of his smirk. Can you tell me more about how that changed your mind?
Probably a week after he got out on bail, I lied to my parents and told them I was going to look at art at the Met. It was just absurd. But they were like, "Okay, great, have fun!" He had been arrested and indicted and put into Rikers for about a month. He was writing me letters, which were all about him, very self-involved about how the world's out to get him, nothing about me, nothing about Jennifer Levin. And then he started to call and hang up. One day, I was having a party, he called and we talked for hours. I missed my whole party. We started talking all the time. At some point, we made a plan that I'd come see him.
So, I went up to his apartment building about a mile away from mine. It was a strange mixture of emotions. This guy's out on bail accused of murder, but that was so far back in my brain because I still believed that this could have been an accidental death and that she had provoked him. When I got there, his mother answered the door and disappeared into the apartment. And then he walked out. He seemed really tall. He was wearing a dark-blue turtleneck. His eyes were this piercing icy black. He looked thinner and pale. Of course, my heart was racing. Nothing in me said I shouldn't go into his room. It's a little bit embarrassing to say now as an adult, but I remember thinking, Are we going to make out?
He sat at his desk and I was sitting on his bed and we started doing Mad Libs. We completely avoided the topic of what had happened. I was a little giddy. I looked under his desk and there were a couple of stacks of newspapers with that story on the front page. I joked, "Well, I guess you got what you always wanted. You're famous." And that is when he gave me this look. It was such an off reaction. I shouldn't have made a joke, maybe? It was this moment of like, Wait, someone's dead and now I'm in his room with him alone and he doesn't seem to care. If anything, his expression said to me, Yes, I did get what I wanted.
It just chilled me to the bone. I went from wondering if we were going to make out to Oh my God, I think he actually did this on purpose! It was just visceral fear, probably the most afraid I've ever been in my life, before or since. Slowly and as calmly as I could, I said, "My mom's probably wondering where I am. I gotta go." I backed out of his room, never looked away from him, never turned my back to him. That's how scared I was. He walked me out, kind of befuddled, and that was it. I ran home 500 miles an hour. And then, trying to open the door to my parents' apartment, I collapsed and burst into tears. I told them I just went up there. I've never seen two adults look more horrified.
That was the moment that it shifted. He called me a few hours later and the only thing I could think to do was pretend to be my mother. I said something to the effect of [deepens voice] "If you call here again, Goddamn it, I will have to make sure you are destroyed! You will never see the light of day again. Do not call my daughter again!" I hung up and I burst into tears because I didn't want to never talk to him again. But I had to. I never heard from him again.
Have you ever been tempted to reach out to him as an adult?
Only recently, but not for the reasons you'd think. Some people involved in this documentary told me that everyone has tried to reach out to him. He has never responded to anybody. There was a general consensus that if I reached out to him, he more than likely would respond to me. I have to say I feel the same way, but I do have children in this world and I don't want to invite that. I've invited it back into my life by talking about this publicly, but it's a different thing to be in contact with him.
The only reason I would do it would be because I think a lot of people would love to hear his side of the story. Maybe I'm being presumptuous and vain to think that he would respond to me. But I'm super curious, for sure. I wish I had a psychology degree. I think I'd be better equipped to be in communication with him if I knew what the boundaries and guidelines were to not get sucked back into it.
Was your mom supportive of your participation in the documentary?
I think not. I think she's struggling with her own demons a little. I blame some of that on the time. It was the '80s. Parents parented differently. I think she just couldn't handle it. I was shocked that she watched the documentary. When we talked yesterday, she was trying her hardest to be understanding, but it was very one step removed. I think there's probably some shame built in with her as well. It was not a moment of pride for our family.
How do you feel now that it's aired?
I'm really glad because it's helped me. I didn't realize how much I hadn't dealt with it. It's one thing to experience something at 16. It's another thing to have teenage daughters and to look at the entire picture — her family, the police, the legal perspective, all the other kids who were her friends — and recognize that this was such a tragedy all around. It's been hard. I've been processing a trauma for the first time because I don't think I was able to do it the first go-around.
In terms of the bigger picture, I am very grateful to Annie and Ricki for shining a light on how despicable victim shaming is, and in particular, slut shaming. I would like to believe that this pushes the lever a little bit more toward looking at how we treat victims and how we treat women. If the Levins watched it, I hope they know that this was shameful for me as anything ever has been. There were a lot of people who suffered but they were, by far, dealt the worst blow. There's nothing I wish more than that this had never happened to their daughter.
Thank you so much for being so open with me.
I hope this helps somebody somewhere. I've gone through my whole life saying, "Trust your gut." If you have a moment where your gut is telling you something, you have to trust it. In my case, I believe my gut saved my life. And in a terrible way, I also believe that it led to a sequence of events that led to Jennifer's death. I feel terrible guilt, still to this day, about that. I don't know what to do with that. I've never quite known how to put that away.
This interview has been edited and condensed.
Theodore McCarrick, who was defrocked in February over sex-abuse allegations, wrote a letter to the court for Chambers's bail hearing. The documentary suggests McCarrick may have abused Chambers, who had been an altar boy, but offers no concrete evidence.