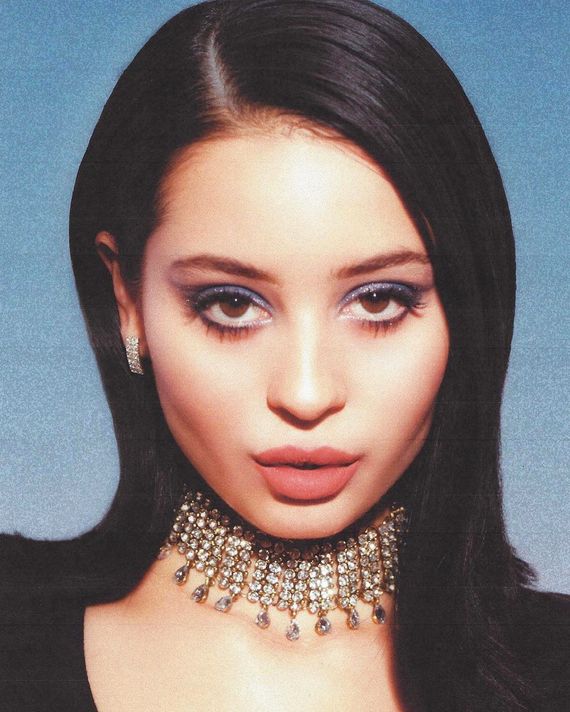 Photo: Courtesy of Alexa Demie / Photo by: @coughs
The psychic said she'd be fine. Better than fine, actually. Alexa Demie was nervous about starting work on Waves, maybe her most demanding project to date, so a few days before she flew to the movie's Florida set, she went to see one in her hometown of Los Angeles. "[The psychic] was like, 'You're being too hard on yourself,' like, 'Acting is in your DNA. You're meant to do this, just trust it, and it's gonna be one of your best, best roles.' So I was like, 'Okay!'" she laughs, recounting the session over tea. We're in a corner spot at the Crosby Bar in Nolita, mostly empty except for a few other famous people — Paul Rudd, truly ageless-looking in real life, is at the next table over — and their managers.
Demie, 24, is best known as the smizing scene-stealer on Euphoria, a teen drama for adults that's closer to Harmony Korine's Kids than the CW's Riverdale. She plays Maddy, the series's Casino-obsessed cheerleader whose eye makeup has launched a couple hundred Instagram fan accounts. (That Casino detail, Demie says, came from her own life: "I love mob movies with every bone in my body. And so … I expressed that to Sam [Levinson, the show's creator] and he wrote it into my character.") Waves and Euphoria intersect thematically — Demie portrays the girlfriend to a troubled boyfriend in both — but in execution they are noticeably different. Euphoria season one dedicates eight glitter-soaked episodes to a sprawling story of over a dozen high-school characters dealing with various traumas; at 135 minutes, the two-act Waves revolves tightly around a family of four fractured by violence.
There is an opinion — held by me, and coincidentally circulated by me — that Demie is poised to become the First Lady of A24, a movie studio that is as cool and hyperhip as any movie studio in 2019 can be. It's not that A24 exclusively makes good films, but it consistently makes eclectic ones, the kind that might not sound like big, generation-defining movies on paper but turn out to be Moonlight or Lady Bird. Demie debuted as the gamine older crush in A24's Mid90s, a coming-of-age story about skateboarding teens written and directed by Jonah Hill. She read for A24's Never Goin' Back, the story of two best friends who smoke and make out and arrive late to their diner shifts, but she wasn't cast; instead, the audition led to her starring role on Euphoria. With three A24 credits to her name in the last two years alone, she's come to represent the indie studio's beautifully weird brand of coming-of-age cinema.
"Careful," she cautions. I'm pouring a cup of tea and failing spectacularly at it. Her glamorously manicured fingers gently take the teapot from my hands. Today she's dressed in a boxy black suit that lands aesthetically between the particular glam of Euphoria and the bold, experimental clothes of Demie's Instagram. "Just let me do it." High tea was her idea. It's a treat she makes time for whenever she's traveling, or even at home in Los Angeles. Growing up, she'd go with her mom when they felt like doing something ritzy. "I don't want you to burn yourself! If you want honey, I recommend it, or if you don't — we shouldn't have sugar."
The Waves opportunity happened quickly. "Audition. FaceTime. I'm in Florida," Demie says. Everyone else had lived with the story for months: Kelvin Harrison Jr. worked on the script with Shults, the rest of the cast hung out intermittently, getting comfortable with one another. Demie only had a week when she was cast last summer. She dove into research, watching YouTube videos about codependent relationships, and playing rounds of 20 questions with Harrison to get to know him. Shults, she says, is "egoless." He let her reshape the character as she found appropriate, so Demie renamed Courtney Alexis, a senior in high school entangled in a romance with Harrison's character, Tyler. It's a love that oscillates between tender and toxic. They whisper secrets on the beach and have screaming matches in the street. "It seemed like those classically codependent high-school relationships, where you're so in love with each other, but it's also not good for you, but you feel like it's normal," she says. "You feel like those fights, or just the way that you speak to each other — to you that's a normal part of your relationship. Because you don't know any better in high school. A lot of us don't know any better."
The movie is split in two: The first half is about the way Tyler undoes the Williams family; the second is how his younger sister Emily (Taylor Russell, extraordinary) rebuilds it. Sometimes it errs into Instagram-filtered angst, but mostly Waves wears its heart on the sleeve of its Nike hoodie. Demie's scenes are among the most affecting: In one — her best in the movie and also the first that she filmed — Tyler is spiraling from his own stresses when Alexis tells him she's pregnant. Their trip to Planned Parenthood ends early when she decides against terminating the pregnancy. It's a desperate, claustrophobic scene: Tyler drives them home screaming through his confusion; Alexis sobs out her protests. She demands that he slam the brakes and let her out, right then and there.
When we first sat down for tea, whichever '90s R&B Spotify playlist the Crosby selected landed on "To Zion," Lauryn Hill's Miseducation song about her decision to have her son — "It"-girl status be damned. Demie says she listened to it when she filmed that Waves scene, as she reflected on Alexis's refusal to go along with what her boyfriend wanted. "I'm not telling anyone, 'Have your baby; don't abort.' She was in this emotional roller coaster of a relationship, but chose to stand her ground for what she believed in," she says. Demie was raised by a young, single mother. "My dad wasn't around, so she wasn't gonna have any help, and she's expressed this to me many times, which is why that song was important for me in this film. She dedicated it to me, and she told me the moment she chose to keep me. And it was on her way to abort."
Demie sees a healer in L.A., too, and they work on her relationship with her mom. At times, their relationship has been more sister-to-sister than mother-daughter, fraught in ways she doesn't specify. They're working together on a biopic about her mom's life, and the project has given Demie the opportunity to see her mother with clearer eyes. "This is a woman who struggled a lot as a child and with identity and had me really young," she says, furrowing her brows and making a case against her own teenage disquietude. "And as I got older, I started to be a bit more forgiving, but I think when you're young, right, you're just like, you're so angry. I'm not like, I can't stand you anymore! You know what I mean? I understand where she's coming from."
Earlier this year, reviews out of Telluride Film Festival crowned Waves A24's latest masterpiece. (Critics in Toronto were a little less effusive, but warmed to the movie nonetheless.) Demie's mom hasn't seen it yet, but the actress is hoping for a visceral reaction. "She's definitely excited and proud of me," Demie says. "She always says, 'You're a great actress, you're a great actress,' but sometimes you just wanna see a reaction." She takes another sip of tea, and smiles.
"I'm just really excited to have her see me in a great film," she adds, "'cause I think it's a great film. She's gonna at least cry, right?"
*A version of this article appears in the November 25, 2019, issue of New York Magazine. Subscribe Now!