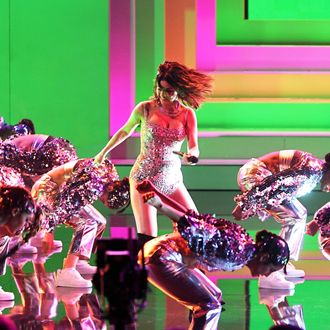 Selena Gomez kicks off tonight's American Music Awards.
Photo: Kevin Winter/Getty Images for dcp
Since Selena Gomez performed at the American Music Awards in 2014, 2015, and 2017, it's no surprise that the show entrusted her with the evening's first performance at Sunday's awards show. Tonight marked Gomez's first televised performance in two years, as well as the TV premiere of her new singles, the moody ballad "Lose You to Love Me" and neon dance song "Look at Her Now." On Sunday, Gomez went classic Hollywood for her No. 1 Billboard hit before (presumably) tearing off her gown and joining her holographic-pom-pom-covered backup dancers for her second song. And as for her moves, well, Britney Spears's 2007 VMAs performance has nothing on her. Gomez performs ahead of her upcoming new album, tentatively titled SG2, due out January 10, 2020.
Update, November 25, at 3:16 p.m.: A source told People that Gomez had a panic attack "at the last minute" before her AMAs performance, her first time onstage in two years. "It's an important song in her career. She really wanted to deliver," the source said, adding that "she did sound better in rehearsal." But worry not — that didn't throw off Gomez's whole night. "She had fun afterwards with her friends and family and was in good spirits," the source added. Look at her now!